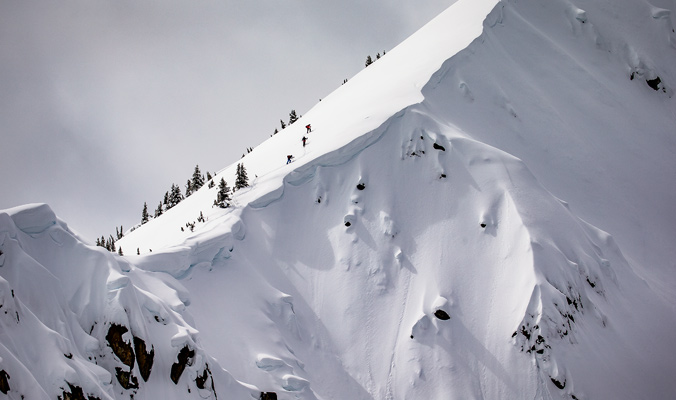 LMoving along a skintrack feels like second nature. So does setting one, since you're the friend who's often up front breaking trail. That's because you're among the more knowledgeable and experienced of your regular touring partners. It's been a few years since your first avalanche course, but there's plenty more to learn.
Master This
No. 1 – Plan for Success
A fun, safe day in the mountains doesn't start with a plan—it starts with multiple plans. Formulate an objective for the day based on what you and your partners hope to achieve and on the weather, forecast and snow and avalanche conditions. Then think about a backup. And another backup. If the weather changes or conditions aren't what you anticipated, this will allow you to easily pivot from one objective to the next, still completing the day feeling fulfilled. At the outset of the day, get everyone on the same page about the day's objective and the duration you expect to be out—this will avoid uncertainty or confusion later on.
No. 2 – Talk It Out
Communication is the key to making intentional choices. Share what you're seeing and thinking while climbing and descending and regularly ask what each of your partners is observing. When discussing important matters—like changes in objectives, major snowpack observations or plans to descend—wait until the whole crew is gathered so nobody is late to the conversation. Only make crucial decisions about the day when everyone is warm, comfortable and well fed—making decisions while feeling rushed or during a bout of the hangries is guaranteed to lead to trouble. When discussing terrain and directions, use detailed descriptors—"the tallest tree on the looker's-right ridge of the nearest summit" versus "that tree over there"—to eliminate confusion.
No. 3 – Pro-Level Packing
Traveling through avalanche terrain requires taking packing to the next level. Obviously, a beacon, shovel and probe are essential—store your probe, shovel blade and handle in a dedicated and secure compartment that's unobstructed by other gear to enable easy access in an emergency. Leave the probe bag at home—that's just another item to wrestle with when seconds count. With ice tools and possibly a helmet as the sole exceptions, store everything in your pack for both style points and to keep that errant water bottle from flying out on the descent. While A-frame-style ski carry is preferable for balance and longer bootpacks, opt for diagonal ski carry for short distances or if you're wearing an avalanche airbag, as an A-frame can hinder airbag deployment.
No. 4 – Relive the Day
The day is not over when you return to the car—take some time to recap how it went, both to yourself and with your partners. If anything went wrong or seemed off—a sketchy situation, a difficult decision, partners at odds—talk it out over coffee or a beer so you can all learn from the day, move on and tour together again. If everything went well, focus on the positive—what you did, saw and observed that will inform your next tour. Where was the snow best? Were there indicators of avalanche conditions in unexpected locations? Did your observations about stability align or contrast with the forecast? What does all this mean for tomorrow or next weekend's tour?
Learn More: Three Resources to Know More
Avalanche Level 1 Refresher
Also called an Avalanche Skills Advancement Workshop (ASAW), this two-day, 16-hour refresher is targeted toward those who took Avy 1 a few years back or are looking to renew their knowledge before diving into Avy 2. Covers topics (and updated information) like stability tests, interpreting avalanche bulletins, route planning and communication.
avtraining.org
americanavalancheinstitute.com
Avalanche Level 2
Overhauled last year, the new recreationist-focused Avy 2 is designed for non-professional skiers and riders seeking to expand on their Avy 1 fundamentals. This three-and-a-half-day course, split 40/60 between classroom and field time, takes a deeper dive into understanding avalanche problems and snowpack—history, metamorphism, weak layers—and utilizing different snowpack tests that deal with strength, structure and propagation.
avtraining.org
americanavalancheinstitute.com
Ski Mountaineering Course
Ready for a dose of exposure with all this learning? Chase down a ski-mountaineering course to spend a few days on the sharp end, literally learning the ropes to safely ascend, descend and manage avalanche conditions in steep environments. Many Western guide services offer hut-based courses that will put you right in the thick of high-angle terrain for a week or weekend of in-the-snow education.