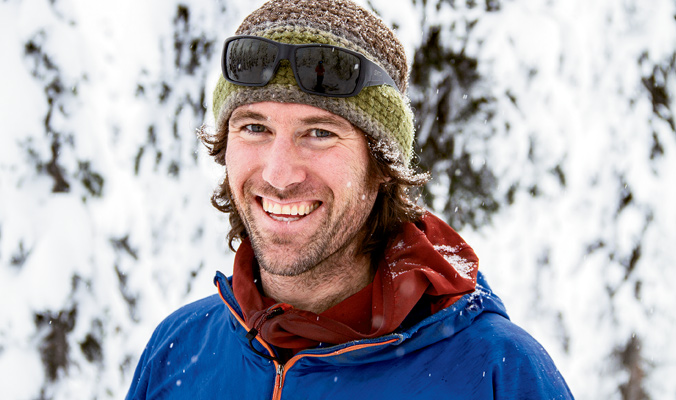 Conor Hurley, 38, didn't always want to be a guide. Growing up in New Hampshire, he attended the University of New Hampshire before bringing his Vermont-based coffee-roasting business to Revelstoke, British Columbia, where he moved in 2007 in search of bigger mountains. On his days off, Hurley spent time exploring Rogers Pass, tagging notable descents and possibly a few firsts. Then, in 2013, burnt out on the coffee business, he dove head first into ski-guide training because, as he notes, "I'd rather be shredding powder on skis than delivering coffee by bike in Revelstoke in the winter."
Guiding the Way
Before I decided to become a guide, I was pretty focused on my own recreational pursuits in the mountains. But in transitioning from a recreational perspective to a professional perspective, I found the professional process to be more structured. It's given me an organized approach to decision making in complex situations, and taking more avalanche education and working on rope rescue skills has been really enjoyable for me.
The biggest change I experienced when I started guiding versus going with my friends: I had to start making decisions for other people. If I make a mistake, it doesn't just impact me—it impacts the people depending on me. The weight of that responsibility has led to a big change in my mindset. I'm not saying recreationists don't make sound decisions, but as a guide, we have to work within an operational risk threshold that would be considered appropriate by other professionals.
Learning Curves
I've really appreciated the education I've received along the way, and learning is an ongoing process. Ultimately, as I get older, I realize that there are times I've gotten away with things, so I build a more organized and perhaps conservative decision-making process now.
The learning process is a lot of fun, and I've enjoyed improving my own skill set and becoming fundamentally sound in safety, rescue and managing people. Developing a professional approach to avalanche forecasting and planning has been an interesting challenge for me, and I believe you can always improve your skill set. Participating in formalized education and training has bettered my self-awareness, decision-making process, hard skills and ability to teach others. Ultimately, I love having a job where I get to hang with people who are on vacation and show them a good time in the mountains.
Challenge by Choice
One thing I struggle with is saying no to work. My guiding season is December through late April, and to do my job properly, I have to allow myself enough rest in order to make sound decisions and not be fatigued. But, at the same time, I have to make hay while the sun shines. Sometimes this means turning down work. Guiding is really fun, but finding a balance can be hard.
Work Climate
One of the things I would recommend for prospective guides is looking into climate change before you consider your career path. It's something I think about a lot, and I have my own personal struggles with being in a resource-intensive career and industry. Who knows how long powder harvesting will last? As for other tips for future guides, remember to keep it fun. Don't take yourself too seriously, be safe and keep your ego in check.