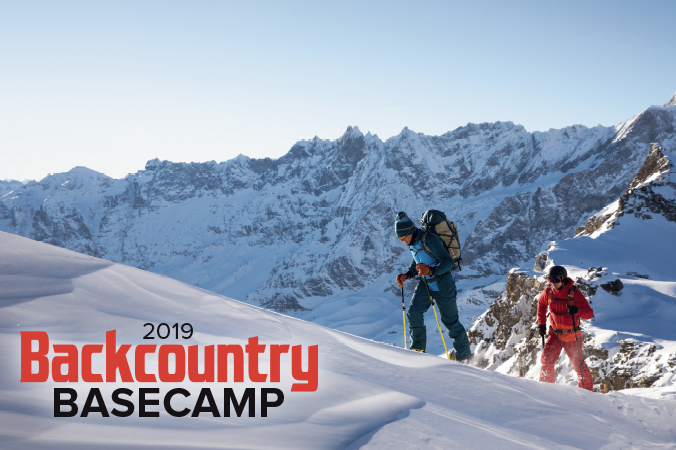 BASECAMP 6.0 – Backcountry Magazine teams up with Scott Sports and Nokian Tyres to spread mountain education across the country
Jeffersonville, Vt. (for immediate release) – For more than 20 years, Backcountry Magazine has been committed to educating its community on how to safely travel through untracked terrain. And for six years we've been taking the message from the pages to the people. Starting in January, we're teaming up with Scott Sports and Nokian Tyres to bring that knowledge to resorts in California, Washington, Utah, Wyoming, Colorado and Vermont for the sixth-annual Backcountry BASECAMP Tour.
As they travel throughout the country spreading safety and stoke, join the editors of Backcountry Magazine, alongside guides, forecasters, AIARE instructors and gear experts for a resort-based showcase of all things backcountry—including demos, avalanche education, guided tours and a huge raffle.
This winter is all about getting farther out and back safely.
Basecamp 2019 is in the books! Stay tuned for Basecamp 2020 information.
Basecamp 2019 Tour Stops
March 30-31, 2019: Killington Resort, Vermont
March 9-10, 2019: Steamboat Resort, Colorado
March 2-3, 2019: Jackson Hole Mountain Resort, Wyoming
February 23-24, 2019: Alta Ski Area, Utah
January 12-13, 2019: Crystal Mountain Resort, Washington
January 5-6, 2019: Alpine Meadows Ski Resort, California
About Height of Land: Founded in Jeffersonville, Vermont in 2002, HOL is one of the few remaining independent publishers in outdoor action sports. Our mission is simple: We are core, adventure-sports media by those who live it, for those who aspire to it. HOL print and electronic brands include Alpinist, Backcountry, Cross Country Skier and Mountain Flyer magazines.
Media Contact:
Adam Howard
howie@backcountrymagazine.com
802.598.4200
Lucy Higgins
lucy@backcountrymagazine.com
802.644.6606