Marolt Brothers to Open Aspen Ski Shop
ASPEN, COLO.
Brothers Mike and Steve Marolt have purchased a 2,000-square-foot retail space in Aspen's Obermeyer Place with plans of opening a hybrid ski-mountaineering shop, research and development facility and demonstration center. The twin brothers and Aspen natives are best known for more than 40 high-altitude expeditions across the world, including a 1990 descent of Denali; being the first Americans to ski from 8,000 meters (Shishpangma, Tibet in 2000); being the first Americans to ski Mt. Everest's North Ridge (2003) and multiple firsts throughout South America. Along with business partners Jim Gile and Tom Ball, the pair recently launched a retail site,
8KPeak.com
, which will support their brick-and-mortar gear hub. "It's not something any of us are going to get rich doing," Steve Marolt told
The Aspen Times
. "Our criteria is we've used [the gear] and it works."
Chugach Avalanche Center Wraps Up for Season

TURNAGAIN PASS, ALASKA On Wednesday, the Chugach National Forest Avalanche Information issued their final daily avalanche advisory for the 2014/15 season. The final Turnagain Pass advisory indicates hazards including storm snow and wind slabs, loose snow avalanches, cornices, wet avalanches and bears (oh my!). Additionally, the season roundup classifies the 2014/15 season as "unusually warm" and mentions that precipitation was below normal for the 10 year average and snowpack depths are at record low levels. "There is still plenty of snow at the mid and higher elevations and that means avalanche season is not over," the website states. "Springtime avalanche conditions remain along with avalanche conditions due to storms that roll through."
Northwest Avy Center Launches Fundraiser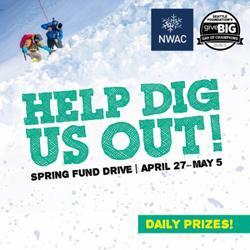 SEATTLE, WASH. On the heels of an unusually dry winter, the Northwest Avalanche Center (NWAC) has launched a two-week spring fund drive to raise $30,000. According to NWAC, many weather stations throughout the region recorded their lowest amount of snow in 30 years of forecasting, and subsequent cancellation of events, low web traffic and general lack of winter stoke has resulted in an anticipated budget shortfall. So, to hit targets for hiring a fourth forecaster, to complete their mobile app and to expand their youth education program, NWAC launched the campaign. "Without question, this past winter was a tough one for all of us who love to play in the snow," the fundraising site states. "Please help dig us out so we can get back on track and continue to improve our programs next season." To find out more or make a donation, visit crowdrise.com/nwac.
Shuttered Vt. Ski Hill May Become Self-Serve Backcountry Area
HEARTWELLVILLE, VT.
In 1985,
Dutch Hill Ski Area
, located off Route 9 in southwestern Vermont, closed its lifts after nearly 40 years of operation. But three decades later, an effort is underway to reopen the defunct ski area for human-powered skiing. According to
NewEnglandSkiIndustry.com
, a U.S. Forest Service program called the
South of Route 9 Integrated Resource Project
is "investigating multi-resource project activities" in the towns of Bennington, Pownal, Readsboro (which encompasses Heartwellville), Stamford and Woodford. "The proposal is on a tight time schedule, and some show of public support could secure this play option for all of us," says Randy Knaggs, Director of Outdoor Programs at Marlboro College. To show your support, take this
survey
.
Polartec Hires New Marketing Manager
LAWRENCE, MASS.
This week, apparel maker Polartec announced their hiring of Darren Josey as North American Marketing Manager. Prior to joining Polartec, Josey worked in footwear as Strategic Account Manager for Topo Athletic and in sales operations for Vibram USA. "Darren will add an important level of support for our diversified business, working with the best apparel brands in the world, as well as supporting our business in new product categories including upholstery and medical," Gary Smith, Polartec CEO, said in a
press release
.