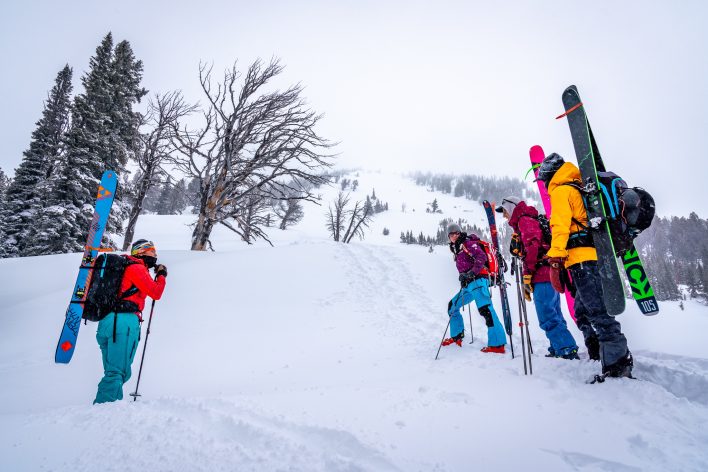 It's extremely important for backcountry travelers and avalanche professionals alike to build systems around their days in the backcountry or in avalanche terrain. When I think about systems, I focus on doing something the same way each time, whether I'm in my home mountains or a new location, whether it has snowed three feet or hasn't snowed in days, or whether I'm in a busy parking lot with people and dogs everywhere or at a quiet trailhead.
With this goal in mind, I have moved towards using a checklist—like the short, simple one used at the American Avalanche Institute (AAI)—each day I'm headed out on a tour. Most people who use the AAI checklist or a similar one will do most of the things most of the time, even if they don't use the list. But, by having it in writing and in a useable, repeatable format, we're more likely to do all of the things all of the time.
It is so easy to skip steps. And it's so easy to have a tool that prevents that. I break the pieces of my daily checklist into pieces that cover three parts of a day of touring.
Pre-Trip Planning
When I'm planning a tour, I always check the avalanche forecast before going out. I look for the day's hazard rating, what the avalanche problems are and where any avalanche activity in the last 48 hours has occurred. My job is to avoid avalanches, so when I plan my route, I stay away from aspects, elevations and similar slope angles where slides have occurred or where hazards are forecasted to be. I also check the weather—both the forecast and what happened in the past 24 to 48 hours—looking to see if the snowpack has been rapidly loaded or rapidly warmed or is forecasted to be when I'm in the backcountry.
With all this information, I plan a tour that is appropriate for the conditions. Again, as a backcountry traveler, I am an avalanche avoider. I check in with my partner(s) for the day to make sure we're on the same page, get input on the route and make any adjustments to the plan before heading out.
In the Field
At the parking lot, I always conduct a beacon check to make sure that each of my partners' transceivers can receive and send a signal. It's a simple step that can save a life. And before leaving the parking lot, I double check that everyone is on send mode for the day.
In the field, my system is simple and repeatable. These are the questions I ask throughout the day include:
Is this terrain consistent with our pre-trip plan?
Have we seen signs of instability? Do we need to adjust our terrain selection?
What would happen if we triggered an avalanche here? What's the likelihood? The size of the avalanche? The consequence?
Do we have concerns with our group dynamics or human factors?
Is this a no go? A go?
What's our plan?
We don't ask these questions once during the day. This is a running conversation that happens anytime I consider entering avalanche terrain.
Wrap Up
At the end of the day, I want to give myself an opportunity to learn. Here are my debrief questions. This conversation can happen anywhere—in the parking lot, the car or the bar.
Did we make any bad decisions today?
Were we good or were we lucky?
Did we manage terrain well? Any improvements?
Did the conditions match the forecast?
Any concerns for future tours?
Can I report any observations to the forecast center?
Your checklist may look different than mine. You may have different debrief questions. You may ask a few more questions in the field. But whatever your system is, do it every time you are out in the backcountry. Remember, we want to do all of the things all of the time. That's the idea of a system or a checklist. Our systems and our habits can add margin to our day. And my goal as a backcountry traveler is to be able to keep coming back to the mountains, day after day, year after year.
---
Sarah Carpenter lives in Victor, Idaho, in the straw-bale home she built with her husband. She has worn many hats in the avalanche industry—from ski patroller and guide to educator and business owner. Decision-making, especially in a winter environment, continues to intrigue her. Carpenter is equally intrigued by where to find good powder skiing; you'll hear laughter when she's found it.