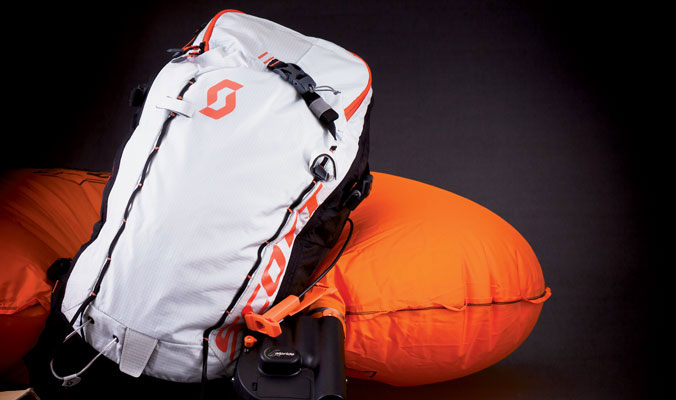 The inner workings of Scott's new supercapacitor-powered avalanche airbag sound like something out of Back to the Future. And while the Backcountry Patrol AP 30 doesn't have the time-travel capabilities of Dr. Emmett Brown's DeLorean (thanks to its flux capacitor), this pack is more travel-capable than many airbags. That's not all that makes it stand out, however.

Most avalanche airbags aren't travel friendly. Compressed air, upon which many airbags rely for inflation, cannot be checked or carried onto airplanes (or easily shipped). And lithium-ion batteries—used in fan-powered packs like Arc'teryx's Voltair and the original JetForce models from Black Diamond and Pieps—can only be carried on, not stored in checked luggage. The E1 system, developed by Swiss airbag innovator Alpride, relies on neither.
Instead, inflation comes from a fan that's powered by a supercapacitor, which, in a basic sense, is similar to a rechargeable battery. Unlike a battery, however, a supercapacitor stores energy through static charge rather than an electrochemical reaction and therefore holds no TSA restrictions.

The entire unit can be charged at home via USB or in the field with two AA batteries. The former takes an advertised 20 minutes (it took about twice that to reach a full charge in testing) while the latter should take 40, and a full charge reportedly holds for three months. The level of charge—and the status of a system self check, which is performed each time the unit is turned on—is displayed through three lights on its side.

Energy dynamics notwithstanding, the E1 unit is slick. The airbag component (which is removable) weighs 2.8 lbs.—when added to the pack's modest 3-lb. weight, the whole kit is roughly 2 lbs. lighter than similarly sized fan-powered avalanche airbags. If counting ounces isn't impressive enough, consider packability: the balloon sits notably flat in its dedicated compartment, and the inflation mechanism fills a zippered pouch the size of a generously portioned ski-resort bread bowl that's adjacent to the wearer's right kidney. Compared to almost any other avalanche airbag, this setup seems slimmer and more compact, making packing less like a game of Tetris.

All this leads to perhaps the Patrol's greatest attribute: it fits and functions like a regular pack, not a clunky canister/battery/fan/balloon combo with a backpack fitted around it. The molded foam backpanel and broad shoulder straps carry comfortably, snug enough to the body to not swing unnecessarily while skiing. The main compartment, easy to access with its clamshell zipper, feels true to its 30-liter rating and is trimmed with a zippered pocket and an internal safety-tool sleeve that's tall enough for any normal-sized shovel and probe. One gripe: that sleeve lacks dedicated dividers to keep the probe and shovel handle tidy and separate.

On the outside, a single stash pocket is partially fleeced lined for goggle storage, and it's massive enough to store three pairs—or just one and a breakfast and lunch burrito. Side compression straps double for ski carry; diagonal carry straps are stashed away; and low-profile webbing will securely carry two ice tools.

With the Patrol AP 30, Scott has dialed the execution of the Alpride E1 system into a highly functional and streamlined 30-liter avalanche airbag. But others are taking note of the E1's ease of use, low weight and compact size. In November, Black Diamond launched the first in their second generation of airbag packs, the JetForce Tour 26L. Like the Patrol, and hopefully more airbags to come, it too relies on the E1.
—
Editor's Note: When traveling with an airbag of any type, notify your airline in advance to enable smooth processing through security. Additionally, travel with a printed copy of your airbag's manual, TSA or IATA regulations or any specific product information pertaining to a specific airbag's travel restrictions (or lack there of), such as these specifications for the Alpride E1.