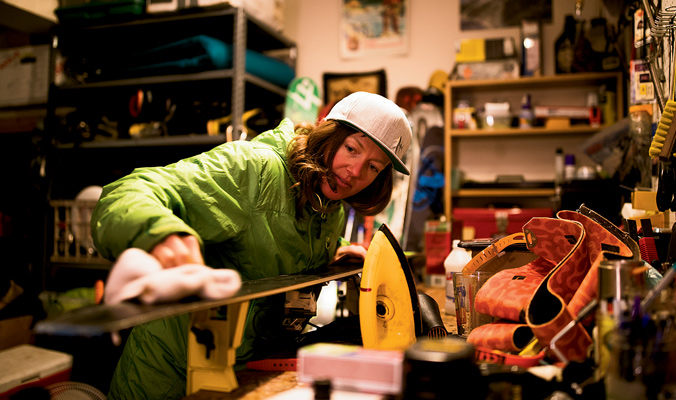 Ridgway, Colo. resident Sheldon Kerr, 33, is up front about her drive toward excellence. It's that personality trait that's motivated her to stay in the American Mountain Guides Association (AMGA) training program for a decade and to pursue becoming an internationally certified mountain guide. With her AMGA ski guide certification under her belt, she has another nine months until her final international exams, which, if successfully completed, will make her one of a dozen female guides in the U.S. to hold international credentials. But no certification will quell her desire to learn more about traveling in the mountains.
Higher Learning
The AMGA structure gives me the outlet to pursue being the best that I can be and to continually be in the process of self-improvement. There's a push to engender this idea of continuing education and lifelong learning with the AMGA, and to move away from the idea of "I've arrived. I know everything."
With any skill, you have to get your 10,000 hours in, and you have to ski tour all the time, but you only have so many days in the year and so many hours in the day to do that. In order to get more value out of each of those experiences, you have to debrief. If you're looking to get to the next level, an experience in the mountains that you don't then spend the time thinking about with your partners—what went well, what didn't go well, how would we have killed ourselves today—that time is either wasted or it doesn't give you as much value as it would have if you reflected on it. You do that with close calls, but also with normal, boring days where nothing happened.
IFMGA (International Federation of Mountain Guides Associations) guides can really exhibit expertise in mountain craft. They have all the tools in their pockets to make it from point A to point B, no matter the physical characteristics between those two points. I want to be an IFMGA guide rather than just a certified ski guide because I think I'll be a better ski guide. I love putting myself in challenging situations and knowing that I have the tools to get my clients and myself safely to a summit and safely back down.
At the Sharp End
There's this big challenge in guiding where so much of your education is based on mentorship, but there are many more men in guiding than women, so it creates a constant crux: you tend to mentor people in whom you see yourself. So if there are more men, they're going to mentor more guys. I don't think it's malicious; I think it's a subconscious bias that nobody notices except the girls.
Something that my peers and I have focused on is this idea of "friendtorship." We don't necessarily get opportunities to "learn up" with mentorship, so we have to "learn across." Going through the AMGA process with other women has been incredibly helpful. We critique each other, push each other and provide each other with opportunities. Friendtorship has been very enriching for me in my career development.
Commit to It
Also, an unexpected challenge is that I reached a place a couple of years ago where I was feeling pretty confident about my skills and abilities in avalanche terrain while also feeling that a number of my peers were excelling in ways that I wasn't. So I started to push myself a lot harder and make faster decisions based on wanting to prove something. I had to come to grips with the fact that I'm the one who has to decide that I deserve to be here.
I've now been reckoning with the AMGA process for 10 years, and I didn't expect that getting a graduate degree in guiding was going to take so long. The breadth and depth of skill sets that I've had to put together in order to get here has been massive.