Editors' Choice: Mammut Light Short Removable Airbag 3.0
$580 | 2140g (w/out canister) | mammut.com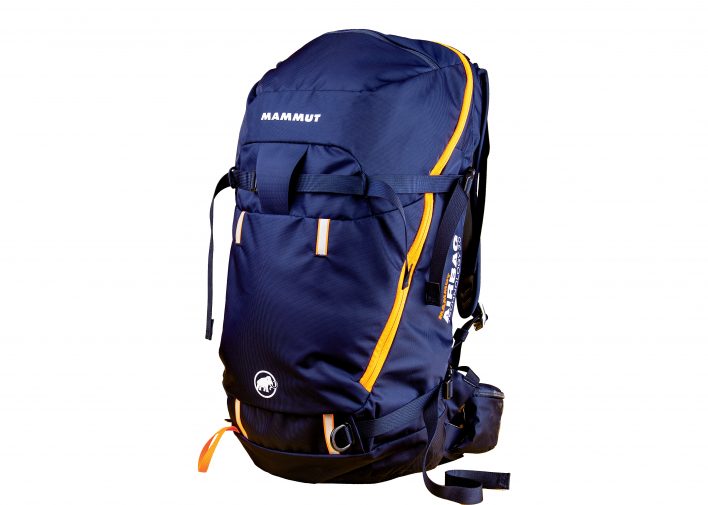 This little number found its way to one of our most airbag-averse testers, who cites the generally top-heavy designs as her biggest beef with airbags. But after a few grudging days, she admitted that Mammut's Light Short Removable Airbag 3.0 just might join her regular rotation of touring packs. "I actually keep forgetting that it's an airbag," she said.
The Removable Airbag System (RAS) 3.0 builds on its 2.0 predecessor by using the same compressed gas canister that fills the 3.0's balloon in 30 seconds and is interchangeable between any RAS 3.0 pack. The weight difference lies in the 3.0 system's lighter materials. Without a canister, the airbag unit weighs just 690 grams. For Europe-based skiers, a single-use carbon canister is available (320g), but North American users have to settle for a traditional aluminum canister ($200, 625g). Our tester—who used an aluminum canister—didn't mind the 305-gram weight penalty.
On top of weight savings, the RAS 3.0 system is incredibly low profile when packed, leaving more room for gear in the 28-liter pack. "I can easily fit an extra puffy, first aid kit, water, snacks—all the essentials," said our tester. She appreciated the extra features: a small outer pocket for her goggles or essentials, like car keys and maps; a hip-belt pocket for a phone and tube of Chapstick; and gear loops and an ice axe holder for those who are ski-mountaineering inclined. Additionally, there are cleverly adjustable compression straps that can hold either a splitboard or skis and allow for either diagonal or A-frame carrying of the latter.
The avy gear pocket—which are tester noted was on the small size—is accessed through the main compartment. "I'm not the biggest fan of the interior avy pock," she said. "It's a little annoying to have to pull two zippers, and it makes it harder to get out your shovel and probe when the pack is full." She also griped about the lack of a helmet carrier.
As is suggested by the name, this model is meant for folks on the short side. Per our 5'2" tester, "The torso length is ideal and doesn't knock my helmet forward when I'm wearing it." For taller skiers and riders, the Light Removeable Airbag 3.0 is available ($580, 2190g, without canister).
Scott Patrol E1 40
$1,200 | 2830g | scott-sports.com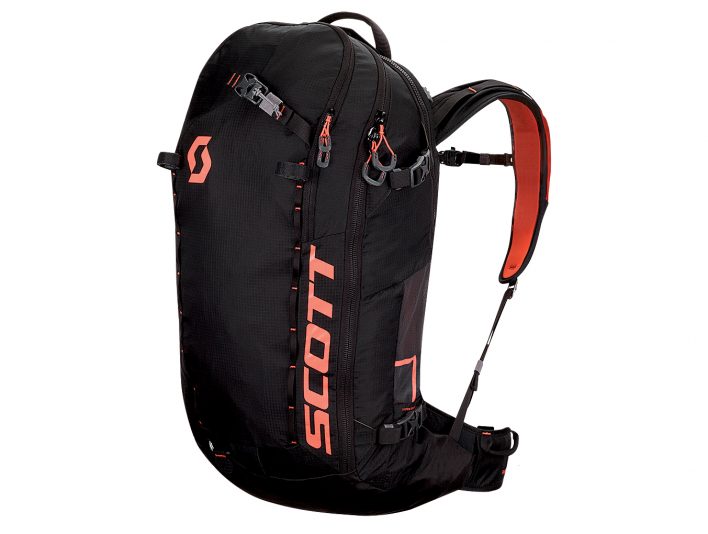 The Alpride E1 airbag system that Scott uses is powered by supercapacitors: tiny energy sources that are immune to the cold and can be recharged by two AA batteries or a USB port. The result is the lightest electronic airbag unit on the market—1280 grams. Plus, this canister-free bag can be carried on planes and deployed multiple times off a single charge. Combined with the 40-liter bag—Scott's largest airbag—it weighs a modest 2830 grams. "A really well thought out, well-functioning pack. A standout for those with air travel plans, and those who are likely to set it off several times a season," said a veteran search and rescue volunteer who also appreciated the many pockets. "Axe holders, ski carry, helmet sling, avy tool pockets. It has all that it needs to have." While the 40-liter is only available in the longer torso size, Scott makes two other offerings—a 30- and 22-liter—that are available in short-torso options.
Arva Tour UL 25
$700 | 1280g | arva-equipment.com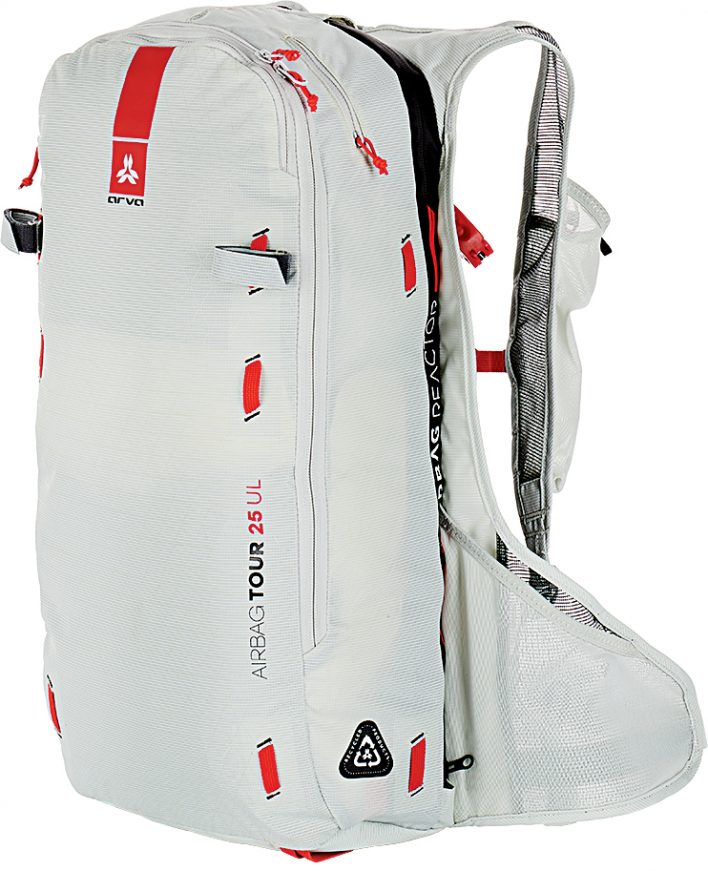 Arva doesn't throw around the word "ultralight" easily, with the Tour UL 25 standing as proof. The lightest dual airbag on the market uses durable mesh in the shoulder straps and hip belt to cut weight. "It almost feels like I'm not wearing a pack," our tester said. "The extra wide mesh hip belt just formed to my body." It also features massive pockets that were easily accessible when on the move. At 5'2", our tester found the torso length to be just right, but her taller co-testers were also happy with the fit. Arva placed the canister in the middle of the back and wrapped the airbag around the inside of the frame, which kept our tester balanced, but also made for more difficult packing: "It's easy to over-pack this thing. If I added anything more than avy gear, an extra layer and some water, I'd pull the breakaway zippers apart."
Backcountry Access Float 32
$585 | 2942g | backcountryaccess.com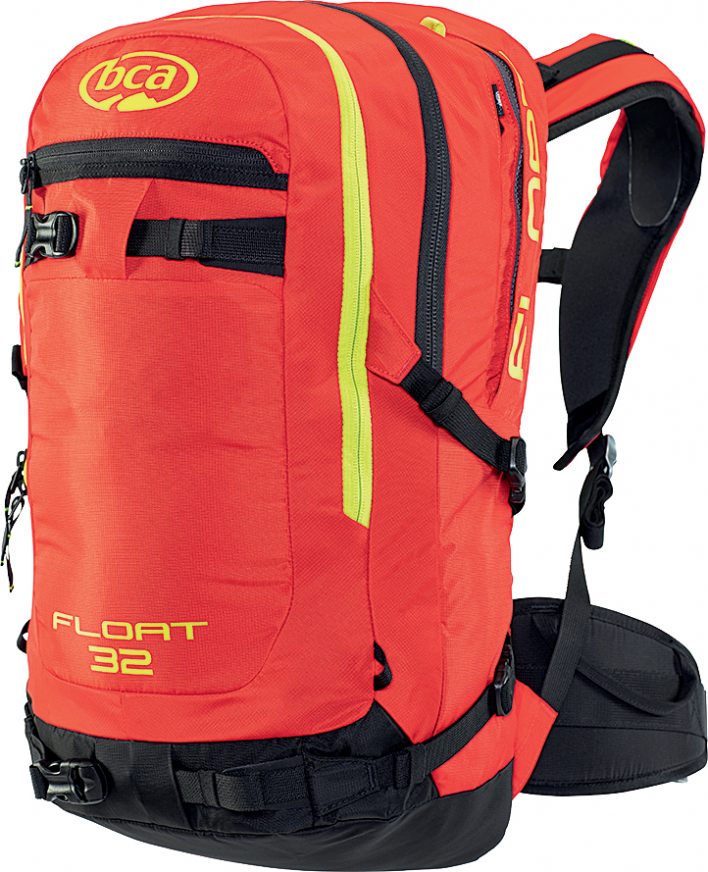 Backcountry Access retooled their longstanding line of Float packs to maximize durability and features while adding more packing space and cutting weight. The biggest jump was in their canister, which, per Backcountry Access, is now half the size of other compressed air canisters. This frees up the full 32 liters for extra layers, a first aid kit and whatever else is needed for a full day out. An outer goggle pocket and a helmet carrier make the Float even more functional, and fat zippers and thick, waterproof fabric increase the durability. All of this come at a cost, but it's not a financial one. Per our tester, "The downside is the weight penalty, but if you have strong legs and are touring on a budget, this pack won't break the bank and will last at least until you have to ditch ski bumming for a real job."
---
Editors' Note: All weights and prices include canisters, where applicable.
This piece was originally published in October 2021 in Issue #141. To read more, pick up your copy at BackcountryMagazine.com/141 or subscribe.