Editors' Choice: Julbo Ultimate Cover
$180-250, julbo.com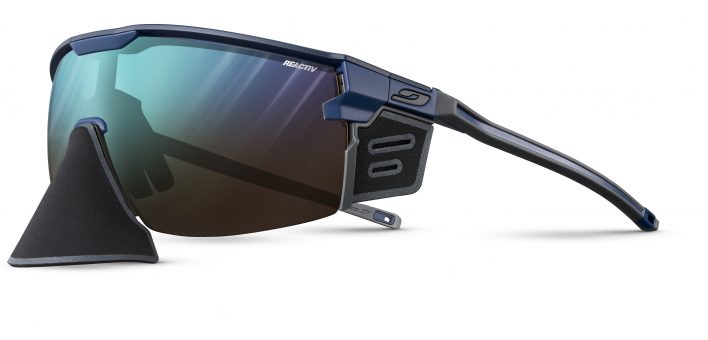 Julbo created the Ultimate Cover with the minimalist backcountry athlete in mind. After all, those who count grams need to protect their eyes, too. "These are by far my favorite glasses I own," said a weight-conscious tester who uses the Ultimate Cover year-round for skiing, biking and mountaineering.
The Ultimate Cover's frame is smaller than that of the average full-coverage sunglasses, but that doesn't mean they lack features. The slim arms are coated with a soft material that catches onto the skin, not the hair, and flexes under a helmet for a comfortable, no-slip fit. Per our tester, he "never had an issue with them falling off, and they are comfortable sitting on my nose and ears." Removable side blinders and a nose guard add extra protection from the sun reflecting off the snow. "These side panels work well to minimize glare. The removable glacier nose guard is goofy, and I love it," quipped our tester, who found himself easily switching the nose guard out, but noted that the side panels were harder to slot in properly.
Julbo recognized that these needed to be worn when both perspiring and generating G-forces on the descent and planned accordingly. The full-coverage wrap, which is paired with an internal anti-fogging coating on the lens, keeps wind out of the wearer's eyes. The outside of the lens has an oil-repellent coating, which sheds water on rainy days, prevents fingerprints and makes cleaning easier, per Julbo.
The tester applauded these features but specifically enjoyed the photochromic properties of Julbo's Reactiv lens technology. "I barely notice when clouds roll in because of how fast the transition lens react to changes in light," he said, adding that the contrast was ideal for any sport: "I also never felt like I lost any depth or detail like I do with other polarized lenses." Unlike other light-sensitive lenses, Reactiv lenses don't change with temperature, which means that they won't transition just because the wearer is sweating on the skintrack. Our tester used the lighter Reactiv lens and on especially sunny days wished they could go darker. For those recreating in brighter environments with more glare, Julbo also offers some stronger options.
POC Devour Glacier
$250, na.pocsports.com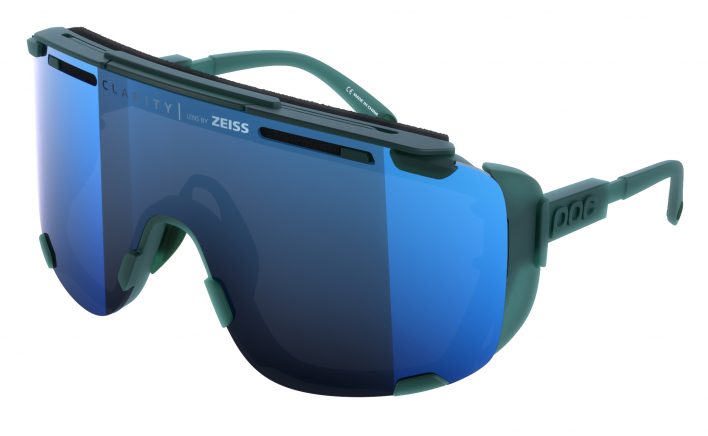 The Devour Glacier are one-part sunglasses, one-part goggles and 100 percent designed for long days on sunny skintracks. "These are the one-eyewear quiver that I never knew I needed," said our tester. The sunglasses are highly adjustable, with removable blinders and a changeable nose and temple fit. The stock model comes with a Ziess Clarity lens designed for bright conditions, but it can be swapped as the light changes. Our testers appreciated how they could stand in for goggles, saying, "The coverage is great, and they're significantly more breathable."
Scott Shield Light Sensitive Sunglasses
$120, scott-sports.com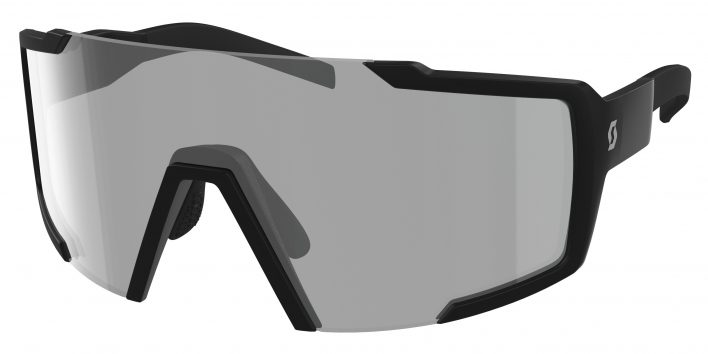 Scott's throwback to a style born in the late 1980s are designed for people who hate seeing the side of their glasses in their peripherals. The Shield line combines a vintage profile with modern technology, including interchangeable lenses with impact protection and no-slip temple ends and nosepieces. Scott recommends the Light Sensitive model for ski touring; per our testers, the lens changes color quickly and would be dark enough to replace goggles on a bright, spring day but are still good for storm-day skinning. The Shield Compact ($90) is available for smaller-faced folks.
Smith Embark
$199 with polarized lenses; $219 for the Glacier blue mirror, smithoptics.com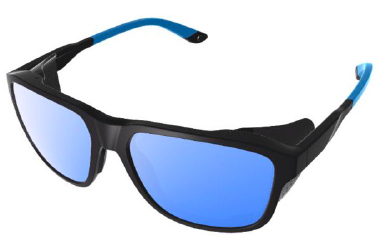 Most sunglasses companies have moved toward the wide-frame style to provide adequate eye protection on snow, but Smith is returning to the roots of snow travel. Its glacier sunglass has photochromic lenses—which Smith claims are less temperature sensitive than others, so the cold won't slow the transition—and removeable side shields for an après-worthy style. Smith includes a retaining strap that clips into the arms, ensuring the sunglasses don't get lost; our tester found the strap to be too beefy. They are available with either mirrored or polarized lenses, both of which have an anti-fog and hydroleophobic coating.
Dragon Remix LL Ion
$149, dragonalliance.com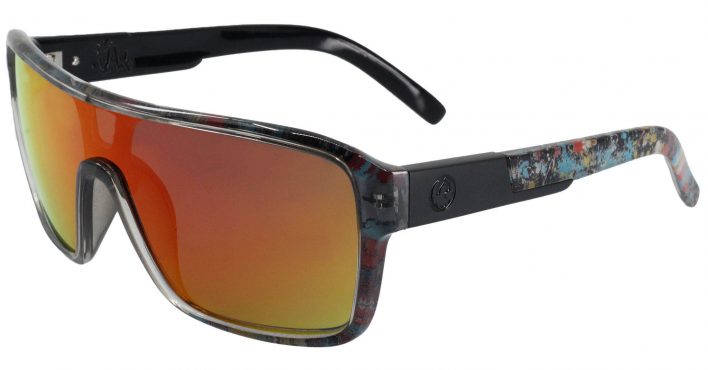 Bryan Iguchi still rides harder than you, but he finds time to exercise his creative side, too. In his Dragon signature series, he lends his colorful touches to the Remix, a single-lens shield-style shade. Past the high-fashion look, these have some skiing and splitboarding chops. Our tester dug the wide lens, which offered plenty of UV protection, and added that they'll stay on fine while you're on the skintrack. What really stood out? "They'll turns heads when you're drinking beers in the parking lot at the end of the day," said our tester.
Sweet Protection Ronin
$160, sweetprotection.com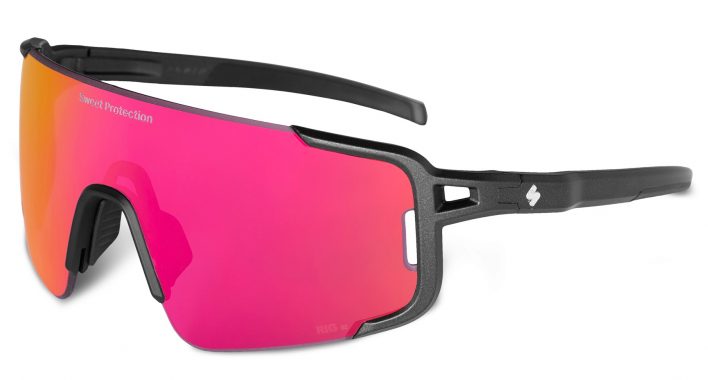 The Ronin sunglasses use Sweet Protection's RIG lens technology, which aims to reduce eye fatigue by providing higher contrast with minimal color distortion. Additionally, the lens features an anti-fogging treatment and provides plentiful sun protection without messing with the peripherals. "These are the type of sunglasses that you could forget you're wearing," said a happy tester, who also keyed in on the low-profile wings for added comfort. For additional security, the Ronin comes with three nose grip options.
---
This article was originally published in Issue #142. To read more, pick up your copy at BackcountryMagazine.com/142 or subscribe.