For Crested Butte, Colorado-based Alex Riedman, being a member of Crested Butte Mountain Rescue is all about giving back to her community. She moved from Pittsburg, Pennsylvania to Colo.'s Western Slope in summer 2007 and immediately dove into the worlds of freeskiing and backcountry skiing. But she knew she wanted more, so when friend Levi Littrell introduced her to SAR, she took the opportunity to increase her knowledge of the mountains and of snow-safety and medical protocol to be better prepared. She also saw a way to invest in the health of her hometown. Now, 10 years later, she continues to expand her understanding of safety through her work as her unit team leader—organizing and deploying a team for missions—and through serving as a SAR board member for six years. Over the past decade, she's learned plenty about how to plan and prepare for a day in the mountains.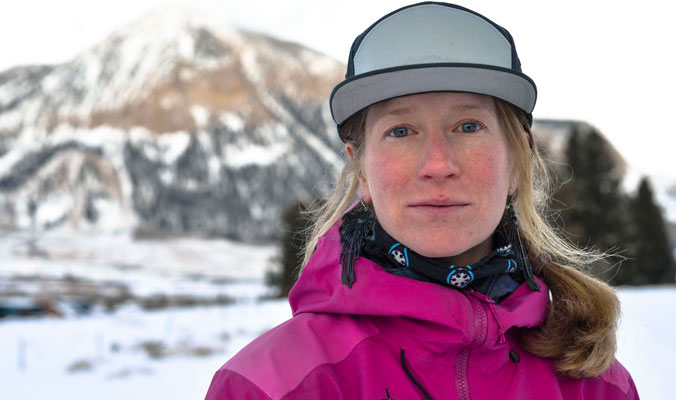 I really wanted an opportunity to serve the community that I'm a part of. It's a great way to be involved with our community and help people—it feels like paying it forward. We also have so many amazing training opportunities, so for me it's a way to educate myself. The mountains are very different in Colorado than Pennsylvania where I grew up, so participating in SAR is an awesome way to build my skill sets and work with an incredibly qualified and varied team.
The most important thing about participating in search and rescue for me is my relationship with my teammates. Everyone has a totally different background. We have everything from carpenters to flight paramedics to firefighters and teachers. Everybody is there for a common reason: we want to help people and we're also really close friends. I know that I can count on these individuals to help me if I'm in need, and they know that they can count on me, as well. This extends past a search and rescue scenario into our day-to-day lives, living in this small mountain town—it's a micro community within our community.
It's pretty common that you might know the person you're going out to rescue or help. There are many missions where we get the call and I know who was out there recreating in that zone that day—sometimes it's even a friend that texted me in the morning and said, "Hey, do you wanna go ski here or ride here?" and I said no because of work or whatever, and a few hours later we get a call about having a mission in that zone and it turns out that it's the person who texted me in the morning. Awareness of where your friends are playing in the mountains helps because you may already know their background, their general health, and you may also know what other partners might be out there helping them already.
The most challenging thing I do is manage scenarios where we have fatalities, but another challenging part of the job that our team has been working diligently to overcome is [poor] communication in the backcountry. We have so many different valleys and drainages, and we don't always have very good radio communications. For a long time, communicating with different search parties and with Incident Command was a challenge, but technology has improved, and we've been doing a lot of training to ensure team members are up to date with the technology that they're taking into the field.
We don't have phone service in many of these areas, but nowadays a team will go out and have a FRS radio, like a Motorola or BCA. We'll take a regular VHF SAR team radio so they can communicate with local law enforcement. We'll also take an 800 MHz radio if we're in an area with less service, and we'll take a Garmin to text GPS locations because it uses satellite—and, of course, we'll take a cell phone. So with five different lines of communication there should be a way for us to get through. It's important that when we have teams in various locations Incident Command knows where those teams are to ensure everyone's safety.
I always go into the backcountry with extra layers for warmth, lots of food—snacks on snacks—and a way to communicate to the outside world in case something happens, even if I'm just going to a trail near town. I always bring real food with me. I carry a stash of bars, but I like to take real food when I know I'm going out for more than an hour—I bring a sandwich or my leftovers from the night before—because real food is going to sustain me a lot better than a bar. Another key piece I always have in my first aid kit is extra contact lenses—I'm dependent on contacts or glasses to see.
Each year I present at the Crested Butte Avalanche Center's Avalanche Awareness Night. The number-one message I want folks to know is to call 911 right away if you think you have an emergency. Even if you end up not needing help, it's better to start a chain of communication and get a team moving toward you. Crested Butte Mountain Rescue doesn't charge for any of our services, and we'd rather "stand down" than arrive too late.