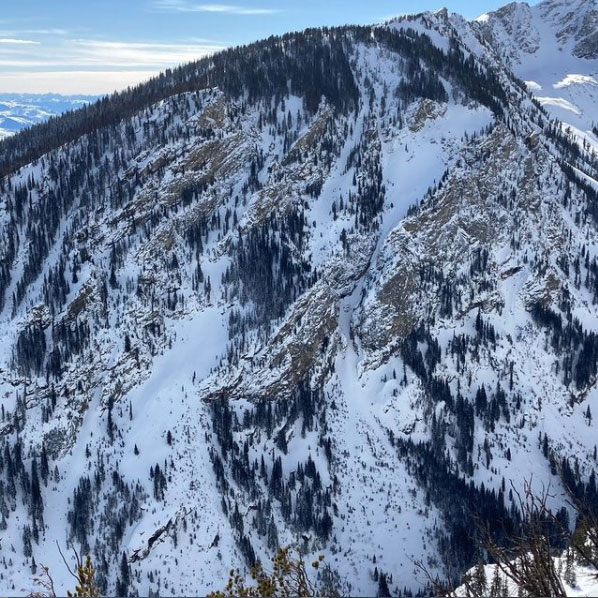 Wyoming recorded its third avalanche fatality in a week yesterday, with the death of an individual in Grand Teton National Park in a line called the Broken Thumb Couloir. This fatality marks the 25th death in the U.S. in as many days.
According to the Jackson Hole News & Guide, the Teton County Coroner identified the deceased as Matthew Brien, a 33-year-old resident of Jackson who was originally from Pennsylvania. Park rangers, Teton County Search and Rescue and representatives from the Bridger-Teton National Forest Avalanche Center (BTNFAC) responded to the accident, which occurred off the north side of 25 Short.
Brien was traveling in a party of three, reports the Teton news site Buckrail.com, passing one at a time through the upper part of the Broken Thumb Couloir. As he entered the line's constriction, above a rappel, an avalanche broke two feet deep, sweeping him approximately 1,000 feet downslope. Brien's partners called 911 and two friends who were skiing in the area, recovered Brien and initiated CPR. Rescue officials arrived on scene and determined Brien was deceased.
BTNFAC had reported avalanche danger as considerable at mid to upper elevations on Monday, noting the presence of one- to four-feet-deep wind slabs and the continued threat of persistent deep slab avalanches. "Backcountry travelers could easily trigger small to large wind slabs on steep, wind loaded slopes," Monday's forecast read. "While these slides could kill you, involvement in a persistent deep slab avalanche almost certainly will. Skiers and riders have the potential to trigger these large to very large slabs on a variety of aspects and elevations. They could also release naturally. If you want to play it safe, stay off of and out from underneath slopes greater than 30 degrees."
This is Wyoming's fourth fatality of the season, the previous two having occurred within the last week. One fatality, on February 17, involved a snowmobiler riding in the Squaw Creek Drainage southeast of Alpine and the other involved a snowboarder who was sessioning a jump on Togwotee Pass. "This year we had [early season] snowfall, and it was starting to look like a stable base," BTNAF forecaster Lisa Van Sciver recently told Backcountry. "Then we had a prolonged dry period, and the variability of where those weak layers formed is what we've been dealing with this season."
The U.S. has now recorded 25 avalanche deaths in as many days, far outpacing the seasonal average of the last 10 winters.