On a fundamental level, few individuals think both analytically and creatively—left brain, right brain stuff. But photographers are different, their work demanding technical mastery to make art. To celebrate the best in winter imagery, we asked seven photographers to talk about their most-loved shots, and then we chose a few dozen of our favorites.
Bellingham, Wash. resident Jason Hummel spends most of his time in the nearby Cascade and Olympic Mountains, where his love of ski-mountaineering often takes him to the slopes of Mt. Baker. There, he navigates and photographs the long approaches, glaciers, and complex avalanche terrain in hopes of doing this rugged landscape justice. And one day while he was skiing with his twin brother, he captured that moment—explained here in his own words.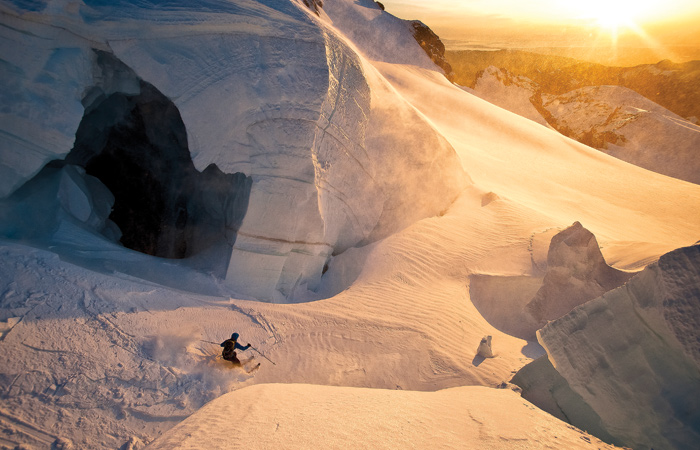 This was mid-winter on Mt. Baker. Before you can even get to the trailhead, you're doing at least five to seven miles of road [approach] before you have to ski up into the alpine. We [my twin brother Josh and I] skinned up on incredible snow, but when we got to camp, the wind picked up. We watched as the snow blew away, so we left everything at camp and went to go ski.
I always say that, with photography, you need at least three things. The first two are always pretty easy: an amazing skier on powder. It's that third thing that's difficult: a rainbow, a lightning striking—it's that thing you can add. Most publishable photos need at least those three things to make them stand out, and this one has three or four, at least.
I wish I had the camera back then that I have now. Cameras these days would have captured that so much better. I was shooting at about 1000 ISO there and, back then, that was a lot.
In the photo you see the upper part of the Coleman Glacier, looking down on what is called Heliotrope Ridge. Out there, where the sun is shining, that's Puget Sound, and if you look closely you can see the water. That is one of the other cool things about Mt. Baker—you are standing above the ocean.
And getting out with my twin brother is fun for me. We have skied together since we were kids, and we just skied our 216th month straight [as of October]. Just having someone who knows you—it is nice to have that constant. It is easy to photograph someone I have skied with my entire life.