Roc Sagrista, 29, is a splitboarder, climber and hutkeeper for Refugi d'Amitges, a lodge that sleeps 74 in Parc Nacional d'Aigüestortes i Estany de Sant Maurici. The hut, situated at 7,759 feet and tucked within the Catalan region of the Pyrenees, has served as an entryway into the mountain range since its construction in 1966. And as Amitges has secured its place as an extension of the Pyrenees, it's also served as a home base for Sagrista and his family. Since his mother's early involvement with the Centre Excursionista de Catalunya (CEC), the organization through which Amitges operates, Sagrista has gone from spending summers at the hut to managing it—including cooking, interacting with guests and exploring the surrounding peaks.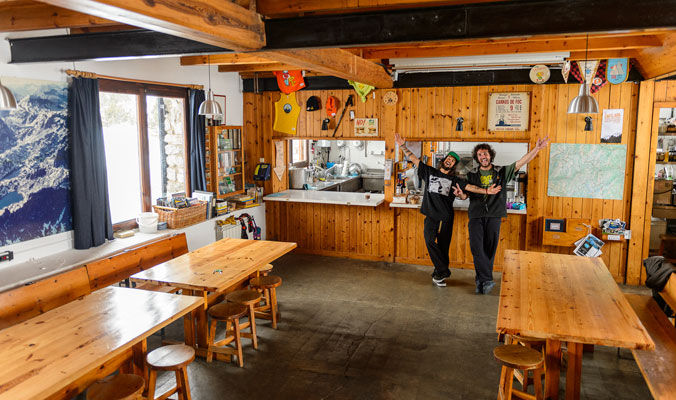 In my mum's family, there is a large mountaineering tradition, and she was an active member of CEC, which owns the refuge. In the beginning, anybody who wanted to come up there could; it was not a business like now. So she convinced my father to give it a try, and here we still are.
When I was a child, during the school year, we were mostly living with my mom in a small village of 15 inhabitants where we have our home in the valley. In the winter, I could ski at the local resort, Port-Ainé, every weekend. We spent the summers at Amitges together with my sisters and parents playing games: pretending we were sailors and imagining the big boulders to be boats.

I skied for many years in my local resort ski club, but a friend and I both decided to give snowboarding a try at the age of 12. Since then, it has become my biggest passion. I was very focused on freestyle riding—getting sponsored, competing and traveling for snowboarding until I decided to let that ego-fighting world go when I was 19 years old. That winter was also when I started working at the hut, and I discovered splitboarding and the infinite lines that our mountains have. Before that, when I went up to Amitges, I was just looking for kicker spots, but after my introduction to splitboarding, I started looking for lines and first descents to ride. I also started discovering all the valleys around Pallars, and now I give thanks for that change of mind, because we are in a real paradise every corner you turn.
Working up there is magic, especially when you have some time off, because it's like you are at an advanced camp, near the perfect terrain for my favorite activities: riding and climbing. It's also nice to be able to receive people who are tired and give them shelter, share moments with different beings and learn from them. Maybe the difficult parts are also related to that—we are working with the public, and sometimes humans can be very rude, thinking you are their servant only because they are paying. Any education between groups can be lost.

In the Pyrenees, freeriding is getting more popular, but I remember a few years ago when I started and nobody was interested in going up to the mountains to send a line. Still, I think there are a lot of lines that nobody has done before, and even on the ones people have descended, it is difficult to find tracks during any winter. In Val d'Aran there is more overcrowding, and off-piste skiing is more popular. But in Pallars Sobirà, which is my region, we are a really small community and normally you don't find anybody in the mountains during wintertime. People are scared when there is powder, because we don't have much culture of it, and that ignorance is perfect for us who like to be alone in the wild.