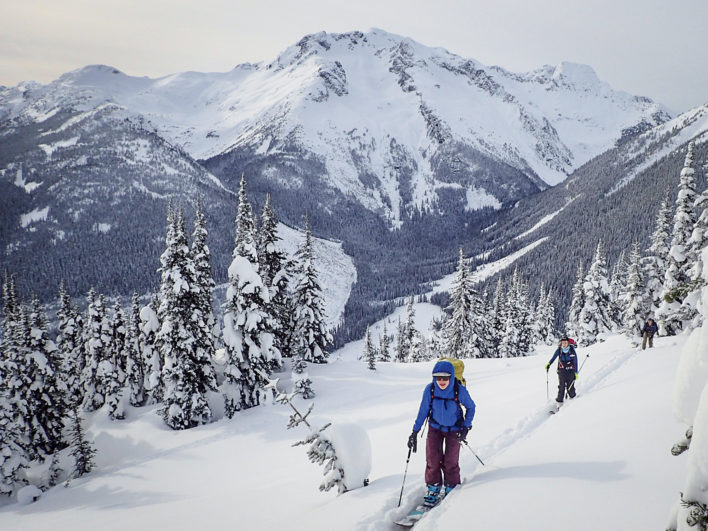 Mountain Mentors, a nonprofit that serves communities in Vancouver, Whistler, Squamish and Pemberton, B.C., offers a new way to venture into the mountains. The volunteer-led organization began in 2016 and works to pair and facilitate one-on-one mentor/mentee relationships, with the overall goal of creating backcountry spaces where everyone belongs and can safely participate. Below, Mountain Mentors president Rosie Langford expands on what their mission means and what growth may look like for the community-driven organization in her own words. —Lucy Higgins
The activities that people participate in within the backcountry—skiing and splitboarding in the winter and rock climbing in the summer—are very small parts of who a person is and how they express their identities. Mountain Mentors is offering to facilitate one-on-one mentorship, with an aim of empowering participants in trusting relationships that offer the support and self-development opportunities needed for them to bring all of themselves into these spaces.
We're hoping to create relationships where people can feel like they can show up, not just to that activity, but in a way that's true to them and authentic to them. The core of our program is the one-on-one mentorship pairing. But from a broader perspective, we're creating a community. The success of our program is really the representation of those who participate [in the backcountry] and take the courage to put themselves out there.
Meaningful experiences in the outdoors are not just opportunities to push and challenge and confront risk. It might be that some folks are really looking to have their first day out or eat lunch with a beautiful view, so we're trying to get a sense of what's bringing people to the outdoors and what's a successful experience for them.
We acknowledge that we're working in a context where there is risk, so we want to do our due diligence to make sure we're encouraging people in a way that's appropriate for their experience and skill level. Not all mentors in the program are ski guides, and not all mentees are brand new to the activity. We pair people according to their interests, experience, and their current comfort level of either sharing or learning new information. We have around 30 pairs every season, so 60 participants in total.
This winter, I have already spoken with four different people in B.C. and the U.S. who want to start mentorship programs, most of whom are members of the avalanche industry. There's a growing awareness of mentorship as also bridging recreational paths and the development of professional pursuits.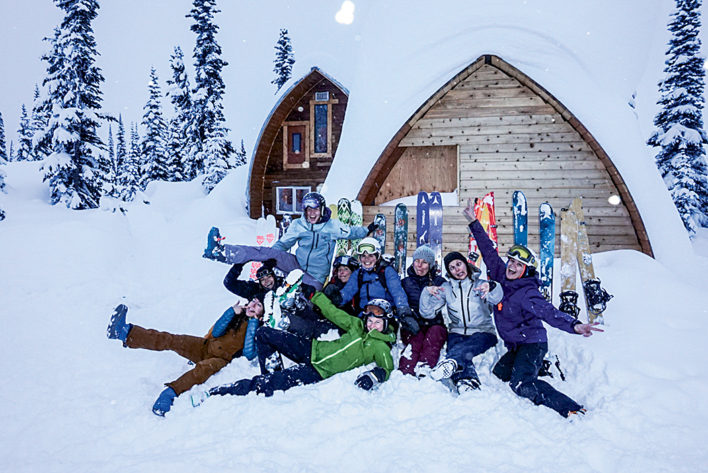 Growth for us doesn't necessarily look like increasing our numbers but more like seeking to strengthen our programs. Mountain Mentors is not the only organization within the "Sea to Sky" that is pushing for a vision of outdoors spaces and a culture that is safe for everybody. Other organizations, like Indigenous Women Outdoors, Belay All, Colour the Trails and Indigenous Womxn Climb—these are just a few of the incredible organizations that we work alongside. When I think of growth for Mountain Mentors, I think of continuing to learn from these organizations and responding to community needs. I think what is coming through to many now is that backcountry spaces are not currently safe or representative of all those who should be in there. These spaces are also not free of deeply embedded issues of colonialism and displacement of Indigenous Peoples in the name of recreational access and freedom. So, I think our growth looks like strengthening our understanding of the space we're working in and offering our programing in a way that's in service and with awareness of who is in these spaces and who isn't, and why they aren't.
I believe mentorship can be a way of changing that, of changing the way the outdoors community sees and arrives in these spaces, of changing the culture that exists so when people do arrive in the outdoors, they feel a sense of belonging, safety and fun. That's the overarching path of growth for us, and the partnership with those other organizations and the broader outdoors community is critical for that.
---
To the casual observer, British Columbia's Sea to Sky—the Coast Mountains surrounding the same-named highway—doesn't seem like a world-class backcountry destination. But just out of sight is an expansive range that gets buried in some of the deepest and most stable snowpacks anywhere. In Issue 139, contributor Ryan Stuart documents the area and its organizations, such as Mountain Mentors, as well as the intensifying chase for fresh tracks in the region and how managing the scarcity of snow will take an appreciation of 10,000 years of human history. To read the full story, pick up your copy or subscribe.