Backcountry fuel often comes in single-serving, individually wrapped packages, but there's a way for your transition bites to be more creative and Earth-friendly: Bring them from home.
Chocolate Chip Banana Blender Pancakes
Makes about 15 pancakes
There's nothing that gets me up a skintrack faster than a stack of banana pancakes stuffed in an easy-access pocket. Plus, when you roll out of bed in the wee hours and there's no time to enjoy a real breakfast, 10 a.m. pancake breaks are essential.
Made with oats and bananas, these pancakes are incredibly sturdy, so they hold up well inside a jacket pocket or in a backpack. The chocolate chips are optional, but highly recommended.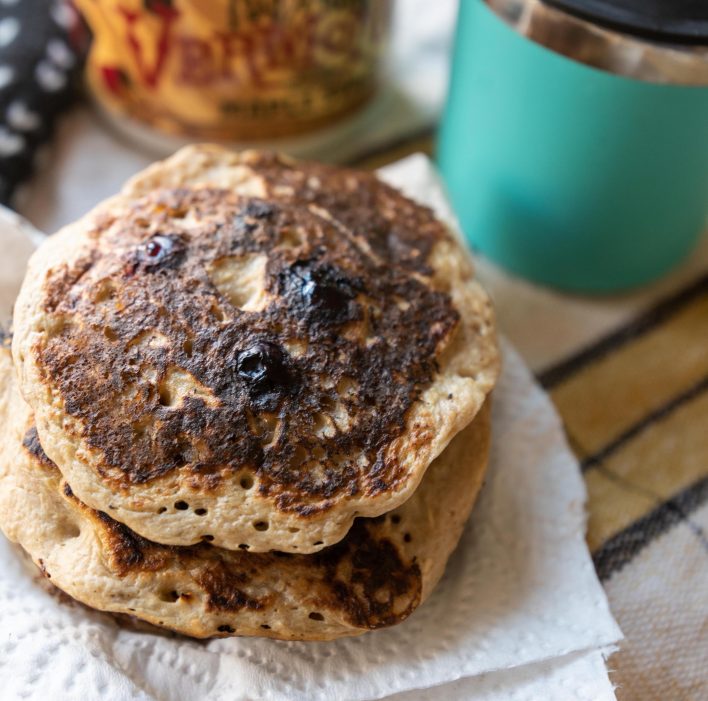 Ingredients:
2 cups rolled oats
1 cup milk of your choice
2 eggs
1 large ripe banana
1 tsp. baking powder
1 tsp. ground cinnamon
Dash of salt
2-3 Tbsp. coconut oil or butter, for cooking
¼ cup dark chocolate chips (optional)
Directions:
Add oats to a food processor or large blender and blitz until they become a flour-like consistency.
Add the rest of your ingredients (minus the chocolate chips) and blend until smooth.
Let the batter sit for 10-15 minutes so the oats can soak some of the moisture.
Heat a skillet to medium-high with coconut oil.
Pour ¼ cup of batter at a time onto the skillet and add chocolate chips. You can add a dash of the milk to the batter if it's getting too thick.
Flip pancakes once bubbles start to form (about 2 minutes). Let them brown on both sides and repeat until you've used all the batter.
Once cool, wrap them up and stuff them in a pocket for skintrack snacking.
---
Lily Krass is a freelance storyteller based in Jackson, Wyoming. She is the co-author of Beyond Skid: A Cookbook For Ski Bums, a collection of dirtbag-friendly recipes inspired by mountain town life. Check it out here: beyondskid.com. In Issue 147, The Huts Issue Lily Krass shares tips and tricks (and a couple more recipes) for homemade skintrack snacks. Pick up a copy and learn more: backcountrymagazine.com/147.