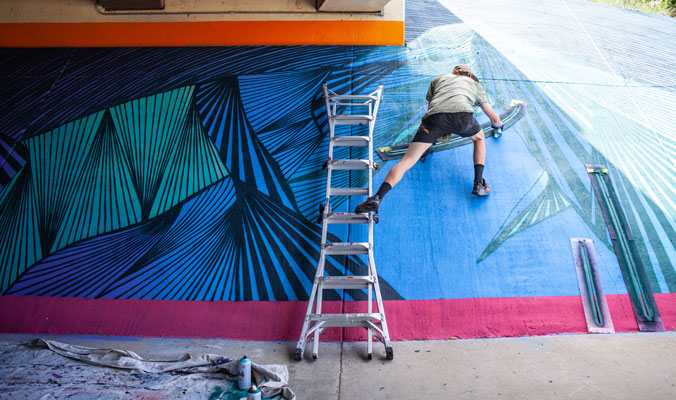 Any day on the slopes is a good day for artist Joseph Toney. After growing up in the Blue Ridge Mountains of North Carolina, which boast a total of eight ski resorts and an average of 60 inches of snowfall each year, he's learned not to wait around for the perfect conditions. But even with his commitment to skiing, no matter the weather, he heeded the call of bigger mountains and headed west. After a stint as lead graphic designer at Armada skis in Ogden, Toney made the move to become an independent artist, creating murals and canvas works in Salt Lake City. Now unconfined by the limits of ski graphic design, Toney often hits the skintrack to find his subjects, painting mountains he sees and photographs while skiing or hiking. Through cubist inspired dark, heavy lines with splashes of color, Toney creates seemingly three-dimensional images of these peaks on a two-dimensional canvas. We caught up with him to hear more about his recent move to Salt Lake City and his renewed backcountry inspirations.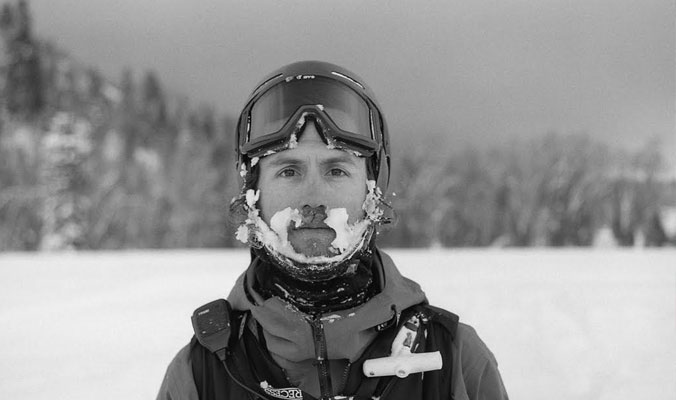 Backcountry Magazine: What is your background in mountain art?
Joseph Toney: I first got into creative design work and painting after knee surgeries in high school and college left me with a lot of downtime. I couldn't ski for a year, so I picked up design work and then thought the best output would be to put my art on skis. I then went to school for painting and graphic design and after interning and then working for Teton Gravity Research and going back to school, I was lucky enough to get a job with Armada. I was able to turn my senior design products into commercial products for them.
BCM: What would describe you style as?
JT: I've got a pretty heavy, cubist influence mixed with traditional Japanese painting and print styles. It's definitely easy to see my graphic design background through my paintings and at first glance, some of them look digitally made even though they're all hand painted. With the cubist approach, it's about amassing several viewpoints into one abstracted depiction. It's like an abstracted scientific study of a mountain where I'll use certain curved lines or straight lines to represent different parts of the mountain such as snow, rocks or different slopes.
BCM: What message are you trying to convey with this style?
JT: I want to recreate this sense of liveliness and energy that I get when I'm spending time in the mountains. That helps bring a sense of energy into a 2D plane which is often static.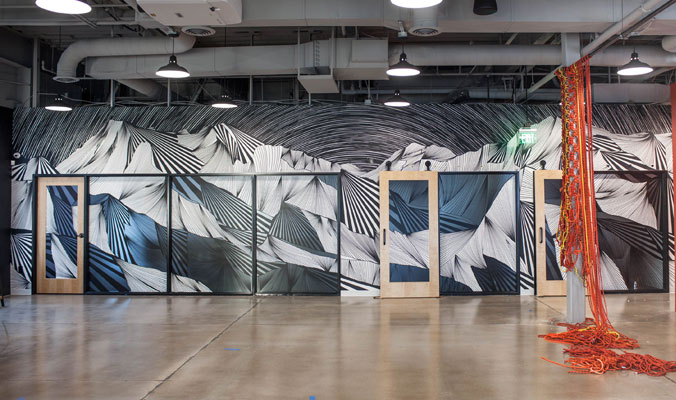 BCM: How has your art changed since you left Armada?
JT: It's really interesting to take something you've been doing for so long and make it a career. I've been working in this cubist style for six years, but this style has been on the backburner because of my design job. And now that I don't have anything else going on, my art is my main focus and I've been able to move into a dedicated 600-square-foot studio in Salt Lake. It's been amazing to see how fast this style has evolved and how fine-tuned my art has become in six months.
BCM: What's your process of creating these works?
JT: Every project is a little different. I draw my direct inspiration from being in the mountains. When I'm skiing, mountain biking or backpacking, I'll take a bunch of reference images and mental pictures and create a memory landscape from my experiences. I'll then go to the drawing table or the computer and recreate those memories from the day. From there I'll create the piece with a cubist approach where I'll include multiple viewpoints of the same place within the 2D image. It's about creating a multifaceted image you can't see through one photograph.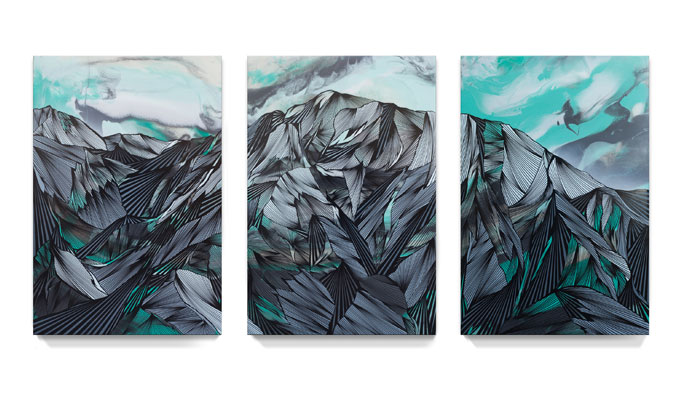 BCM: How does your art cater to the backcountry?
JT: In my works, I want snowboarders and skiers to recognize the small points of interest I include like places they've been that the average person wouldn't know. When I'm painting a specific mountain, I really like to create these specific nods to backcountry skiers or hikers who have experienced a range and know it well. It's usually a small couloir or cliff that I've honed in on in detail so that if you've spent time there you can find subtle nuances that a less familiar viewer wouldn't automatically see.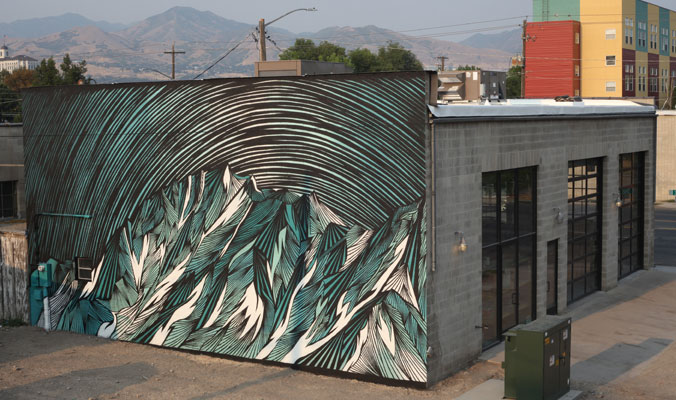 BCM: What's next for you as an independent artist?
JT: I'm still trying to figure out the full-time artist thing, but I've already got a couple of big mural projects in the works and will hopefully keep working with a gallery in Telluride. I'm also looking at some art residencies in mountain towns to develop my style even more, but most of all, I hope to stay in the mountains.
—
To see more of Joseph Toney's artwork, visit toney.co.