On Sunday, February 14, Colorado reported its eighth avalanche fatality of the season when a snowboarder was killed near Loveland Ski Area. The Clear Creek County Sheriff's Office has identified the victim as 57-year-old David Heide of St. Mary's, Colorado.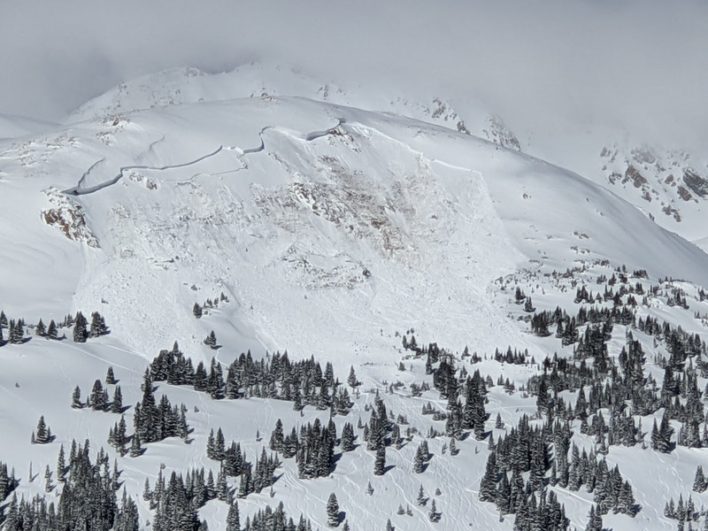 According to a preliminary report by the Colorado Avalanche Information Center (CAIC), Heide was descending an east-facing slope on a subpeak of Mt. Trelease known as Pat's Knob at 9:30 a.m. when he was caught in the avalanche. The summit of Pat's Knob sits at 12,304 feet, and the terrain of the east face's first 500 feet tops out at 35 to 45 degrees. The slope eventually terminates at Loveland Ski Area's access road, which is also the start of Loveland Pass.
Heide, who was riding alone, deployed his airbag but was still buried with only the top of his airbag showing in the debris. According to a Facebook post from the Alpine Rescue Team, three other backcountry users who witnessed the avalanche called it in to search and rescue and were able to locate Heide. The Alpine Rescue Team found Heide at 11,800 feet at 11:40 a.m.
Also on Sunday, approximately 50 miles away from Mt. Trelease, a snowmobiler died in an avalanche west of Rollins Pass on Mt. Epworth. The snowmobiler was riding an east-facing slope at 11,600 feet when he was caught and carried down to Pumphouse Lake and buried beneath his sled.
The CAIC's avalanche forecast for Sunday posted danger as considerable at all elevations in the Front Range. Forecaster Ben Pritchett wrote that skiers or riders had the potential to trigger "large, broad-breaking, far-running avalanches on many slopes, particularly those with signs of recent wind-loading" in the morning report, adding that wind slabs up to three feet deep could be found on slopes that face north through east to southeast. These wind slabs sit atop a persistent weak layer that has been plaguing the state for the majority of the season.
The CAIC has released a preliminary report for both fatalities and plans to release full reports as more information become available. The avalanche danger still remains at considerable throughout the state, with the exception of the Northern San Juans, where the danger is high with an avalanche warning in effect until Wednesday, February 17, at 8 a.m.