Utah recorded its first avalanche fatality of the 2020/21 season last week. On Friday, January 8, Kevin Jack Steuterman, 31-year-old snowboarder from Clinton, Utah, was caught, carried and buried in the Dutch Draw area just beyond the boundaries of Park City Mountain Resort.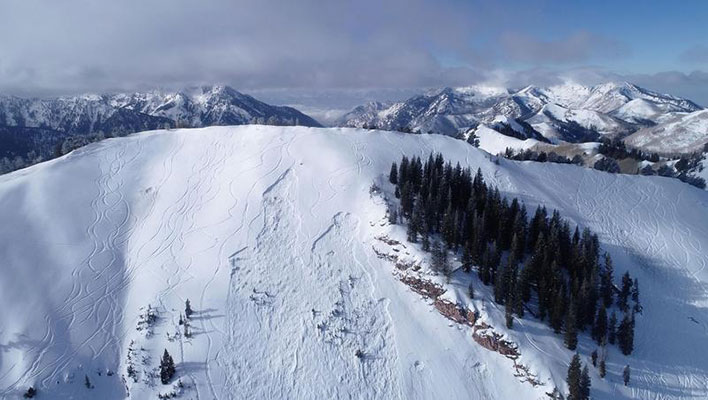 According to the Utah Avalanche Center's accident report, Steuterman and his partner, on skis, exited the resort around 9:40 a.m. via the backcountry gate located on the top of Park City Mountain Resort's 9990 chairlift. The pair hiked along the ridgeline to the top of Silver Peak before dropping into a run known as Conehead, an east-facing slope that tops out at around 10,000 feet. After Steuterman dropped first, his partner waited until he was halfway down the slope to start her run. The avalanche broke at the skier's feet on her second turn, fracturing two feet deep and 150 feet wide, and caught, carried and buried Steuterman as it ran 400 vertical feet. Neither member of the group was carrying avalanche gear.
The skier, who was not caught in the avalanche, called 911 at 10:09 a.m. Park City Mountain Resort ski patrol, Summit County Search and Rescue, the Park City Fire District and Wasatch Backcountry Rescue were all called to the scene and recovered Steuterman's body by avalanche dog beneath two feet of debris at 2:30 p.m. The Summit County Sheriff's Office identified the deceased as Steuterman on Monday, KLS Salt Lake reported.
Dutch Draw is a historically deadly slope and has been the site of fatalities on three previous occasions—December 2019, February 2012 and January 2005. The initial slope, which lies approximately a half mile from the backcountry gate atop Park City Mountain Resort's 9900 chairlift, measures a relatively benign 30 degrees before cresting a rollover and pitching to 40 degrees beside a cliff band. Each previous fatality also involved a snowboarder who was not carrying avalanche rescue gear.
The Utah Avalanche Center rated the avalanche danger as considerable on easterly aspects above 9,500 feet on the day of last week's accident. "Recent storm snow and winds have created a dense slab of snow on top of a buried persistent weak layer. Avalanches may be 2-3' deep and over 200' wide," the forecast read. The avalanche failed on this faceted persistent weak layer under a dense slab.
Two human-triggered avalanches were reported the day prior to the fatal slide, one of which was two miles north of Dutch Draw in Scott's Bowl along the Park City Ridgeline. The Utah Avalanche Center finished last Friday's forecast saying, "There have been several close calls/near misses this past week and I am fearful our luck has run out."