On September 30, 2018, Hilaree Nelson, 46, along with partner Jim Morrison, made the first ski descent of Nepal's 27,940-foot Lhoste. But this achievement was far from Nelson's first when it comes to pushing limits of ski mountaineering. Nelson grew up skiing on Washington's Stevens Pass before moving to Chamonix in her early 20s. There, she gained respect for the alpine and tested the limits of her steep-skiing skills, which served her well as she transitioned into a professional athlete taking on an increasing number ski expeditions. And as her lifestyle and approach to being in the mountains and reaching objectives has changed over the years, her passion for pursuing high-altitude goals hasn't waned.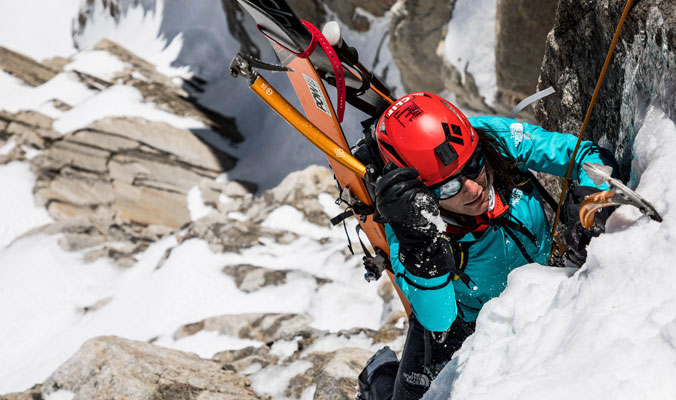 Back in the late 1990s, for me, the ski scene was Chamonix. It was Shane McConkey, Brant Moles, Jeremy Nobis and Kristen Ulmer—it was era of The Blizzard of Aahhh's. Everything was changing so quickly, because Chamonix had been put on the map. It totally expanded ski mountaineering—at least in my mind—from Colorado 14ers to crevasses, glaciers and ice climbing to multiday expedition-style trips. That terrain was no longer just for alpine climbers.
We were a rat pack of 22-year-old irreverent Americans. So we were received with a lot of skepticism. I was in the first extreme competition in Europe in the Chamonix Valley in 1996. Shane McConkey was there; Jim Morrison was there. For me, this time made me feel like a deer caught in headlights. I grew up skiing a small resort in Washington, and I didn't grow up racing. I had so far to go to become the skier and ski mountaineer I've grown into, and I was totally blown away watching these guys ski. As far as the female competition, it was myself, Jesse James, Chris Davenport's wife, and one other woman—a tiny field. It was so much fun and there were crazy parties afterward—it was sponsored by Red Bull, but Red Bull was illegal in France at the time, so at one party, the gendarme (French police) came and raided the party and confiscated all of the Red Bull.
I won that competition the first year only because Jesse James fell on an air. I'm still amazed that I didn't kill myself that first winter there, because I knew nothing. But there was so much going on around me that there was a lot to learn. There were still many first descents to be had, especially for a female. Ski mountaineering has existed for a very long time in Chamonix, but a lot of it was restricted to guys, so I had my pick of lines that had never been skied by a female before. I was clueless; someone would invite me along and I'd be like, "Alright, sweet. Let's go do this."
After the four or five years I was in Chamonix, I came back to the States to take a few avalanche courses, and I took some AMGA guide courses. By 1999, I was on my first India expedition for the North Face.
I've definitely changed from that deer caught in headlights to having a very focused, methodical plan ahead of me. When I was in my early 20s, I was going on four or five expeditions a year. As my time has become more rare in terms of the freedom to do these things—and I have to work at my fitness now—I tend to really laser in on particular objectives. I study them, I train specifically for them, and that's been a huge transition for me. I've evolved to the point where I'm coming up with the ideas; I'm putting a team together and going to do these things that are real passion projects for me.
Once I had kids, having access to technology to keep me connected has been pivotal. If that hadn't evolved, I don't know if I would have been able to continue to pursue the big expeditions. I have to be able to talk to my kids and be in communication every couple of days. Before kids, I'd be gone for six weeks at a time and not have enough money to pay for the five-dollar-a-minute satellite phone call.
I think having more options for expanding "the career" of being a ski mountaineer has been great for me. Learning the skills of being on stage and talking to big audiences has been a fantastic experience. I got rolled into having a voice in activism with Protect Our Winters, and I found myself at the World Economic Forum in January 2018 on a panel with Al Gore. It was scarier than skiing off of Lhotse. At the same time, exploring that kind of newness is what has kept me pursuing ski mountaineering. I like putting myself in uncomfortable situations and seeing how I do.