With Covid-19 still spreading across the globe, the only answer to the question, "What happens next?" seems to be "Who knows?" Ski resorts are just one example of a disrupted industry, and while a season with minimal chairlift use might be standard operating procedures for some, a human-powered winter is a brave new world for others. With the Center for Disease Control and the World Health Organization constantly finding new information and updating virus protocols, we're all trying to navigate the world as best as we can. What we do know is the significant positive impacts of wearing masks, staying six feet apart and avoiding unnecessary travel. Here are some ways to fit those guidelines into the upcoming season.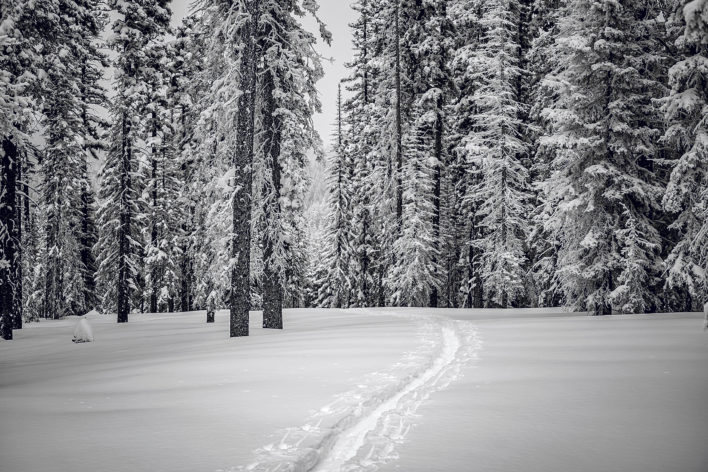 Plan Ahead
While some aspects of backcountry skiing are perfect for Covid-19 (wearing a buff, spreading out in avalanche terrain, spending time outside, keeping group sizes less than four people), other aspects present challenges: navigating tight parking quarters at the trailhead, conferring over a map with a ski partner or conducting a beacon check. And if weather rolls in, staying a full body length apart from a partner makes communication significantly more challenging.
The point is that it's actually quite difficult to ski with a person all day, communicate effectively and not cut corners on safety without being in someone else's personal space. To help avoid slipups, consider treating Covid-19 the same way you'd treat any risk in the mountains: discuss it during the planning process to make sure that you and your partners are all on the same page, then continue to check in throughout your day.
For those new to the backcountry, the same basic rules apply as in any season: make sure you know how to use all of your gear and have an appropriate plan and training for the terrain that you want to go into. Take an avy class, hire a guide, get some emergency medical training and do your homework. Showing up to the trailhead and winging it is not only dangerous for yourself and those around you, but it also rarely leads to a fun day. What's not typical this season? Should you get injured or need to be rescued, your ski partner and SAR professionals may face heightened health risks in assisting you.
Know Before You Go
Got an urge to cross state lines for some fresh terrain options? Take a moment to look up the travel restrictions for your final destination and for the states you plan on driving through. Some require a two-week quarantine period before stepping into public, and—no—going to a popular backcountry zone doesn't constitute quarantining. Upon returning home, you may need to quarantine for another two weeks, which will at least afford plenty of time to feed your sourdough starter, develop a good meditation practice and stretch your hip flexors a whole lot.
Spring 2020 also saw widespread public land closures, including in hotspots like Grand Teton National Park, and there's no telling if these shutdowns may be repeated this winter. Make sure that you're up to date on public land policy and the town and county stay-at-home orders before filling up the roof box.
Get Off The Beaten Path
If traveling feels overwhelming, consider what's just beyond the backyard. What nearby zones might make a worthwhile day trip? Consider a unique, close-to-home goal to freshen up your daily routine, like skiing objectives only within a certain radius—within 20 miles of home, for example—or only embarking on trips that require a single tank of gas. If you happen to have a plethora of bc access just down the road, step off the trodden path to explore a zone you might have overlooked in the past.
For those accustomed to hitchhiking back to the lot after a run, get ready for some extra skinning: hopping in a stranger's car is a no-go. Unless you've already set up a shuttle within your group, make sure to leave extra time to skin back up to the car or research new areas that don't involve thumbing it.
Tone Down Risk Acceptance
A good rule of thumb is if you're skiing at a 10 on the resort, you need to be at a seven in the backcountry. Injuries that seem minor in the frontcountry tend to compound when you add in remote locations and freezing temperatures. This year, there's another layer of complexity with hospitals turning away elective surgeries and search and rescue crews having to comply with Covid-19 protocols.
Take this into account when trip planning the night before—not when you're already standing on top of a line that's going to push you out of your comfort zone. Having an accident in the backcountry always makes for a bad day, but having an accident this season could send ripples through the small, vulnerable communities within ski towns.
Lastly, risk acceptance applies to personal health. Don't ski with partners who don't take Covid-19 protocols seriously, and, if you feel ill or start to show symptoms, seek medical attention. The mountains will be there next season.
---
This article was originally published in Issue #135. To read more, pick up your copy at BackcountryMagazine.com/135 or subscribe.