On July 12, after five years of feasibility studies and ongoing billboard wars, the Utah Department of Transportation (UDOT) finalized their plans to address the traffic issues plaguing the Wasatch's Little Cottonwood Canyon, which is currently accessible by SR-210. The comprehensive plan includes three phases—two focused on traffic reduction and a third on gondola construction.
"I'm not at all surprised. We knew that they were gonna come out with the gondola," says Brad Rutledge, a resident of Holladay, Utah and co-founder of the Wasatch Backcountry Alliance, who has been closely following the controversial project.
Despite the gondola approval attracting most of the attention, the project does not begin there. It starts with Phase 1: tolling and improved bus service; followed by (and based on funding), Phase 2: road widening, snow shed construction (above-ground tunnels designed to shelter the road from avalanche debris), and trailhead parking expansion. The gondola is earmarked as Phase 3, but—estimated at almost $800 million and yet to receive funding—implementation is dependent on the success of the first two phases.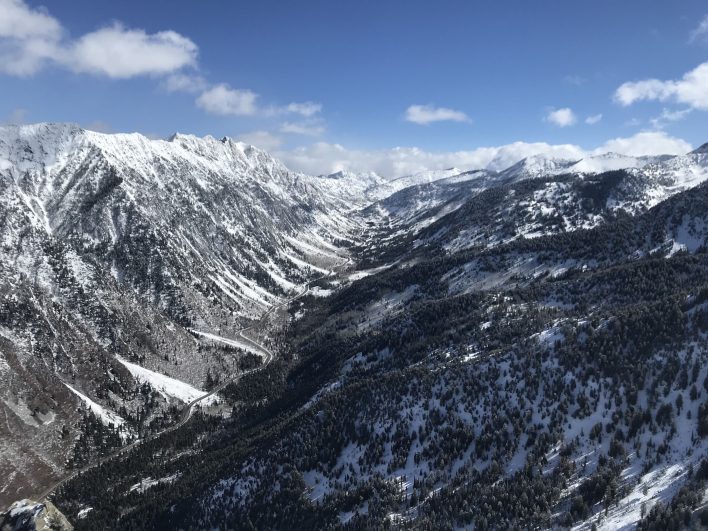 SR-210 snakes its way up Little Cottonwood Canyon. [Photo] Greta Close
Since its inception, the project has garnered strong interest from the local community. James Ledyard started flipping burgers and ski instructing at Alta in the 1990's. Today, he owns a cabin at the base of Little Cottonwood Canyon.
"I'm wondering what [my cabin] is going to look like with a gondola going over top of it," he says. "I did not envision that when I purchased a home in the Wasatch National Forest."
While Ledyard has retired from ski instructing, he still faces a dilemma almost every time he leaves his house in the winter: How bad will the traffic be? Increasingly, there are two miles of congested vehicles blocking his driveway. So, he's not entirely opposed to UDOT's project.
"I think the tolling is gonna help a lot. [The] snow sheds and parking and all of that is going to be great and I would be ecstatic if we just ran out of steam before we got to [Phase] 3," Ledyard says.
That middle ground stance has been adopted by Ben Fasciano as well. He moved to Utah two years ago to work at Alta.
"Almost the unanimous sentiment among people who work up there and ski up there or just recreate up there in general is pretty anti-gondola," Fasciano says. "I think the gondola is a grating solution for most locals," he adds, although he thinks traffic solutions and reducing emissions are a worthy goal.
While the plan for phased traffic implementations in addition to gondola installation—what UDOT has dubbed Gondola Plan B—has been approved, it will likely be a long time until the full project is realized. UDOT targets completion of Phase 1—increased bussing, tolling and enhanced parking—by Fall 2025, but the following parts have no official timeline.
Rutledge and Ledyard both hope this elongated timeframe allows for more research to be done.
"After phases one and two are implemented, there'll be a thorough analysis as to how traffic is going," says Rutledge. "So if these systems work, and satisfy whatever those metrics might be, the gondola is not going to be necessary. We can remove it."
Ledyard also remains optimistic about solutions, though he worries there hasn't been enough focus on overcrowding.
"There's a point at which everything gets overused. It becomes overcapacity. It exceeds its sustainability," Ledyard says. "I don't see how they can maintain some of that legendary, best snow on Earth, if you want to put an exorbitant volume of people on it."
---
Stay tuned for a deeper dive into the Little Cottonwood Canyon Gondola controversy in an upcoming issue of Backcountry Magazine. Subscribe to read the upcoming article and other stories like as soon as they're published in print.
Liam McGee is studying Environmental Science at Westminster College in Salt Lake City. He spends his winters waiting in traffic to ski at Alta and Snowbird and his summers working as an editorial assistant.