The Backcountry Magazine Gear Guide is nothing without its testers—a group of 40 skiers who congregate every year at Powder Mountain, Utah to give the coming season's skis, boots and bindings a thorough shakedown. After completing up to three runs on a given product, each tester fills out a form with numerical scores and detailed insights. Skis are tested, at minimum, eight times; three for boots and bindings. So when it comes time to choose the products covered in the Gear Guide, we're pulling from a deep well of tester feedback. To shed light on these individuals and their preferred tools, we present our Testers' Choice profiles and picks.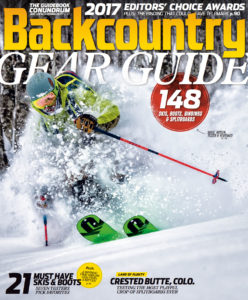 Backcountry September 2016
2017 Gear Guide
More than 100 skis, splitboards, boots and bindings reviewed, rated and recommended.
AGE 29
5 feet 8 INCHES, 150 lbs.
Seattle, wash.
CURRENT SETUP
Salomon MTN Lab skis, Atomic Backland carbon boots, Dynafit TLT Radical bindings
GEAR PREFERENCE
"My setups are pretty damn light, but I tend to carry a setup that is going to rip on the downhill."
TERRAIN PREFERENCE
"I like steep, featured, technical terrain."
Salomon QST 106
$850 – salomon.com | SIZES (cm): 167, 174, 181, 188 | DIMENSIONS (mm): 140/106/124| WEIGHT/PAIR: 8.4 lbs. (181) | LENGTH TESTED: 181 cm
What a beautiful ski. It's poppy, playful and can be taken to the next level. They are light enough to tour or damp enough for the resort. They are great for everyone—a true do-it-all ski.

---
Line Sick Day Tourist
$950– lineskis.com | SIZES (cm): 179, 186 | DIMENSIONS (mm): 135/102/120 | WEIGHT/PAIR: 6.9 lbs. (179) | LENGTH TESTED: 179 cm
I've put over forty days on these skis and they crush all conditions—from deep pow to crud. Get these things on edge, and they'll bring you back to your slalom days. The tourist is super fun and pops out of each turn. I've sent cliffs, pillows, and steeps on these. For the do-it-all touring ski, go no farther—Line has you covered.

---
Black Crows Corvus Freebird
$800 – black-crows.com | SIZES (cm): 1175, 183 | DIMENSIONS (mm): 139/109/122 | WEIGHT/PAIR: 7.9 lbs. (175) | LENGTH TESTED: 183 cm
I now understand why these did so well last year. Quite light with amazing ski performance in most conditions. They are fantastic for touring.

---
Pick up a copy of the 2017 Backcountry Gear Guide today