The Backcountry Magazine Gear Guide is nothing without its testers—a group of 40 skiers who congregate every year at Powder Mountain, Utah to give the coming season's skis, boots and bindings a thorough shakedown. After completing up to three runs on a given product, each tester fills out a form with numerical scores and detailed insights. Skis are tested, at minimum, eight times; three for boots and bindings. So when it comes time to choose the products covered in the Gear Guide, we're pulling from a deep well of tester feedback. To shed light on these individuals and their preferred tools, we present our Testers' Choice profiles and picks.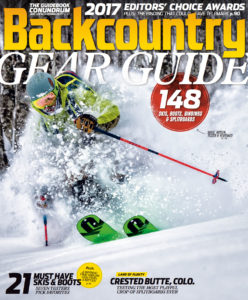 Backcountry September 2016
2017 Gear Guide
More than 100 skis, splitboards, boots and bindings reviewed, rated and recommended.
AGE 14
5 feet 6 INCHES, 120 lbs.
BOzeman, Mont.
CURRENT SETUP
Dynafit Denali skis, Dynafit TLT5 boots, ATK RT bindings
GEAR PREFERENCE
"I'd rather have lighter gear, so I can ski more runs, and just because they're light doesn't mean they won't ski well. For boots, I need range of movement for the way up and don't mind flex on the way down."
PREFERRED CONDITIONS
"I like cold smoke—who likes to ski rain crust? Who are we kidding here?"
Scott Celeste II
$750 – scott-sports.com | SIZES (mondo): 23-27.5 | LAST (mm): 103.5 | WEIGHT/PAIR: 5.7 lbs.
This boot was a pleasant surprise that handled all conditions and modes of travel with ease. At the end of the day, my feet did not hurt, and I could have kept skiing for hours. These boots were so comfy—supportive yet flexible in walk mode and gave me confidence.

—Anna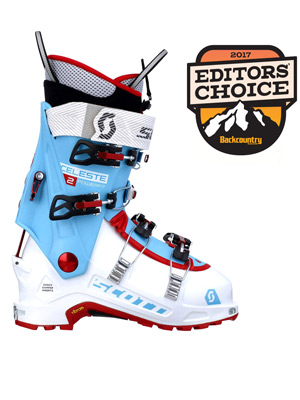 ---
Scott Superguide Carbon GTX
$1,000 – scott-sports.com | SIZES (mondo): 25-31.5 | LAST (mm): 103.5 | WEIGHT/PAIR: 6.5 lbs.
I had a ton of confidence in these boots while still being super comfortable, too. The combo of the stiff shell and soft liner created ultimate comfort. While wearing these boots, I was free to focus on my skiing and technique instead of complaining or worrying about my feet; I love that.

—Anna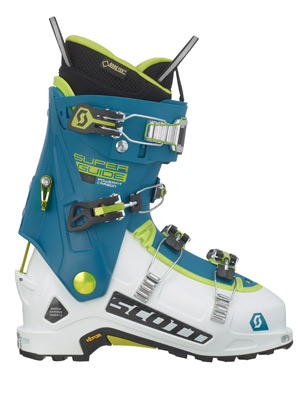 ---
Technica Zero G Guide W
$660 – tecnicausa.com | SIZES (mondo): 22.5-27.5 | LAST (mm): 99 | WEIGHT/PAIR: 7.3 lbs.
The liner is pristine! Perfect thickness, super comfy and soft on the inside. These boots were definitely designed more for the resort—supportive and comfortable.

—Anna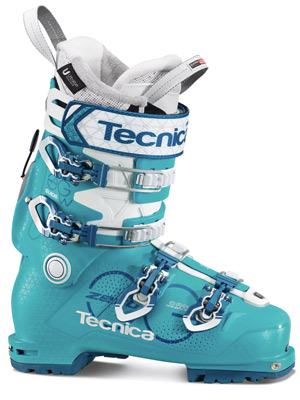 ---
Pick up a copy of the 2017 Backcountry Gear Guide today