This year, we're mixing things up. We've historically organized skis solely based on width, but we've realized this approach can ignore a ski's purpose. So for 2018, we dove into the psyche of our testers—who hammered the slopes of Powder Mountain, Utah for a week in March—to hone in on what skis were best suited to certain pursuits.
Here are our all-mountain favorites.
These are the happy-medium skis; the one-quiver boards; the jacks-of-all-trades and masters of none. They're neither the widest nor the narrowest (106 to 93 mm underfoot), forgoing deep-snow flotation and svelte touring weights for well-rounded, all-conditions prowess—inbounds and out, uphill in down, in sickness and in health.
Want to see in-depth tester feedback on these products? Buy a copy of the 2018 Gear Guide, packed with reviews of all the Editors' Choice winners, plus more than 200 other must-have skis, splitboards, boots, bindings, apparel and accessories.
---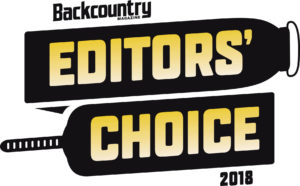 DPS Zelda A106
$1,299 – dpsskis.com | SIZES (cm): 158, 168, 178 | DIMENSIONS (mm): 130/106/120 | WEIGHT/PAIR: 7.6 lbs. (168)

Bottom Line: "Playful, quick edge to edge and stable at speed." —Holly Howard
---
Black Crows Navis Freebird
$800 – black-crows.com | SIZES (cm): 169.4, 179.4, 185.4 | DIMENSIONS (mm): 133/102/118 | WEIGHT/PAIR: 7.4 lbs. (179.4)

Bottom Line: "If there is something the Navis Freebird can't do, we couldn't find it."
---
Dynastar Legend X 96
$800 – dynastar.com | SIZES (cm): 165, 171, 178, 186 | DIMENSIONS (mm): 132/96/112 | WEIGHT/PAIR: 7.7 lbs. (178)

Bottom Line: "A do-it-all option that slices crud as well as it floats."