This year, we're mixing things up. We've historically organized skis solely based on width, but we've realized this approach can ignore a ski's purpose. So for 2018, we dove into the psyche of our testers—who hammered the slopes of Powder Mountain, Utah for a week in March—to hone in on what skis were best suited to certain pursuits.
Here are our touring favorites.
These are the diehard backcountry players, prioritizing weight for skinning-focused missions where traveling uphill or over long distance is the main goal. Whether in the backcountry or banging out uphill resort laps, these narrower (98 to 93 mm underfoot), gram-conscious sticks are all business. But most know how to have fun on the descent, too.
Want to see in-depth tester feedback on these products? Buy a copy of the 2018 Gear Guide, packed with reviews of all the Editors' Choice winners, plus more than 200 other must-have skis, splitboards, boots, bindings, apparel and accessories.
---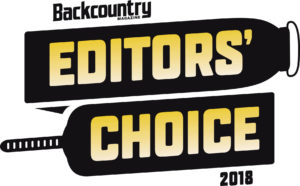 Elan Ibex Carbon 84
$750 – elanskis.com| SIZES (cm): 156, 163, 17o, 177 | DIMENSIONS (mm): 120/84/105 | WEIGHT/PAIR: 5.7 lbs. (177)

Bottom Line: This uncompromisingly light, surprisingly stable ski has a traditional feel with some added spunk.
---
Salomon Explore 88 W
$725 – salomon.com | SIZES (cm): 153, 161, 169 | DIMENSIONS (mm): 121/88/107 | WEIGHT/PAIR: 5.2 lbs. (161)

Bottom Line: "You can trust this ski with your deepest, darkest secrets." —Becca Cooper
---
Voilé UltraVector
$695 – voile.com| SIZES (cm): 154, 164, 171, 177, 184 | DIMENSIONS (mm): 130/96/114 | WEIGHT/PAIR: 6.8 lbs. (177)

Bottom Line: "A light and nimble tool that is very predictable, fun and versatile on many snow types and turn shapes."