This year's best skis are focused on transcending boundaries. From light skintrack slayers that can muscle through crud to fat powder boats that charge edge to edge, 2019's Editors' Choice lineup proves that the best skis are no longer defined by just one characteristic. From 115 models skied at this year's Powder Mountain Gear Test Week, our testers identified the Editors' Choice winners that can bound uphill, rail and float on the down and crossover from one category to the next.
Here are the 2019 Editors' Choice all-mountain skis.
For in- and out-of-bounds pursuits, these skis are the magic bullets, better known as the quivers of one. Waist widths fall in the 90s and low 100s with mild rocker profiles for well-heeled reliability in soft and hard conditions, and weights run the gamut from scant to sturdy.
Want in-depth tester feedback on these products? Buy a copy of the 2019 Gear Guide, brimming with reviews of all 38 Editors' Choice winners, plus almost 200 other must-have skis, splitboards, boots, bindings, clothing and accessories.
---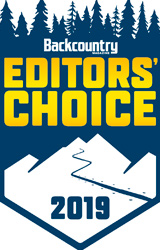 Völkl Mantra V-Werks
$1,350 – voelkl.com | SIZES (cm): 170, 178, 186 | DIMENSIONS (mm): 135/99/117 | WEIGHT/PAIR: 7.5 lbs. (178)

 From the Gear Guide: Good for "pretty much anyone with a more traditional and less freeride approach to the mountain."
---
Head Kore 99
$800 – head.com | SIZES (cm): 162, 171, 180, 189 | DIMENSIONS (mm): 134/99/120 | WEIGHT/PAIR: 7.8 lbs. (180)

 From the Gear Guide: "The Donkey Kong of skis, the Kore is ready to smash and crush all conditions."
---
Salomon QST 99
$725 – salomon.com | SIZES (cm): 167, 174, 181, 188 | DIMENSIONS (mm): 138/99/120 | WEIGHT/PAIR: 7.8 lbs. (181)

 From the Gear Guide: "The quintessential hard charger that will take as much as you can give it."
---