This year's best skis are focused on transcending boundaries. From light skintrack slayers that can muscle through crud to fat powder boats that charge edge to edge, 2019's Editors' Choice lineup proves that the best skis are no longer defined by just one characteristic. From 115 models skied at this year's Powder Mountain Gear Test Week, our testers identified the Editors' Choice winners that can bound uphill, rail and float on the down and crossover from one category to the next.
Here are the 2019 Editors' Choice powder-touring skis.
Call this category the flotilla, with broad dimensions (106 to 124 mm underfoot) and heaps of rocker for powder-focused playfulness. But these skis remain tourable in spite of their girth, with modest weights hovering around seven to eight pounds.
Want in-depth tester feedback on these products? Buy a copy of the 2019 Gear Guide, brimming with reviews of all 38 Editors' Choice winners, plus almost 200 other must-have skis, splitboards, boots, bindings, clothing and accessories.
---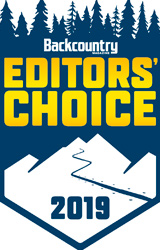 Black Diamond Equipment Helio 116
$950 – blackdiamondequipment.com | SIZES (cm): 166, 176, 186 | DIMENSIONS (mm): 143/116/126 | WEIGHT/PAIR: 6.8 lbs. (176)

 From the Gear Guide: "A stiff but lightweight powder ski that has enough cojones to stand up to almost any condition."
---
Voilé Hyper V8
$795 – voile.com | SIZES (cm): 165, 171, 176, 181, 186, 193 | DIMENSIONS (mm): 141/112/123 | WEIGHT/PAIR: 6.3 lbs. (176)

 From the Gear Guide: "After a long day of skiing the cold smoke up high, the Hyper V8 won't leave you out to dry in the mank low down."
---
Movement Alp Tracks 106 LTD
$1,000 – movementskis.com | SIZES (cm): 177, 185 | DIMENSIONS (mm): 138/106/126 | WEIGHT/PAIR: 5.8 lbs. (177)

 From the Gear Guide: "It's wide enough to be a quiver of one that can hold an edge on hardpack but still pop in the pow."
---