This year's best skis are focused on transcending boundaries. From light skintrack slayers that can muscle through crud to fat powder boats that charge edge to edge, 2019's Editors' Choice lineup proves that the best skis are no longer defined by just one characteristic. From 115 models skied at this year's Powder Mountain Gear Test Week, our testers identified the Editors' Choice winners that can bound uphill, rail and float on the down and crossover from one category to the next.
Here are the 2019 Editors' Choice touring skis.
These more slender skis, measuring 99 mm and narrower underfoot, are mostly about the up, with weight-conscious builds designed to go the distance. Most lack wild rocker profiles, instead favoring traditional camber underfoot with subtle early rise for increased firm-snow confidence, even when paired with svelte boots and diminutive bindings.
Want in-depth tester feedback on these products? Buy a copy of the 2019 Gear Guide, brimming with reviews of all 38 Editors' Choice winners, plus almost 200 other must-have skis, splitboards, boots, bindings, clothing and accessories.
---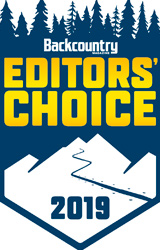 Elan Ibex 94 Carbon XLT
$1,050 – elanskis.com | SIZES (cm): 163, 170, 177, 184 | DIMENSIONS (mm): 130/94/111 | WEIGHT/PAIR: 5.1 lbs. (163)

 From the Gear Guide: "This is the ski Batman skis on. It's weightless, silent and dark, and it will karate chop the bad guys."
---
Voilé Hyper V6
$795 – voile.com | SIZES (cm): 163, 173, 178, 183, 188 | DIMENSIONS (mm): 131/99/111 | WEIGHT/PAIR: 5.8 lbs. (178)

 From the Gear Guide: "Retains the smooth, signature Voilé flex without the weight."
---
Black Crows Camox Freebird
$720 – black-crows.com | SIZES (cm): 160.2, 166.2, 172.2, 178.2, 183.3, 188.3 | DIMENSIONS (mm): 133/96/114 | WEIGHT/PAIR: 6.1 lbs. (178.2)

 From the Gear Guide: "The most reliable ski at the test. [The] shape, material and construction perfectly complement each other."
---