This year's best skis are focused on transcending boundaries. From light skintrack slayers that can muscle through crud to fat powder boats that charge edge to edge, 2019's Editors' Choice lineup proves that the best skis are no longer defined by just one characteristic. From 115 models skied at this year's Powder Mountain Gear Test Week, our testers identified the Editors' Choice winners that can bound uphill, rail and float on the down and crossover from one category to the next.
Here are the 2019 Editors' Choice freeride skis.
These skis are the crud crushers, the high-velocity chargers and the stable stompers, built with sturdy construction in moderate-to-wide widths—100 to 122 mm underfoot. They pair best with big boots, reliable bindings and strong quads.
Want in-depth tester feedback on these products? Buy a copy of the 2019 Gear Guide, brimming with reviews of all 38 Editors' Choice winners, plus almost 200 other must-have skis, splitboards, boots, bindings, clothing and accessories.
---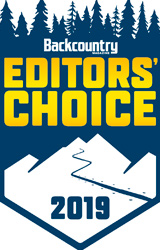 Armada Tracer 108
$825 – armadaskis.com | SIZES (cm): 164, 172, 180, 188 | DIMENSIONS (mm): 134/108/126 | WEIGHT/PAIR: 8.2 lbs. (180)

From the Gear Guide: "Confident in all turn shapes; blazed through crud at warp speeds, yet could scrub speed when needed."
---
Atomic Backland 107
$850 – atomic.com | SIZES (cm): 175, 182, 189 | DIMENSIONS (mm): 137/107/125 | WEIGHT/PAIR: 7 lbs. (182)

From the Gear Guide: "It's a jack of all trades. This ski will make you smile from the top of the run in cold snow to the bottom in sloppy chop."
---
Fischer Ranger 102 FR
$700 – fischersports.com | SIZES (cm): 170, 177, 184 | DIMENSIONS (mm): 136/102/126 | WEIGHT/PAIR: 8.8 lbs. (177)

From the Gear Guide: "A hard-charging ski with ample tip rocker for plowing through bumps or crud."
---