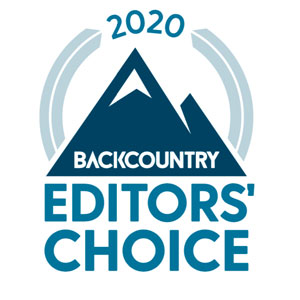 The story behind many of the boots in this year's 2020 Gear Guide is one of lightweight chargeability. With two Editors' Choice-winning boots ringing in at less than 5 lbs. and two more under 6 lbs., speedy uptracks are on tap, but not at the expense of downhill prowess. And for those outliers that boast a bit more heft, the weight penalty is balanced by a healthy dose of performance on the down.
Here are the 2020 Editors' Choice AT boots.
Want tester feedback on these products? Order in our online store to get a copy of Backcountry Magazine's 2020 Gear Guide with in-depth reviews of all 39 Editors' Choice winners, plus more than 200 other must-have skis, splitboards, boots, bindings, clothing and accessories.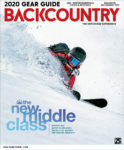 DYNAFIT TLT8 EXPEDITION CL
$750 – dynafit.com | SIZES: 22.5-35 | WEIGHT/PAIR: 4.9 lbs. | LAST (mm): 103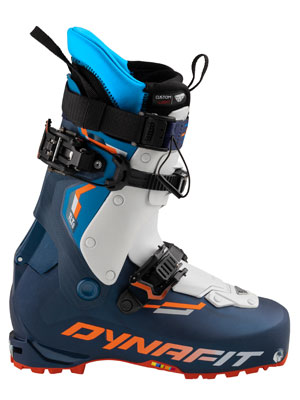 From the Gear Guide: "The buckles and calf lock are smooth, simple and streamlined…The tongue does limit forward articulation in tour mode, even with the strap and buckles loosened."
---
SCARPA GEA RS
$799 – scarpa.com | SIZES: 22.5-27 | WEIGHT/PAIR: 5.5 lbs. | LAST (mm): 101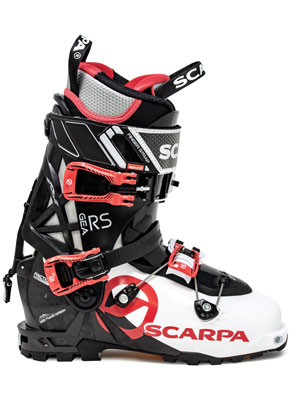 From the Gear Guide: "Sufficiently stiff enough to power skis of all genres and weights. It's not the lightest model, but it's much lighter and more comfortable than the alpine-boot-turned-AT models from traditional alpine brands."
---
TECNICA ZERO G TOUR PRO
$1,080 – tecnicasports.com | SIZES: 22.5-30.5 | WEIGHT/PAIR: 5.8 lbs. | LAST (mm): 99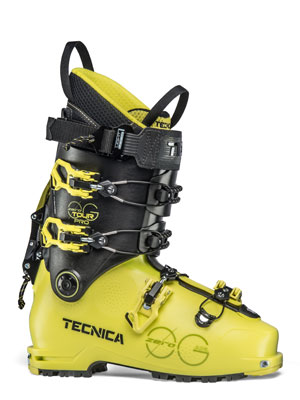 From the Gear Guide: "The top-of-the-line walk mode paired with downhill performance and fit comparable to resort boots sets this boot apart."
---
DYNAFIT HOJI FREE
$899 – dynafit.com | SIZES: 25-29.5 | WEIGHT/PAIR: 6.8 lbs. | LAST (mm): 102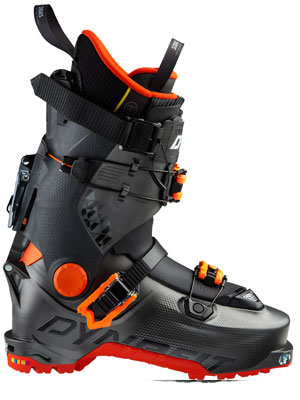 From the Gear Guide: "This boot kills it in terms of bc-friendly features and downhill performance. Rock solid!"
---
LA SPORTIVA SKORPIUS CR
$799 – sportiva.com | SIZES: 24-31.5 | WEIGHT/PAIR: 4.4 lbs. | LAST (mm): 102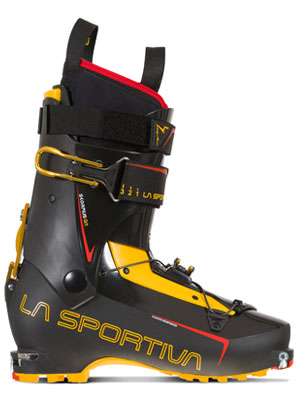 From the Gear Guide: "Delivers an impressive amount of power for a two-buckle boot."
---
DALBELLO LUPO PRO HD
$950 – dalbello.it | SIZES: 24.5-29.5 | WEIGHT/PAIR: 8.8 lbs. | LAST (mm): 98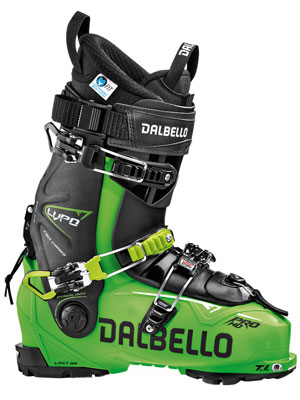 From the Gear Guide: "Some people might not like taking the tongue out to tour, but once you do, you'll see the light—amazing range of motion."