For the last 13 years, we've assembled a huge crew and a massive quiver of gear at Powder Mountain, Utah, for a week of testing. But last winter, with the pandemic hanging over the nation, we changed plans and brought the test to the people. Across 10 states and with 75 testers, we ran 124 skis, boots and bindings through the wringer to find this year's best gear. They narrowed those down to 35 Editors' Choice awards, which name the top pieces of gear in each category.
Let's face it, skiing is expensive. You don't want a different pair of skis for spring days, deep ones and the in-between. You want a quiver-killer, do-it-all pair of skis that's at home in Colorado powder and Cascade corn. Maybe you even want it to ski the resort.
That's a tall order for one pair of skis, but the four below that our testers chose as their favorites come pretty darn close.
Black Diamond Equipment Helio Carbon 95
$850 — blackdiamondequipment.com | DIMENSIONS (mm): 124/95/113 | LENGTH (cm): 162, 169, 176, 183 | WEIGHT/PAIR: 2800g (176)

"Quite possibly the lightest-weight, lowest-calorie mid-fat on the market today," praised a veteran tester. She continued, "The Helio 95 is the ideal all-arounder, able to tackle most every backcountry condition or terrain—from tight manky trees to icy wide-open resort groomers—with equal competence and confidence."
Ideal use: The "Goldilocks of the Helio family" does everything from push through crud to float through powder.
---
ogso COuturIER 100
$800 — ogso-mountain-essentials.com | DIMENSIONS (mm): 135/104/120 | LENGTH (cm): 162, 170, 178, 186, 194 | WEIGHT/PAIR: 2900g (178)

"This offering from OGSO blew any expectations out of the water," one tester noted after a long spring day in variable conditions. "The Couturier was speedy on the way up and like riding a lightning bolt through turns on the way down. The speed and ease with which the ski pivots and changes directions in soft snow never stopped surprising me."
Ideal use: With its lightweight, but not too light, construction, the COuturIER handles a range of conditions and is great for minigolf laps.
---
Atomic BACKLAND 107 W
$850 — atomic.com | DIMENSIONS (mm): 135/107/122 |LENGTH (cm): 159, 167, 175 | WEIGHT/PAIR: 2940g (167)

"These skis handled beautifully on steep, groomed runs and in heavy, wet snow," said a Solitude tester. "They were light enough to control easily but still solid enough to handle uneven, cruddy conditions."
Ideal use: A women's one-quiver ski that likes in-bounds skiing and days on the skintrack, though it might be "unnerving at high speeds," one tester said.
---
dps Pagoda Tour 100 RP
$1,299 — dpsskis.com | DIMENSIONS (mm): 132/100/117 | LENGTH (cm): 153, 163, 171, 179, 184 | WEIGHT/PAIR: 2960g (179)


"Maneuverable with a strong preference for short turns; they're very quick edge to edge, especially for its 100-millimeter waist," found one Colorado tester. "I was pleased with the high-speed performance and experienced no chatter," wrote another.
Ideal use: First descents, tree skiing, windboard, fresh snow. DPS's most utilitarian ski even breaks trail well due to its tapered design, one tester reported.
---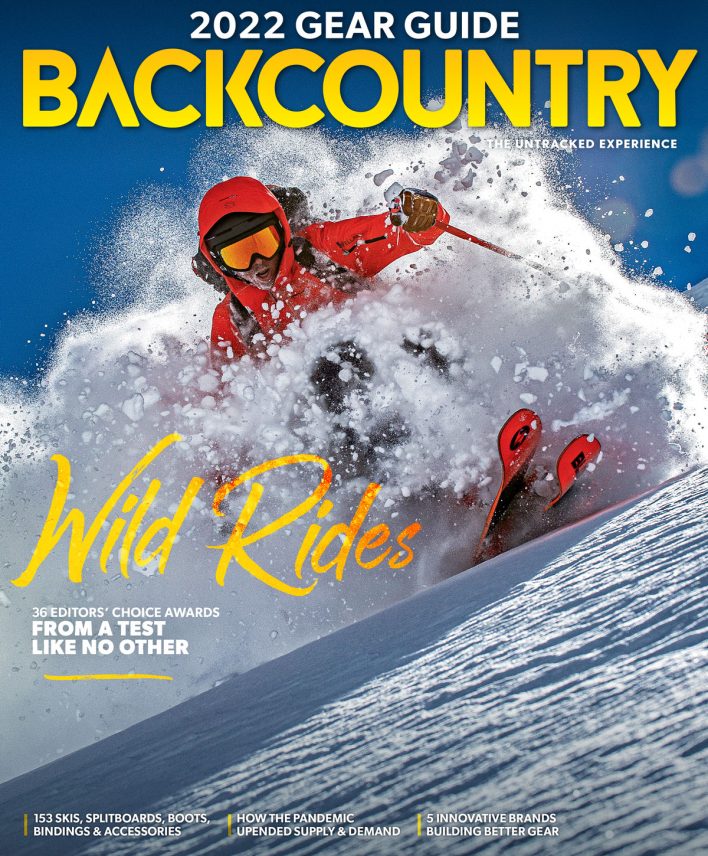 Get your copy of the 2022 Backcountry Gear Guide with in-depth reviews of all 35 Editors' Choice winners, plus additional reviews of 153 skis, splitboards, boots, bindings, apparel and accessories.