For the last 13 years, we've assembled a huge crew and a massive quiver of gear at Powder Mountain, Utah, for a week of testing. But last winter, with the pandemic hanging over the nation, we changed plans and brought the test to the people. Across 10 states and with 75 testers, we ran 124 skis, boots and bindings through the wringer to find this year's best gear. They narrowed those down to 35 Editors' Choice awards, which name the top pieces of gear in each category.
If you're here, you might be the kind of skier who keeps their pack on during transitions, who brings goo packets instead of charcuterie boards, or who measures their days by vertical feet gained. You're looking for something you can barely feel on your feet on the skintrack, and you give bonus points for downhill performance.
Our testers and editors homed in on three pairs of skis that are 2,500 grams or less per pair that will keep you light on your toes, ordered from lightest to heaviest.
Black Crows Mentis Freebird
$880 — black-crows.com | DIMENSIONS (mm): 111/80/100 | LENGTH (cm): 157, 164, 171, 178 | WEIGHT/PAIR: 2000g (171)

"I would not be afraid to ski these on steep ice," one tester said. Another commented, "On firm snow, the Mentis held an edge easily, feeling really damp for such a light ski."
Ideal use: Skimo racing. Long days with big objectives and variable snow conditions that range between a few inches of powder and ice.
---
Voilé HyperManti W's
$795 — voile.com | DIMENSIONS (mm): 132/101/120 | LENGTH (cm): 158, 165 | WEIGHT/PAIR: 2470g (165)


"A comfortable, easy all-arounder that is simple to dial in—just hop on and go," one veteran tester said. "Quick edge-to-edge, dynamic and easy-turning like a sub-90-millimeter-waisted ski with a preference for short, snappy arcs."
Ideal use: Powder hot laps. A Voilé fan and lightweight ski fanatic said, "The HyperManti performs best as a mid-width, pure-pow specialist." It's not as agreeable on firm, choppy snow. "I pushed its limits way too far on some refrozen corn and steeps and did not feel comfortable," a Bozemanite said.
---
Rossignol BlackOps Alpineer 86
$600 — rossignol.com | DIMENSIONS (mm): 122/86/108 | LENGTH (cm): 154, 162, 168, 176, 182 | WEIGHT/PAIR: 2500g (176)

"I don't like narrow-waisted skis," a fatty-zealot from Steamboat said. "Despite my attempts to diss, hate on and generally discount the Alpineer 86, I'm writing this review to let you know I've seen the light. I asked a lot of this little guy on sub-par, refrozen spring snow. It never whimpered, folded or complained."
Ideal use: Assassinates every snow condition but the deepest pow.
---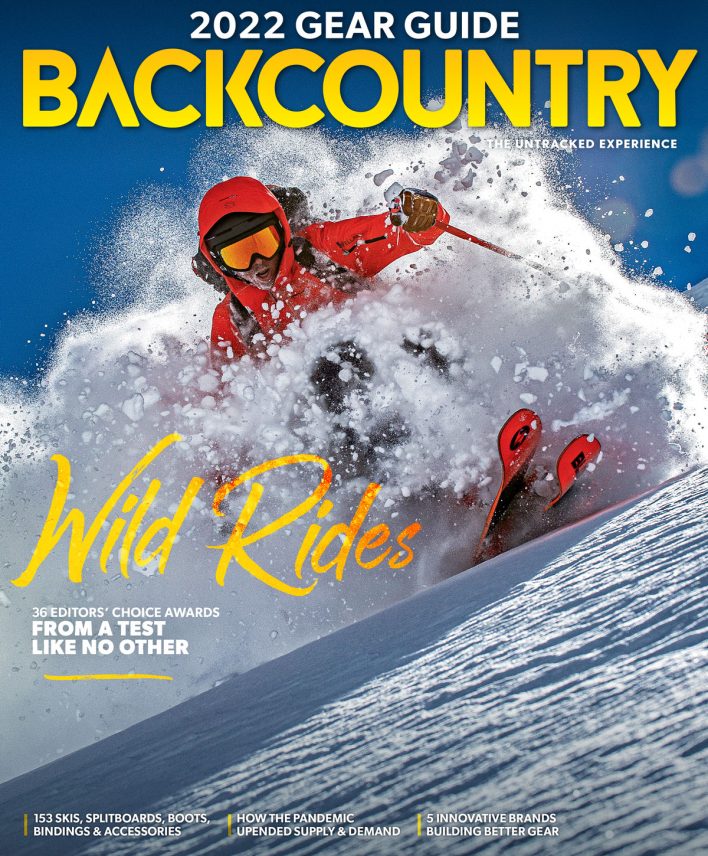 Get your copy of the 2022 Backcountry Gear Guide with in-depth reviews of all 35 Editors' Choice winners, plus additional reviews of 153 skis, splitboards, boots, bindings, apparel and accessories.