It's borderline unsanitary how often I wear this layer. Literally every day that I've skinned over the last several seasons, the Phase SV has been my go-to top. It's surprising that the collar isn't crusted with sunblock, the cuffs aren't permanently pasted with snot, and the pits haven't discolored to a murky green.
Fit is the primary reason that makes this my choice baselayer. It has long, form-fitting arms and a next-to-skin, athletic cut that's more catered toward trim skiers than the beer-gut crowd. A few extra inches at the hem help it stay tucked in and keep it from bunching under a pack waist belt. I usually wear size-small layers, but, given the snug cut, this one's a medium.
Beyond that, the weight is ideal for high-output, sweat-pumping trailbreaking—be it in the soggy Pacific Northwest or the sunny, dry Wasatch. Even though Arc'teryx calls it "mid-level insulation," it breathes like a much thinner, silkweight shirt. Still, it's all I'll wear most days under a softshell. As for that mysterious lack of odor? Arc'teryx says the polyester fabric is woven with polypropylene yarn that's covered in silver ions—whatever that means, it works.
+ Capably manages moisture and, more importantly, odor—a major plus for a synthetic baselayer.
– The zipper, while low profile, tends to snag on chin stubble.
= After 100-plus days of skinning, this layer looks and smells like new—kind of.
Alternatives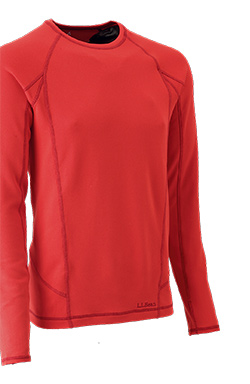 L.L. Bean Power Dry Stretch Midweight
$40  |  llbean.com
L.L. Bean's baselayers are the best deal in the business, ringing in at a fraction of the cost of other next-to-skin layers. Plus, they're guaranteed for life, should your acidic sweat ever melt the seams. This Stretch Midweight is stitched from antimicrobial Polartec Power Dry, which feels soft for a full-synthetic fabric, and flat seams keep skin rubbing to a minimum. Also available in full-length bottoms and as a T-shirt and quarter zip.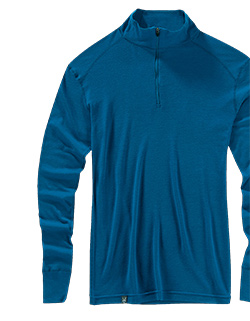 Ibex Woolies 150 Zip T-Neck
$85  |  shop.ibex.com
If you're a heavy sweater, then the silk-weight Woolies 150 should be your choice baselayer. The lightest shirt in Ibex's line (and the lightest featured here), the 150 is spun in Canada from New Zealand merino wool and has comfortable, flat-stitched seams. A low-profile quarter zip dumps excess heat, and the long hem won't come untucked easily. Ibex's 220-weight is their heavier baselayer alternative, and, like the 150, is available as a crew, zip T-Neck and in full-length bottoms.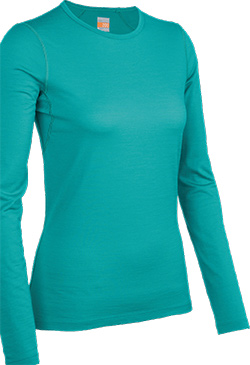 Icebreaker Oasis Long Sleeve Crew 200
$90  |  us.icebreaker.com
The Oasis is the lightest baselayer in Icebreaker's expansive line of New Zealand merino wool clothing. The super-soft merino feels silkier than cotton, but moves moisture like a faucet and naturally manages your stink. A slight drop hem helps keep the Oasis tucked in, and it's available in a handful of colorful men's and women's patterns—because underwear doesn't have to look boring. Also, check out Icebreaker's Oasis hoodies and ¾-length bottoms.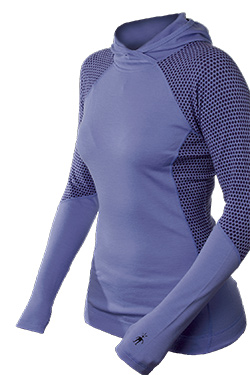 Smartwool NTS Mid 250 Hoody
$100  |  smartwool.com
This NTS (next-to-skin) layer is Smartwool's warmest and the coziest featured here. Stitched panels keep the Mid 250 from looking like a blah baselayer and improve the fit. The snug-fitting hood has a low profile, so it won't feel bulky if slid under a layer, and sleeves are trimmed with thumb loops to keep hands warm or sleeves in place. Available in matching full-length or ¾-length bottoms and crew, plus a full men's line. 
This story first appeared in the December 2013 issue of Backcountry Magazine.