I got this jacket about six years ago before a mountaineering trip in Alaska—a cold, four-week NOLS course in the Talkeetna Mountains. It was my puffiest, warmest layer, and I wore it every night.
I'm very cold-blooded, and I would sleep in this jacket even inside my -30° sleeping bag. It feels like a cloud is hugging me when I'm wearing it because of the fit and the puffiness. I refuse to believe that wearing fewer clothes would have helped me heat the sleeping bag.
Two outside hand-warmer pockets are really warm and fuzzy on the insides—they're a soft, fleece-brushed mesh. And there's a pretty large pocket on the chest on the inside that's perfectly placed and the perfect size for a map or a snack. The best part, though, are the stretchy, thumb-looped hand gaiters that extend from each sleeve. I like to cinch down the cuffs, and the gaiters keep my hands warm and snow out. The wide cuff Velcro holds really tight and is placed perfectly—plus, it hasn't worn out in six years.
This jacket definitely has more than 100 days in it. I've now worn it for two month-long NOLS courses, and I wear it pretty much every day during the winter in Vermont. I don't ski in it much, but it's usually in my pack for lunch breaks or when it gets really cold. I'd say this is my favorite jacket. It's a slim-fitting, big puffy jacket, so I don't feel like a whale while I'm wearing it. But it's the warmest thing out there.
+ For all the use this jacket has seen, the fabric and insulation have held up very well.
– The hood is too small to fit over a ski helmet.
= A super-durable, women's-specific 650+ puffy for frigid weather or cold bodies.
Alternatives
Men's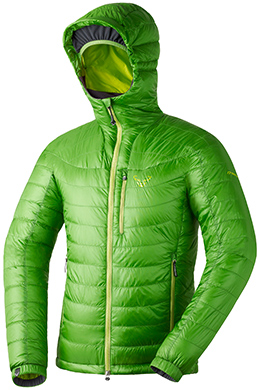 Dynafit Cho Oyu Jacket
$300 | dynafit.com
The Cho Oyu is a bit chunky, but don't let its bulk fool you. At 750-fill power, the Cho Oyu is still wicked Dynafit-light and warm, too, especially when compared to slightly heavier 650-fill down options like the Mammut Biwack. Plus, water-repellent Downtek down, a Pertex Quantum face fabric, and a unique, neoprene-cuffed, helmet-compatible hood ensures that, unlike standard down pieces, the Cho Oyu will stay relatively dry to keep you warm on wet days.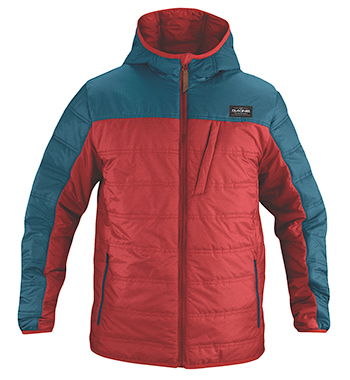 Dakine Pulse Hoodie
$180 | dakine.com
For wetter days, the Pulse Hoodie is our review's best option for staying warm without going broke. Despite being less insulating than down-filled jackets of the same weight, the Pulse will keep you relatively warm, even when it's soaked. But, while synthetic pieces come at a lower price, the insulation has less longevity. However, you won't have to worry about ripping the Pulse; a thicker DWR finish on the face of the jacket ups its durability. Plus, throw the fixed hood on for a stroll downtown for some après.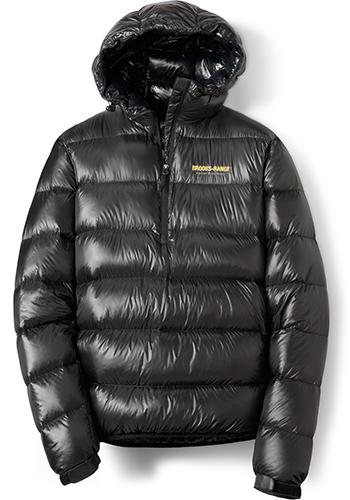 Brooks-Range Alpini Mountain Anorak Hoody
$290 | brooks-range.com
The Alpini Mountain Anorak isn't suited for hot laps so much as single-digit descents and tent-bound comfort. Gigantic horizontal baffles are stuffed with 800-fill DownTek water repellent down, with enough loft to keep you afloat in water. And the kangaroo pocket is big enough to fit a small child. But if you're too hot, dual side zips let you strike a temperature balance. Our advise with this piece is try it on before you buy it.
Women's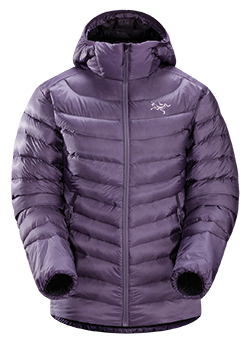 Arc'teryx Cerium Hoody
$350 | arcteryx.com
Nuanced and sometimes complicated design elements are standard fare for Arc'teryx apparel. Their brand-new down line is no exception. Eight-fifty-fill European Goose down jacket insulates the core region while more moisture-prone areas of the jacket—the hem, sleeves and the collar—are filled with 80 grams of Coreloft, a synthetic insulation. Arc'teryx calls this blend Down Composite Mapping. Underarm gussets and articulated sleeves give the Cerium a functional fit, but it's all pretty spendy.
This story first appeared in the December 2013 issue of Backcountry Magazine.