On a fundamental level, few individuals think both analytically and creatively—left brain, right brain stuff. But photographers are different, their work demanding technical mastery to make art. To celebrate the best in winter imagery, we asked seven photographers to talk about their most-loved shots, and then we chose a few dozen of our favorites.
Chamonix, France is a majestic backdrop for any photographer, and Cedric Bernardini is lucky enough to call it home. In this installment from the Photo Annual, he talks about precarious perches he has inhabited to get that perfect steep and deep shot in the Alps.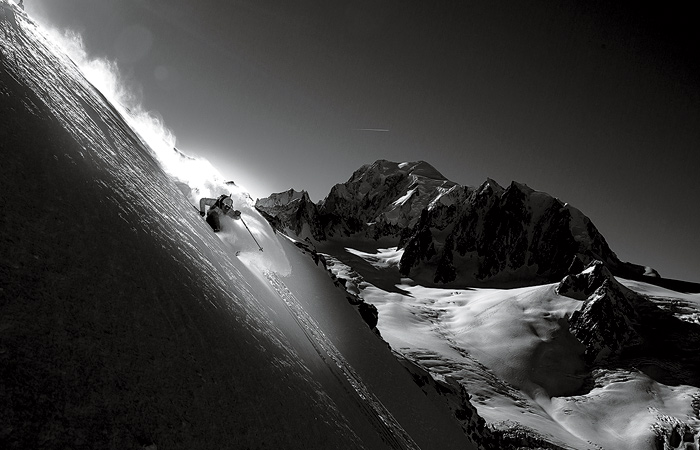 I was with a friend from the Sierra, and I had wanted to take this shot for a really long time. For once, the conditions were perfect for it. It is an exposed run, so it is hard to have someone make a big turn like that. I knew the run, and I knew that was the angle I wanted, but it's a dangerous place to be for the photographer, because the skier comes down the face above you. If something breaks, it will break where the photographer is, so the conditions have to be safe. The picture shows the entire Aiguille du Midi playground with the Valle Blanche and the Mont Blanc du Tacul East Face and the Mont Blanc East Face, which are all classics—you have a view of some of the best runs in the world.