In light of all the stories brewing in the world right now related to the COVID-19 pandemic, we're bringing back our weekly news roundup to share what's happening nationwide and beyond related to the mountains and the backcountry community. Got a tip on what's happening in your zone? Email our editors: lucy@backcountrymagazine.com and tyler@backcountrymagazine.com.
U.S. Forest Service closes New Hampshire's Tuckerman Ravine and more terrain
Announced Tuesday, the U.S. Forest Service has officially closed all Forest Service land within the Cutler River Drainage of New Hampshire's Presidential Range. This closure affects the entirety of the classic spring-skiing terrain of Tuckerman Ravine and Hillman's Highway, as well as Huntington Ravine and Gulf of Slides. The unprecedented action expands on Monday's closure of the Headwall section of the Tuckerman Ravine Trail and was enacted in response to safety concerns related to the COVID-19 pandemic. According to a statement published by the Mt. Washington Avalanche Center on March 31, violating the closure is punishable by fines or imprisonment. Read the full statement at mountwashingtonavalanchecenter.org.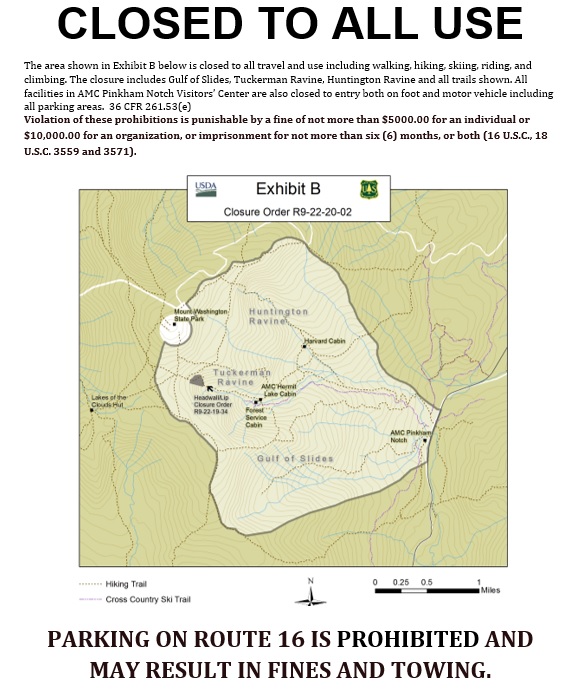 Public lands, parking lots and day-use areas close across the U.S.
Elsewhere in the U.S., certain public lands have closed while others remain open, including more than 300 national parks. Among the closed public lands frequented by skiers are Yellowstone, Grand Teton and Glacier national parks and all U.S. Forest Service day-use sites throughout Washington and Oregon, which closed on April 1, reported KLCC, Oregon's NPR affiliate.
In Utah, following a weekend in which the Utah Avalanche Center reported 11 human triggered avalanches, the Town of Alta, the U.S. Forest Service and Alta Ski Lifts plan to close the Grizzly Gulch parking lot atop Little Cottonwood Canyon this weekend (April 4 and 5) to all but Grizzly Gulch residents, the Wasatch Backcountry Alliance shared in a Thursday Facebook post.
Backcountry brands pitch in to make PPE
From the East to the West, ski-industry brands are pitching in to make much-needed personal protective equipment (PPE) to be utilized by medical professionals. Included among those brands are Venture Snowboards, the Silverton, Colo.-based splitboard company, which is making face shields from materials on hand at their factory. In Bozeman, Montana, the guides at Big Sky Backcountry Guides and the staff of Mystery Ranch are sewing facemasks. In Vermont, Jason Levinthal, founder of j-skis, has launched the website makerexchange.org to connect ski and snowboard factories that are creating PPE with hospitals in need. Outdoor Research, the apparel company based in Seattle, Wash., is converting its U.S. manufacturing facility to produce PPE and, once fully operational, plans to be able to produce upwards of 200,000 surgical masks, N95 respirator masks and fabric face masks per day. Read more about their efforts at outdoorresearch.com.
Editors' Note: As of Friday, April 3, it seems like just about every ski-industry brand, not just those listed above, is involved in some sort of PPE production or donating. As such, the Outdoor Industry Association and SnowSports Industries America have partnered to provide outdoor brands with a set of resources to shift production to PPE manufacturing.
Snowboarder dies in avalanche on Wyoming's Teton Pass
Teton County Search and Rescue personnel recovered the body of 28-year-old snowboarder Trace Jordan Carrillo on the morning of Thursday, April 2. Carrillo was skiing with a partner the previous afternoon when he became caught in an avalanche on the south face of Taylor Mountain, the Jackson Hole News and Guide reported; his partner was unable to locate him by doing a beacon search and subsequently called for help from the Coal Creek parking area. Thirty volunteers searched the avalanche debris Wednesday afternoon and evening before the search was called off at dark. Subsequent searching, following avalanche control work on the mountain to clear the slide path, involved a probe line and avalanche dogs, and recovered Carrillo's body beneath two feet of snow late Thursday morning. Read more about the accident here.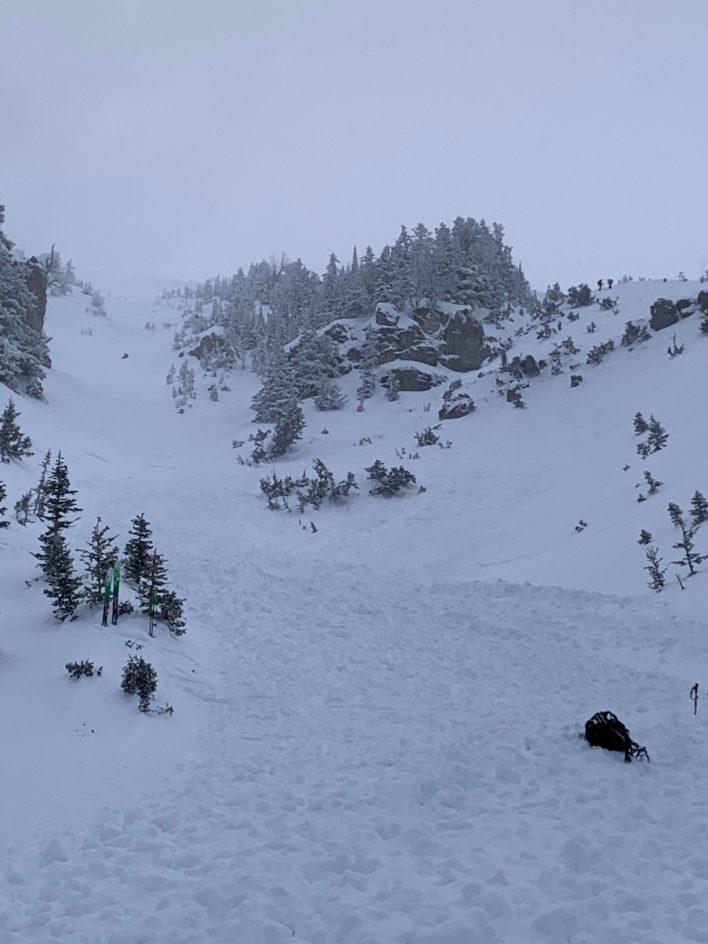 North American avalanche centers take different approaches during COVID-19 pandemic
Across North America, regional avalanche centers have been taking different approaches to forecasting and outreach, with several ceasing their reporting entirely. Last week, on Tuesday, March 23, the Northwest Avalanche Center announced it would end forecasting beginning the following day, in accordance with the Stay at Home orders issued in Washington and Oregon. On Saturday, March 28, Avalanche Canada issued its final forecast of the season, noting that limitations in available data from avalanche professionals and observers have impacted their ability to issue accurate forecasts. (Read the full statement here.) On Monday, March 30, Alaska's Chugach National Forest Avalanche Center announced the suspension of avalanche forecasts until further notice, in accordance with state health mandates; New Hampshire's Mt. Washington Avalanche Center similarly published their final bulletin of the season on Monday; and the Eastern Sierra Avalanche Center published their final bulletin on Wednesday.
Other U.S. forecast centers, including the Utah Avalanche Center, Bridger-Teton Avalanche Center, Sawtooth Avalanche Center, Sierra Avalanche Center and Gallatin National Forest Avalanche Center and Colorado Avalanche Information Center remain open as of Thursday, April 2.
Resorts open and close to uphill traffic
Following unprecedented closures in March, ski resorts are taking different approaches to allowing human-powered uphill skier traffic, and most resorts' current policies vary from their traditional during- and post-season regulations. In Utah, Snowbasin Resort opened to uphill traffic on Friday, March 27, and after two avalanches occurred over the weekend, general manager Davy Ratchford published a statement earlier this week reminding users that no avalanche control exists on the mountain at present.
Ski Vermont, meanwhile, has urged skiers and riders to stay home in a statement released Thursday. Stowe Mountain Resort closed to uphill travel on Monday, March 30; a joint letter shared Thursday from Win Smith, president of Sugarbush Resort, and Matt Lilliard, general manager of Mad River Glen, announced the closure of both resorts to uphill travel; and Smugglers' Notch Resort similarly closed uphill traffic on Thursday.
Winter Wildlands Alliance releases Backcountry Film Festival online
And now for something a little lighter. This year marks the 15th anniversary of the Winter Wildlands Alliance Backcountry Film Festival, which hits the road each year, touring the country all winter long to show films that celebrate human-powered recreation, while raising money for organizations with similar aims. Since physical gatherings have been called off for the foreseeable future, they've packaged up the entire 11-film lineup for two-hours of online streaming, with films from Cody Townsend, Caroline Gleich and more. You'll laugh, you'll cry, and you'll probably miss skiing, but winter 2020 is only 262 days away (and it'll certainly snow before then).
Grab a drink, pull up a video chat with your shred buds and cue up the festival from home at winterwildlands.org.