Avalanche Canada Adds Crowdsourcing Feature to App
Revelstoke, B.C. Avalanche Canada—previously known as the Canadian Avalanche Centre—added a significant update to their free avalanche app, available for Android and iPhone. The upgrade allows users to post real-time observations, photos and comments via the crowdsourced Mountain Information Network (MIN). These geo-tagged MIN postings display on both the website, avalanche.ca, and on the apps. An additional improvement to the app includes the ability to submit reports while offline to sync later. The interactive app was created in partnership with Mountain Equipment Co-op and the geospatial technology company TECTERRA. "The MIN gives all backcountry users access to real-time information and observations, which provides valuable decision-making support for traveling in avalanche terrain," Karl Klassen, Avalanche Canada's Public Avalanche Warning Service Manager, told iphoneincanada.ca.
SCARPA Issues Voluntary F1 Evo Recall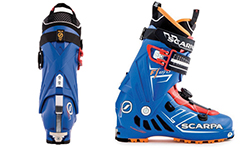 Asolo, Italy, Boulder, Colo. Italian telemark and AT boot manufacturer SCARPA is asking retailers and consumers to immediately return the F1 EVO ski boots, released this fall, for a refund. The reason for the recall is due to an issue within the boot's Tronic System, which can unexpectedly switch from ski to walk mode, increasing the risk of a fall. SCARPA requests all skiers stop using the boots and return them to the point of original purchase. For additional information, visit SCARPA's website.
Eight Die in Swiss Avalanches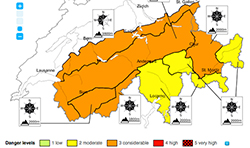 On January 31 eight skiers died in avalanches in the Swiss Alps. The first slide occurred on the northeast aspect of a roughly 35-degree slope in Piz Vilan's backcountry, killing five out of a group of nine skiers from Zurich. Seven of the skiers were completely buried, states snowbrains.com. Two additional avalanches struck in Switzerland's Bern Alps—one on Schilthorn on an east-facing slope at 2,380 meters and one on the north aspect of Luegli at 2,000 meters—killing two. A fourth slide killed an out-of-bounds skier on Hinderrugg in Wildhaus, Switzerland, on a 40-plus degree, west aspect at 2,270 meters. A fifth avalanche struck two skiers in Verbier, Switzerland, who escaped with minor injury. Conditions for the day were rated as considerable. To date, 17 people have died in Switzerland and 49 throughout the Alps this season due to avalanches. For more information visit The Times.
Slide Suspends Freeride World Tour in Austria
Kappl, Austria On February 3, freeskier Julien Lopez was carried and partially buried by an avalanche that triggered soon after he lost a ski during a fall. Lopez pulled his airbag during the slide and received only bruising to his right leg and ribs. He was able to complete the descent and was later treated by medical staff. The avalanche, which broke 40 meters across, 50 cm deep and ran for 100 meters, was caught on film, and it rips out starting at 1:49 in the video below. The day's event, the second leg of the tour, was stopped after the slide occurred. For more information visit redbull.com and freerideworldtour.com.