Forty-five-year-old, Bozeman resident Craig Kitto died from injuries sustained in an avalanche on Sunday, February 14. Kitto was splitboarding in Beehive Basin near Big Sky, Montana, when he was caught, carried and partially buried in an avalanche.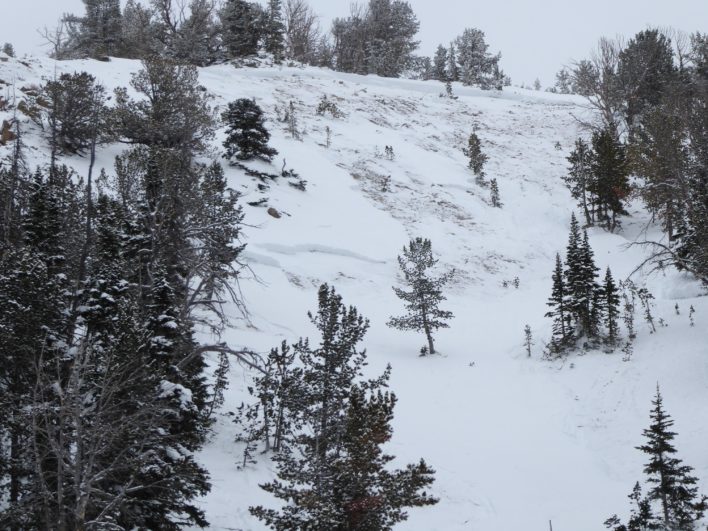 According to a report from the Gallatin National Forest Avalanche Center (GNFAC), Kitto and his partner were skinning up a southwest-facing slope at 9,100 feet in Beehive Basin at 11:30 a.m. when they felt the slope collapse and cracking around them. Kitto's partner grabbed a tree to self-arrest, but Kitto was swept down the slope until he struck a tree. Though he was only partially buried, Kitto sustained critical injuries. His uninjured partner called 911, descended to Kitto and began performing first-aid.
According to a Facebook post from Gallatin County Search and Rescue, their Big Sky branch responded to the 911 call along with the Big Sky Fire Department and the Life Flight Network. Kitto was evacuated from the scene via helicopter and transferred to an ambulance, which brought him to Big Sky Medical Center. From there, Kitto was flown to Bozeman Health Deaconess Hospital where he succumbed to the injuries he sustained in the avalanche.
The avalanche's crown measured two feet deep and 400 feet across and ran 500 feet down the slope. According to the GNFAC, the slab broke at the persistent weak layer and was rated as an R4 D2.5 event.
This is Montana's second avalanche fatality of the season. The first occurred when a group of snowmobilers were caught in an avalanche in Wounded Buck Creek in the northwest corner of the state. Across the U.S., there have been 25 avalanche-related fatalities this season, which is two more than last winter's total.
The GNFAC rated avalanche danger as moderate for the Madison Range, where Beehive Basin sits, in their Sunday forecast. The forecast warned of weak, faceted snow near the bottom of the snowpack and read, "The snowpack has been slowly stabilizing since the mountains received 2-4 feet of snow last weekend, but we continue to get reports of unstable slopes."
Several recent avalanches have been reported throughout the GNFAC forecast zone, including of a snowmobiler who was caught, carried and partially buried in the South Madison area on Saturday and two separate groups triggering large avalanches in the Lionhead area and near Big Sky on Thursday. The forecast reminded users to keep these incidents in mind, adding, "This season's untrustworthy snowpack continues to show signs of instability and creates heightened avalanche danger."