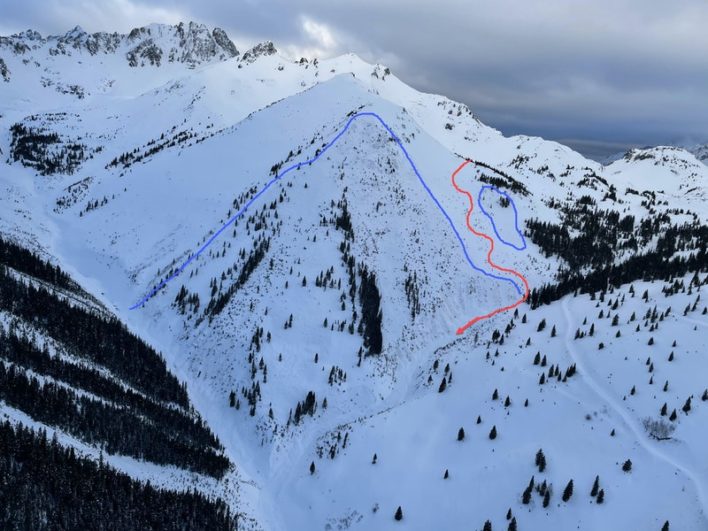 Late on Wednesday night, Colorado's San Juan County Office of Emergency Management, in a multiagency search and rescue operation, recovered the bodies of three skiers who'd been missing since Monday's February 1 avalanche near Ophir Pass. The skiers have been identified as prominent community members of Eagle County.
In a joint statement from Eagle County and the Town of Eagle, the families of the deceased have confirmed their identities as Seth Bossung, Andy Jessen and Adam Palmer. "While an official announcement has not yet been made by our partners in San Juan County, the families of Seth Bossung, Andy Jessen and Adam Palmer are allowing us to share their names so we can all openly acknowledge their deaths and grieve together," Eagle County Manager Jeff Shroll and Town of Eagle Manager Brady Reitter wrote in the statement. "The families are surrounded by loved ones, and we are asking everyone to respect their wishes as to when and how they wish to communicate with others."
Adam Palmer was a father, directed Eagle County's Sustainable Communities program and was elected to Eagle's Board of Trustees less than a year ago. Friends have set up a GoFundMe page in support of his family.
Andy Jessen founded Eagle's well-loved Bonfire Brewing 10 years ago with his wife, Amanda. "Andy is a steward for conservation, an ambassador of our town, a people-focused leader, an engaged friend and family member, the proudest of dog dads, and the sincerest of partners to the love of his life, Amanda," wrote Nicole Asselin, the organizer of a GoFundMe page in support of Jessen's family.
Seth Bossung was a father and project manager for Eagle County energy efficiency department. Friends have set up a GoFundMe page in support of his family, as well.
"Andy, Adam and Seth were great men and they had great hearts," Eagle Mayor Scott Turnipseed told the Vail Daily. "This is a real blow to the community, losing them as community members and losing the vision they had for the town."
According to a preliminary report released by the Colorado Avalanche Information Center (CAIC), Jessen, Bossung and Palmer were skiing in a party of seven on Monday on a feature off South Lookout Peak in the Middle Fork of Mineral Creek known as The Nose when the avalanche occurred. The avalanche caught and carried four skiers, breaking on a northeast slope above tree line near 11,500 feet. The group recovered one of the four individuals, who sustained minor injuries in the slide, but was unable to uncover the other three from the prominent gully beneath The Nose.
The search and rescue operation has been ongoing since Monday at 5:20 p.m. and has involved the San Juan County Sheriff's Department, Office of Emergency Management, San Juan County Search & Rescue, La Plata County Search & Rescue, Silverton Mountain Medical Crew and CAIC. According to a Wednesday statement from the San Juan County Office of Emergency Management, La Plata County Search & Rescue utilized a snowcat to remove 12-foot-deep debris from a natural avalanche that inhibited the recovery operation. The deceased were buried beneath more than 20 feet of debris and will be retrieved from the mountains via helicopter during the next clear weather window due to the area's challenging terrain, avalanche debris and elevated avalanche hazard. The San Juan County Office of Emergency Management is continuing to urge users avoid the Ophir Pass area until the recovery operation is completed.
Elsewhere in Colorado, avalanche danger remains elevated, including in the Gunnison and Aspen forecasts zones, where CAIC has issued an avalanche warning that extends through Friday morning. "A potent winter storm will deliver high-intensity snowfall with strong winds and potentially rain at lower elevations," Wednesday's warning for the Aspen region announced. "Very dangerous avalanche conditions will develop during the afternoon and extend overnight into Thursday."
Eagle Mayor Turnipseed shared his appreciation for the search and rescue efforts occurring in the San Juans. "The people of Eagle want to send our sincerest thanks to the emergency workers in San Juan County," he told the Vail Daily. "We know they have been working tirelessly on this sad mission and we are so grateful for their dedication."
The statement released by Eagle County and the Town of Eagle encouraged those struggling with grief following this accident to the many organizations and providers available through Eagle Valley Behavioral Health.