New Hampshire Fish and Game has confirmed the death of an experienced and prepared backcountry skier in an avalanche in the Ammonoosuc Ravine of New Hampshire's Presidential Range. Following a 24-hour search, which began Tuesday night, a multiagency rescue effort recovered the individual's body on the west side of Mt. Washington, the range's tallest summit.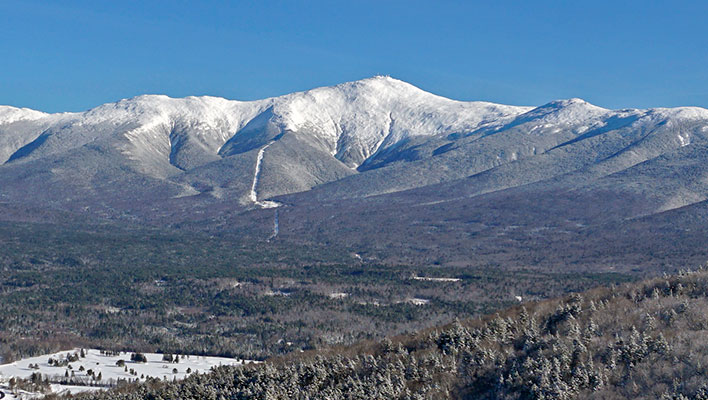 New Hampshire Public Radio has identified the deceased as Ian Forgays, 54, of Lincoln, Vermont. Forgays was a regular skier of Mad River Glen and well known as Skiian Ian. For more than a decade, he was commonly seen in New England ski photography, including in Backcountry and Powder and once on the cover of Vermont Sports.
According to a statement released by N.H. Fish and Game, authorities were informed that Forgays was missing on Tuesday night, following reports that he failed to return home or respond to phone calls after skiing in the Presidentials. A joint effort involving N.H. Fish and Game Advanced Search and Rescue, U.S. Forest Service personnel and volunteers with Mountain Rescue Services began by searching for Forgays's vehicle on Tuesday evening, believing he'd been planning to ski in either Ammonoosuc Ravine or Monroe Brook drainage, both on Mt. Washington's west side, on Monday. Forgays was traveling alone.
After personnel located the Forgays's vehicle Wednesday morning, a multi-hour search through both drainages located a beacon signal in Ammonoosuc Ravine at 4:30 p.m. on Tuesday. "The crew had to dig down through approximately 13 feet of packed snow and debris before ultimately discovering the body," Fish and Game reported. According to the Mt. Washington Avalanche Center (MWAC), Forgays was buried within a terrain trap beneath the Ammonoosuc Ravine's main gully. Rescuers uncovered his body by 6 p.m. and returned to the trailhead by 9 p.m.
This is the first fatality in the Presidential Range in two years, the most recent occurring in April 2019 on a route near Tuckerman Ravine known as Raymond Cataract. MWAC has reported several accidents already this season, including a human-triggered avalanche in Tuckerman Ravine's Left Gully in late January that caught, carried and buried a skier, and a 500-foot sliding fall in the Ravine earlier in the month.
On Monday, MWAC had rated danger as low for the Presidential Range, noting that the hazard would increase significantly overnight, with moderate to heavy snowfall of 20 or more inches and high winds expected. Avalanche danger spiked to high by Tuesday morning, following seven inches of snow overnight.
As of Thursday, avalanche danger throughout the Presidentials remained moderate, with a concern over large wind slabs.
"Winds have wrapped around the compass rose this week during and after heavy snowfall on Monday night and Tuesday," lead snow ranger Frank Carus wrote in Thursday's bulletin. "A widespread natural avalanche cycle occurred during that storm with areas of new snow and wind slabs that did not avalanche naturally then, remain as the primary avalanche concern today."