Five skins for going the distance—and a reglue service to test time, not patience
Black Diamond Equipment Ascension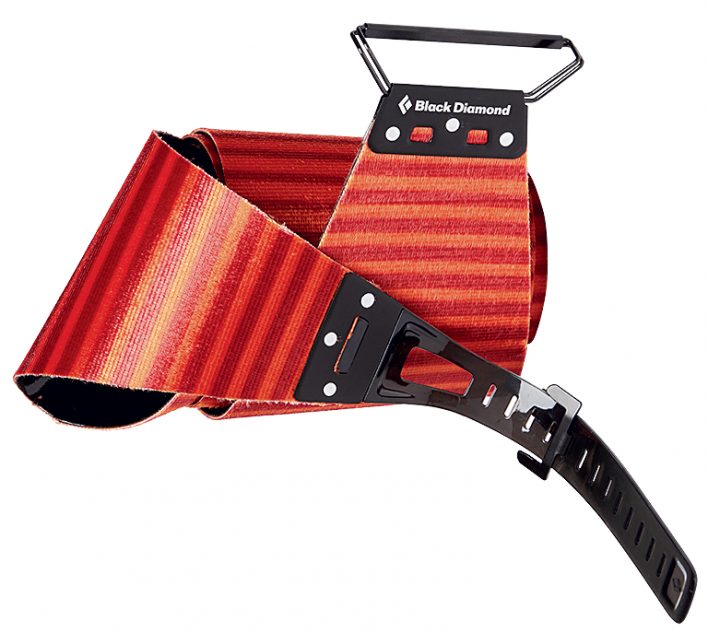 The Ascension name dates back to the first North American-made skins with reliable, all-temperature, hot-melt adhesive, and the current model upholds that tradition. This year, Black Diamond improves tip and tail attachments with smooth, low-profile riveted metal plates that sandwich the skin, yielding a durable design. The rigid tip loop can pivot but returns to position thanks to the spring-action of the loop wires, making it easier to place over and remove from the ski tip. The full-nylon plush grips the steepest skintracks, though at the sacrifice of some glide. The heavy, durable backing results in a stiffness that helps control skins on windy ridgetops.
Width: 135 mm | Weight: 23 oz.
$170, blackdiamondequipment.com
Editors' Note: Black Diamond Equipment recently issued a voluntary replacement for Ascension skins with certain date codes. Read Black Diamond's recent press release to find out if your skins are apart of this replacement program.
Contour Hybrid Mix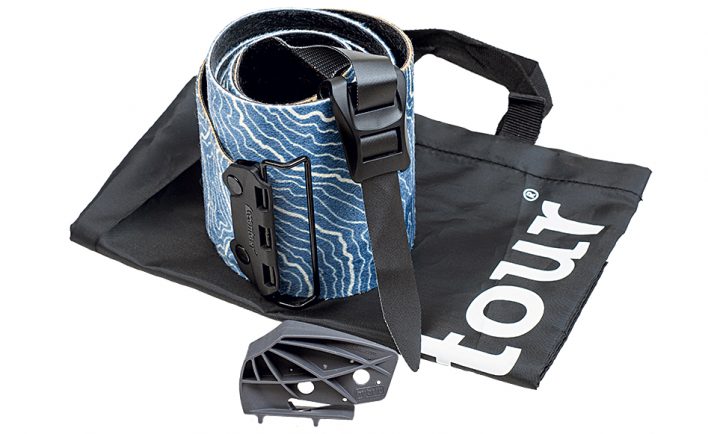 Contour continues to refine their Hybrid acrylic adhesive—a favorite among our testers for several years due to super-easy handling combined with reliable ski adhesion, even in single-digit temperatures. Contour includes solvent wipes to clean and reactivate the adhesive after heavy use and offers their cleaning spray as an accessory. In testing, the adhesive held solidly to skis, while still pulling effortlessly glue from glue. A mohair-nylon mix glides as easily as full mohair but retains the durability of a mix. Some older skins have endured more than 50 days of testing with no significant wear of the plush.
Widths: 115, 135 mm | Weight: 21 oz.
$180-200, kochalpin.at
G3 Minimist Universal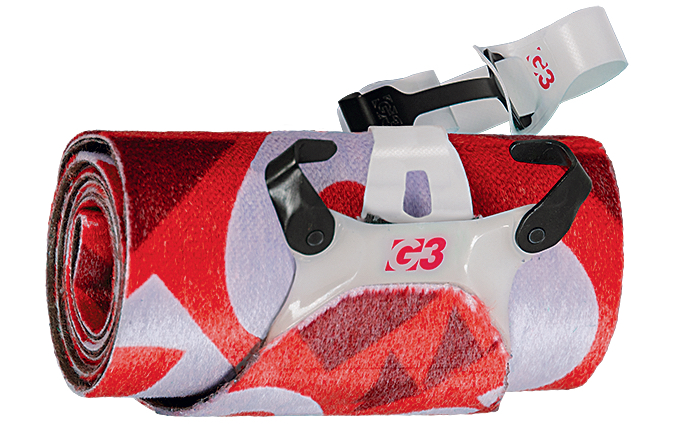 With the ultralight Minimist, G3 combined several innovations to prevent snow from creeping under the skin. The low-profile plastic tip, held tightly to the ski with pivoting "hands," prevents ingress from the front. Carbon-fiber inserts stiffen the critical area where the skin widens behind the tip, and a lightweight backing retains enough stiffness to prevent curling at the edges. G3 claims a -22º lower temperature limit for the adhesive; in single-digit testing, the glue held with high adhesion to itself and the ski. A long tail strap allows for a greater range of length adjustment. The Minimist grips and glides like nylon—for easier sliding, chose the 70/30-mix Glide model or the full-mohair Speed.
Widths: 100, 115, 130, 145 mm | Weight: 17 oz.
$221-238, genuineguidegear.com
Kohla Freeride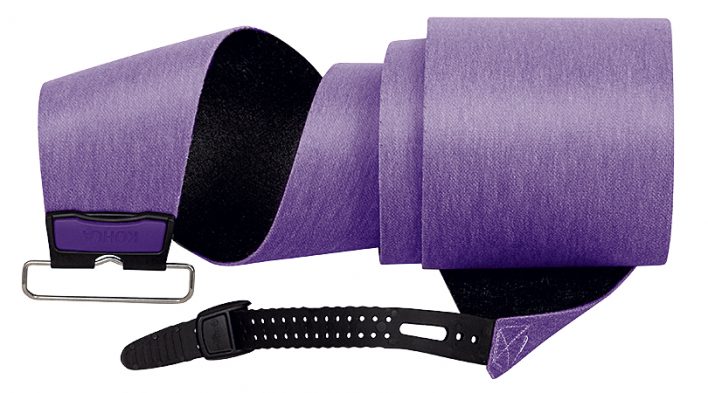 In the new Freeride, Kohla uses a thin layer of their hot-melt Smart Glue, combining hot-melt's characteristic adhesion with ease of handling. For testing, we stuck glue to glue at 65º, then allowed the skins to cool to single digits. For most hot melts, separating glue-from-glue would have required a veritable tug-o-war; but the Freerides separated easily. They demonstrated plenty of adhesion when skinning in cold temperatures, even when applying cold skins to cold skis. The mixed plush glides better than full nylon, but not as easily as the slickest mohairs. Kohla supplies two widths of tip loops to accommodate a wide range of ski widths.
Width: 135 mm | Weight: 18 oz.
$215, kohla.at
Pomoca Climb 2.0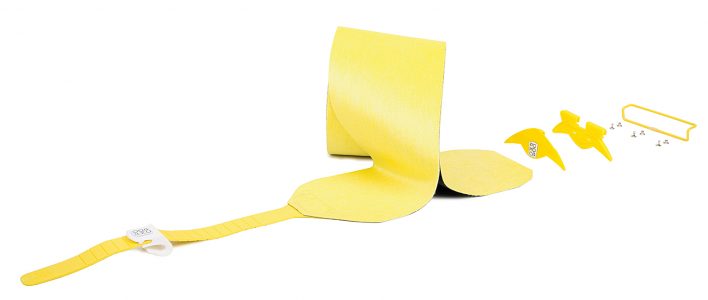 Pomoca designed the mohair-nylon mixed plush Climb 2.0 to balance climbing grip and better-than-nylon glide. This season's updates include a wider, easier-to-adjust tail clip and more durable tip-loop holder. The lightweight Climb 2.0's backing hits the sweet spot—it's flexible and easy to fold, but still stiff enough to prevent curling or distortion from tension introduced when applying it to the ski. We found that the adhesive strikes the right balance, too, firmly sticking to skis in all temperatures, but manageable to separate glue from glue. In side-by-side skintrack testing, the Climb 2.0 slides easier than full-nylon skins, but it wasn't the slickest mohair mix tested.
Widths: 100, 120, 140 mm | Weight: 18 oz.
$200, pomoca.com
Big Sky Mountain Products Skin Reglue Service
After numerous skiers approached Big Sky Mountain Product (BSMP) to apply their highly reliable glue to other manufacturers' skins, their Reglue Service was born. For high-mileage hot-melt skins, regluing makes sense—the plush on nylon and mixed skins frequently outlasts the adhesive. But at-home hot-glue removal requires ambivalence to feeling like a fly playing with fly strips. BSMP avoids this challenge with their automated approach to removing old hot-melt glue and applying a fresh coat of their tenacious adhesive. BSMP also sells their own full-nylon skins at some of the lowest prices available.
$75 (includes shipping both directions), skiskinsonline.com
---
This article was originally published in Issue #138. To read more, pick up your copy at BackcountryMagazine.com/138 or subscribe.