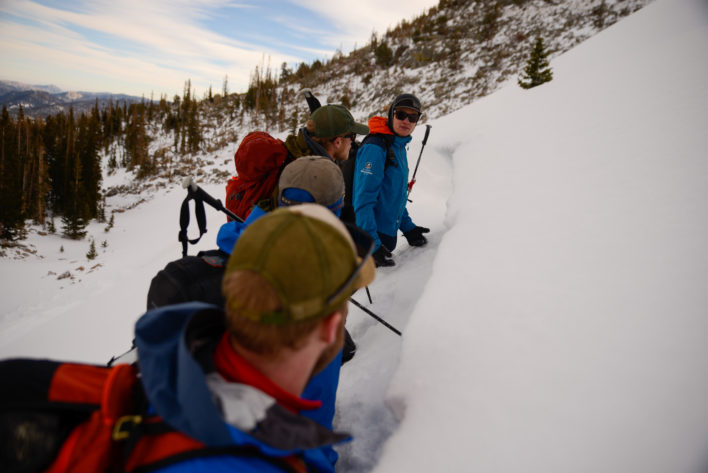 I've spent enough time in the backcountry to start becoming complacent. This isn't a badge of honor; it's more of a humble learning process. Every so often, I start cutting corners, seeing how many steps I can skip before I find the limit, and I've found that limit a handful of times. Rock fall, knee-twisting snow and surprise rollovers have all resulted in backcountry injuries. Sometimes evacs involved calls into SAR, and sometimes they involved rigging a make-shift crutch out of Whippits before starting the slow trudge out, knowing we wouldn't see the cars until well after dark. While the rescues differed, they're always complicated and exhausting as they push me to my limit, mentally and physically. In all of these situations, I had used my avalanche education and experience to travel wisely and avoid getting caught in a slide, but I used my Wilderness First Responder knowledge to keep myself and my partners alive.
As an AIARE instructor, I've had people ask me why we can't teach medical practices in the Level 1s, and there are two pretty simple answers to that. First of all, myself and the majority of my co-instructors aren't qualified to teach emergency medicine. Secondly, and more importantly, in an American Avalanche Association certified Level 1 course, the instructors have a mere 24 hours of class time to go over rescue, terrain selection, basic snow crystals—including temperature gradients—and the human factor. I've watched student's eyes glaze over while they try to digest this new, complicated information in three days. Adding in a CPR or basic first-aid component simply isn't realistic.
This means that student should listen closely when avalanche instructors talk about next steps after their course. I tell my students that I don't want them to sign up for a Level 2 or a Pro 1 course until they have medical training. I want them to examine the terrain that they'd be traveling through and think about the consequences of an injury. Some areas might be close to a road or have a well-funded helicopter rescue service that will pluck you off the mountain side, but that should never be your first line of defense. On a normal year, you have to consider that the heli might take hours to get to you, or that it might be too stormy for the bird to fly.
This winter, we have to factor in how Covid is affecting our local search and rescue crews. With more people getting into the outdoors than ever, SAR crews have been smashing call-out records left and right, all while trying to balance a lack of PPE with growing volunteer burn out and challenges with bringing on new crew members. SAR crews have the right to refuse rescue if they deem that a self evac is possible, and they also have the right to tell you that you're going to have to wait if there's a more pressing rescue that needs their attention—potentially leaving you and your backcountry partners in a winter environment where something like a twisted knee can kill you. Are you prepared to stop bleeding, splint a fracture and keep an injured partner alive?
You won't learn how to do this in an avalanche course. Nor will you learn how to do CPR, which is often necessary when you dig up an avalanche victim who isn't breathing. To learn how to do these things, you'll need to take an American Red Cross CPR class at a minimum, but I'd highly suggest taking it a step further for either a Wilderness First Aid or Wilderness First Responder course.
Like skiing at the resort, riding in the backcountry is, unfortunately, a pay-to-play sport. I hate this fact and the elitism that surrounds it. I wish there was a way around the cost of entry to the backcountry, but if you want to recreate safely, then you must take the necessary courses to become educated. We don't drive cars without taking a driver's ed class and passing a test. Think about stepping out into the backcountry in the same way. If you need help paying for courses, inquire with your local avalanche education provider about scholarships. While they might not be able to offer financial aid, they might be able to point you in the direction of a local non-profit or education fund that can.
So if you're new to the backcountry this season, you need to sign up for a Level 1, and then, before you close your web browser, look up wilderness medicine classes in your area. If you've recreated in the backcountry for years and still haven't taken a wilderness medicine class, then thank your lucky stars that you've made it this far—even if you did manage to evac your injured partner successfully, I assure you that there was a good chunk of luck was involved—and then look up nearby wilderness medicine classes.
Looking for a wilderness medicine course in your area? Check out SOLO Wilderness Medicine or NOLS Wilderness Medicine for a full course list.
Betsy Manero is the associate editor of Backcountry Magazine. In the winter, she works as a ski guide and avalanche instructor and splits her time between teaching AIARE courses in Jackson, Wyoming and Estes Park, Colorado.