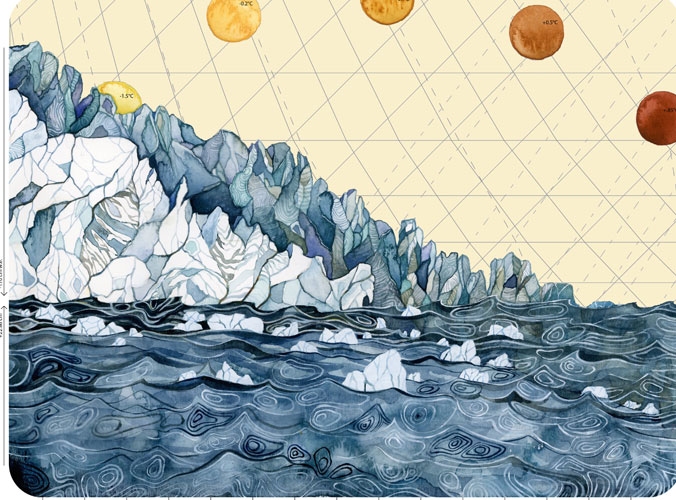 Artist Jill Pelto loves the natural sciences. From a young age, she worked with her glaciologist father Mauri Pelto in the field while growing up in Worchester, Mass. Pelto got her B.A. in studio art and earth science and went on to graduate from the University of Maine with a Masters of Science in 2018. She now looks to painting to express her love of the environment and passion for climate science. Her work allows graphs and charts to reach new audiences through her watercolor depictions of animals and landscapes, and through her works she strives to help students learn more about the importance of environmental activism. We caught up with Pelto to learn about the challenges of being an artist in the world of science and how she uses the brush to convey the meaning behind data and numbers on ski topsheets and canvas.
Backcountry Magazine: What are your influences, both in terms of education and personal life?

Jill Pelto: My passions have always been focused on the natural sciences, stemming from being outdoors. I have a twin sister, so for as long as I can remember, we were always creating art together and wanted to pursue that in our careers. I started getting inspired to be in the natural sciences field primarily because of my father. He's a glaciologist and he runs a monitoring field research program in Washington State every August. Basically the project is working on glaciers in the North Cascade Range in Washington. He does that work because they're really important water resource for that part of the country.
Growing up, my two siblings and I were always told that if we wanted to join in an activity, when we were old enough to try to carry a pack, we could. I started joining my dad for that fieldwork when I was 16 and I've done it every year since. This'll be my 11th consecutive field season with him. That was definitely something that really shaped me. I was fortunate to have the opportunity to get to see these really beautiful environments firsthand, but also environments that are more fragile and their unique ecosystems and resources.

BCM: Did you ever feel pressured to choose between pursuing an artistic career or pursuing a science-based one?

JP: Only internal pressure. My parents and family have always been very supportive. There's the stereotype of an artist that's pretty silly—because it's like any career—and once you're in the midst of that field, you learn that it's about the work. There's always luck and there are always opportunities, but it comes down to the work that you put into it and how you develop yourself professionally. I think for me, the internal pressure is that right now I don't really know how to be in a science community as only a scientist. I'm trying to figure out how to be in both because I love being in the climate science world and that type of learning environment. So right now I'm a part of two different research projects where I'm there as a scientist as part of their outreach and greater impacts portion of the grant. And my goal is going to be to work as an artistic communicator sharing their research through painting.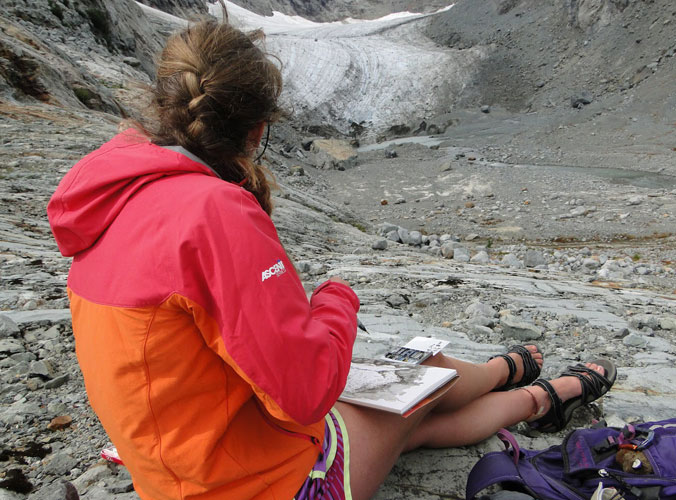 BCM: Do you have any interest in creating art professionally that isn't as data or science driven?

JP: Yeah, I definitely do, but right now that's my focus. I just finished my master's degree a year ago and, during that time, I was producing artwork a lot less. Now that I've finished that I want to create a new, full portfolio of work. I'm starting to plan that now and there might be minor collaborations, but there really won't be a grant or research group behind that. That'll be all me and my own body of work.
I'm excited to have to pitch to galleries and eventually hopefully have a solo exhibition. That work will still be data-driven, but I do want it to be more encompassing than data, for the pieces to tell a story as a whole. More than with a lot of my existing climate data art, I want the overarching message of some of my new work to be more focused on, "Okay, there are these issues but here's a message of hope and action." Sure, it's more effective to inspire people to recognize the current issues—I don't mean to say that we should sugar coat them, but it's not effective to give up and not make strides towards what you want.
BCM: You designed a top sheet for a ski by the North East Ski Company. This kind of form seems pretty different than your normal work, in terms of being more commercial. Is this something you'd like to do more of in the future?

JP: Yeah, I would like to do some of that. That was a fun commission, especially because it's the only ski that that local company has right now. I was able to talk back and forth with the owner, Casey Spencer, throughout the process. He's about creating skis to-order from materials that are from Maine, where his company is based. That made me really excited to create the art for the ski. I also think that doing commercial work like that is another platform for different people to see. I think about the idea of people who do winter sports seeing my work and maybe asking, "Oh, what's on the skis?" Those sorts of people are more inclined, I think, to care about the environment. They'll at least care about being able to keep doing winter sports.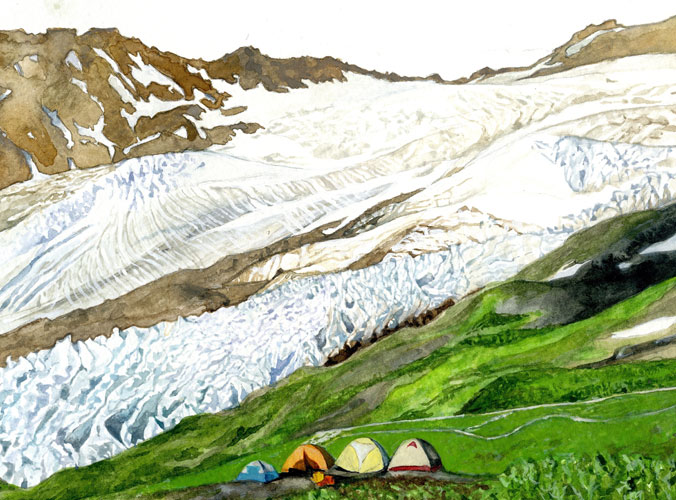 BCM: Outreach and collaboration are obviously incredibly important to you. How did you develop such a focus on that in your art?
JP: I could tell really quickly from my peers in art classes that my art is an easier way for people to click with the information being presented. It's really effective in creating an emotional response from the audience, which is what I want. As I realized that this stuff seemed to communicate well with people I was contacted by Science Friday, an organization that creates educational programs and online features. Working with someone at Science Friday was when I realized the power of using art for an outreach curriculum. So we created online content for teachers to access. This stuff isn't really a part of our "official" curriculum in the United States. I've had a lot of teachers bring me in when they realize how hard it is for their kids to learn about climate change.

BCM: What's your artistic process like? Do you do any painting in the field, or do you work from photographs later on?

JP: A mix of both. Most of my pieces are watercolor and anytime I've done fieldwork I've always brought a little kit with me of watercolors, colored pencils and things. I always paint different scenes in the evening after the work is done. But my more finished pieces are compiled from a combination of online research for reference photos as well as lots of sketching and composing. I'll make tons of little thumbnail images before figuring out what elements I want in the image.

BCM: What's your favorite way to spend time outside when you're not doing research?
JP: I like trail running and mixing up where I go. And then in the winter I really enjoy any type of skiing, like cross country and alpine skiing, and I've done some backcountry skiing too.

BCM: You're obviously well traveled. What's been your favorite place to visit, whether it's been for research in the field or just artistically inspiring?

JP: The place that means the most to me emotionally is the field work I get to get to do in Washington with the Cascade Glacier research project with my dad. Year to year I get to go back and I see the changes to the glacier's amount of ice. I see the changes to the ecosystem through different flowers blooming at different times because of when the snow melted, changes to populations of mountain goats over time and the streams being different levels year to year. Even though I've never lived in Washington, it really feels like home to me. Getting to work in the Antarctic was also really special. It's not a place that many people get to go, and it's a place that no one really owns. For the most part it's undeveloped, obviously, so I feel really fortunate to have got to go there and be in a landscape that feels so distinctly remote and separated from everything. I'll definitely always really treasure that.
—
To find out more about Jill Pelto's art, visit jillpelto.com.