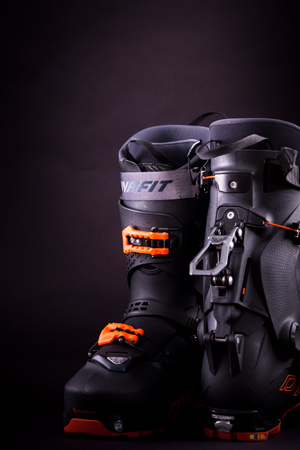 If pro skier Eric Hjorleifson's first Dynafit boot, the Vulcan, went by the nickname Frankenboot, his newest model, the Hoji Pro Tour, falls more in the image of the hairy, blue Monsters Inc. character Sulley—big, strong and hardworking, but with a friendlier side.
Dynafit's Vulcan, launched in 2012, earned its sobriquet from Hjorleifson's work cobbling together parts to build a tourable boot that could stand up to his hard-charging, pillow-popping needs. The Frankenstein-inspired moniker also appropriately fit the green boot of intimidating strength. With a stiff Grilamid shell, nearly rigid carbon cuff and low-volume last, the Vulcan's pro-level power and performance fit polarized many skiers. Its modest weight (7 lbs. per pair) and 60-degree walk mode, activated simply through opening the top buckle, hid behind all that downhill brawn. The new Hoji Pro Tour, which debuted in limited quantities last winter and is now in full production, merges many of the Vulcan's power-focused characteristics into a less monstrous character.
The Hoji's approachability comes in two forms: fit and ergonomics. Bucking Dynafit's low-volume tradition, the 102 mm last accommodates a literal wide range of foot shapes with a broad toebox and a heel pocket that remains snug for a secure, performance fit. Unlike with Dynafit's recent Khion models, our testers nearly unanimously found the Hoji easy to put on and take off thanks to its hinged tongue—it can fold fully forward for smooth entry. Fit accolades ended there, however, and nearly everyone at our Powder Mountain, Utah Gear Test Week bemoaned the thin liner. "Painful around the sides of my ankle and shin," one tester said. Even so, he added he'd still buy this boot and swap the liner for an aftermarket option with more plush.
The Hoji's real innovation lies in its ergonomics, specifically a mechanism at the Achilles that Hjorleifson spent nearly four years developing alongside Fritz Barthel, inventor of the tech binding. Lifting the oversized, easy-to-grab walk-mode lever loosens both the power strap and top buckle while also disengaging an interlocking system within the ankle to enable 55 degrees of frictionless walking freedom. That's an uncommon range among many boots of this stature. And while most Dynafit boots employ some sort of single-buckle walk-mode engagement to quicken transitions, the mechanism's innards are unlike anything else on the market.
To lock down into ski mode, most boots rely on a pin inserted into a hole or a clasp that latches around a bar—a single point of contact that can offer play or weaken over time. The Hoji has three connections: two plastic-on-plastic couplings within the interlocking cuff and a bar-on-bar interface outside the cuff that eliminates rearward flex. The result netted the 120-flex Hoji standout praise from most testers last March for stability and a smooth, consistent flex that the rigid Vulcan lacked. "The most progressive boot on the market today," one tester said. "Stiff enough to drive bigger skis," a Clydesdale-category tester wrote. A third called the Hoji, "An impressively stiff and solid ski platform."
The all-Grilamid Pro Tour model (pictured) comes in both men's and women's sizes and is also available for both men and women as a slightly heavier Pebax version, the Hoji PX (6.7 lbs., $699). And while the women's options are both shades of blue akin to Monsters Inc.'s Sulley, there's nothing hairy about this boot.
Dynafit Hoji Pro Tour
$799 · dynafit.com · 6.4 lbs. · Last Width: 102 mm
Sizes: 25-30.5 (men's) · 22.5-27.5 (women's)