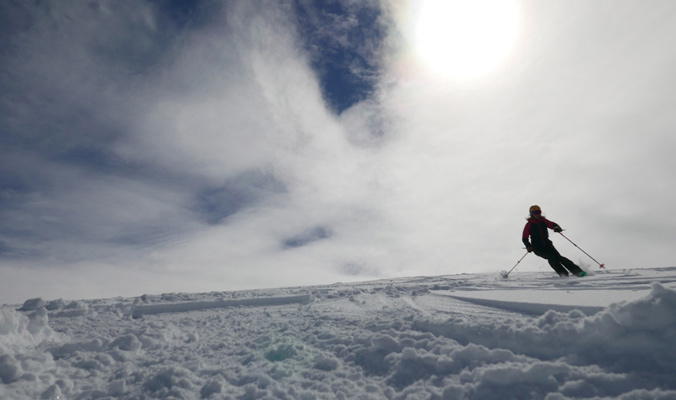 There is one piece of gear that is the foundation of all AT setups, since Dynafit's 1986 Low Tech model: the binding. And this technology has come a long way since the early years of the sport.
From multi-norm compatibility to ultra-light, race-ready models, AT bindings now run the gamut of design. The advent of bindings like the 2018-released Salomon SHIFT now allows freeriders to cruise on the up and charge on the down. For the gram-counting set, minimalist pin bindings blend a featherweight skinning experience with confidence-inspiring security on the descent.
But with variability comes choice—so how do you decide the best lock-down? We caught up with a few testers at 2020 Gear Test Week to ask them what parameters they use to pick the right binding for the day's mission.
"I'm interested to see the wider adoption of the ATK binding in the North American market with some of the Hagan models and the Black Diamond Helios," says tester Lance Riek about the trends he's seeing in the binding offerings for next season. "Improvements between models and within this ATK model over the years boast increased reliability and ease of operation. With some of the models available from these companies you can now have length adjustment, selectable release—similar to a DIN setting—and brakes, all for one pound per pair." 
Tester Kevin McCarthy thinks the 2020 lineup for bindings provides an opportunity to build the perfect quiver for a gamut of shredding styles. "It's exciting to see that each binding company is having more options for all different types of skiers," McCarthy says. "At this point everyone, spanning from the weight weenie to the hardcore freeride charger, is able to choose a binding that meets their needs. It's nice to bring your binding with forward pressure to ski sidecountry at the resort, but it's also nice to reach into the quiver for a low-tech binding with no extra frills for a longer day."