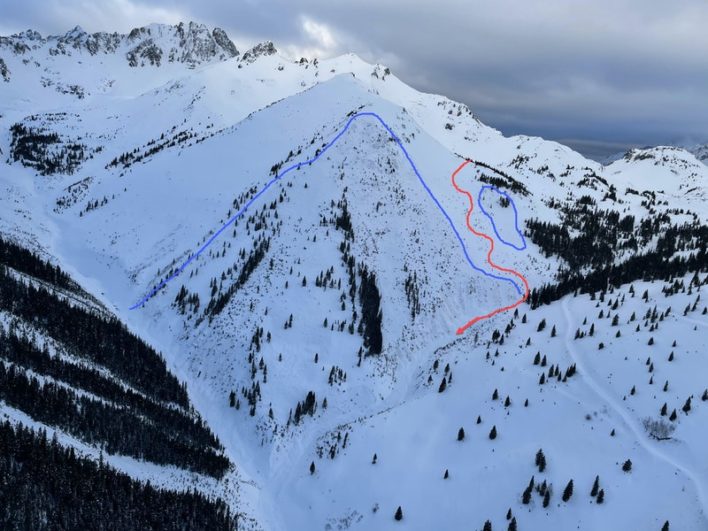 UPDATE: The deceased have been identified as Seth Bossung, Andy Jessen and Adam Palmer. The full, updated report is available here.
Search and rescue officials have been working since Monday evening in Colorado's San Juan Mountains to find three skiers who went missing following an avalanche near Ophir Pass. According to the San Juan County Office of Emergency Management, the multiagency search has been ongoing since 5:20 p.m. on Monday and has experienced delays due to elevated avalanche hazard in the area.
The individuals involved in the avalanche have been identified as skilled and experienced backcountry skiers from Colorado's Eagle County and were skiing around Ophir Pass's Opus Hut, according to The Colorado Sun. While the Vail Daily has confirmed the names of the skiers, the paper is withholding those names pending an announcement by the San Juan County Office of Emergency Management.
According to a preliminary report released by the Colorado Avalanche Information Center (CAIC), a party of seven was skiing on Monday on a feature off South Lookout Peak in the Middle Fork of Mineral Creek known as The Nose when the avalanche occurred. The avalanche caught and carried four skiers, breaking on a northeast slope above tree line near 11,500 feet. The group recovered one of the four individuals, who sustained minor injuries in the slide, but was unable to uncover the other three from the prominent gully beneath The Nose.
The rescue operation, which first involved the San Juan County Sheriff's Department and San Juan County Search and Rescue, continued late through Monday night. Beginning Tuesday morning, other entities, including Silverton Medical Rescue, CAIC, Helitrax helicopter service and La Plata County Search and Rescue, joined the operation. As of Tuesday, the skiers had been located but not recovered.
"We are hoping for a successful recovery mission (Wednesday)," DeAnne Gallegos, public information officer for San Juan County, told the Vail Daily, adding that avalanche conditions have affected the recovery operation. Helitrax, based in Telluride, has assisted with avalanche mitigation in the area.
On Monday, CAIC had rated avalanche danger throughout the North San Juan Mountains as considerable near and above tree line. As of Wednesday, avalanche danger remained considerable, with concerns over widespread persistent slabs. "We have seen large and dangerous avalanches at upper elevations on northwest to north through southeast aspects in the last few days," forecaster Mike Barney wrote in Wednesday's Northern San Juan bulletin. "Upper elevation slopes can be triggered from below or remotely from a distance and should be treated with extreme caution.
Avalanche danger remains elevated throughout much of Colorado, with an incoming storm set to trigger a significant and widespread natural avalanche cycle in many regions. On Tuesday evening, CAIC issued an avalanche warning for Colorado's Gunnison and Aspen forecast zones that extends through Friday morning. "There is little question that the avalanche danger will rise in the next 24 hours, to the point that backcountry travel will become very dangerous in the Gunnison and Aspen zones," forecaster Ben Pritchett wrote in Wednesday's warning.
Colorado has recorded four avalanche fatalities this season, including the deaths of Durango residents Albert Perry and Dr. Jeff Paffendorf on December 19, southeast of Ophir Pass on Battleship in the San Juan Mountains. The other fatalities occurred in the Anthracite Range and on Berthoud Pass, also in December. Over the last 10 days, CAIC has recorded 95 natural and human-triggered avalanches across the state's southern mountains that forecaster Chris Bilbrey notes have been large enough to bury or kill a person.
As of Wednesday, the San Juan County Office of Emergency Management was urging users to avoid the Ophir Pass area to allow for the search to continue uninterrupted. We'll update this story as more information becomes available.