The U.S. recorded its first four avalanche fatalities of the 2020/21 season over the weekend, amid what the Colorado Avalanche Information Center (CAIC) is calling "especially dangerous" avalanche conditions. On Friday, a snowmobiler in Wyoming's Sheep Pass area perished in a soft slab; also on Friday, a "legendary ski patroller" died west of Crested Butte, Colorado, in the Anthracite Range; and two skiers in Colorado's San Juan Mountains died in an avalanche on Saturday. Meanwhile, throughout nearly every western mountain range, avalanche conditions remain elevated, while some forecasting centers are reporting staggering numbers of skier-involved slides.
Few details have emerged surrounding Friday's fatality of a snowmobiler in Wyoming's Sheep Pass area, in the Grey's River forecast zone, about two hours south of Jackson. According to the Bridger-Teton Avalanche Center's initial report, the avalanche occurred on an easterly aspect near 10,000 feet, capturing a rider believed to be in a party of five and burying him for 10 to 15 minutes. In spite of deploying an airbag and part of the sled and airbag being visible in the avalanche debris, the individual did not survive.
The Bridger-Teton Avalanche Center forecasted avalanche danger as moderate on Friday, following a storm that brought five to 10 inches of new snow the day prior and up to two feet of snow in the week leading up to the avalanche. The forecast called the persistent weak layer between the new and old snow particularly active, noting, "At the higher elevations these slabs could be large enough to seriously injure or fully bury a person." Avalanche danger remains considerable for the Grey's River zone and for the Teton area, with Teton Pass closing at 3 a.m. on Monday morning, reports the Jackson Hole News & Guide, for avalanche control work.
Also on Friday, in the Anthracite Range west of Crested Butte, Colorado, a skier later identified by the Crested Butte News as Jeff Schneider, perished in an avalanche while skiing solo. Schneider, an experienced backcountry skier locally known as Schnoid, was skiing an area known as Friendly Finish, on a northeast aspect at 10,00 feet, when he was caught by an avalanche. Prior to skiing, the CAIC reports, Schneider spoke with two other skiers about their descent plans; after those skiers descended and returned to their snowmobile, they discovered Schneider's sled unattended, headed toward his planned run, saw fresh avalanche debris and conducted a transceiver search, finding Schneider's body.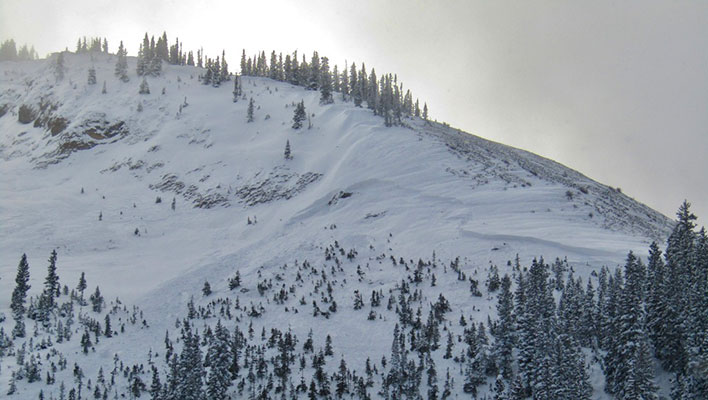 "Jeff was a bastion of kindness, knowledge, hard work, wit and humor," Crested Butte Ski Patrol shared on Facebook on Saturday. "A legendary ski patroller in Crested Butte, and Aspen before that, adventure had no better emissary. We wish you well on the last leg of the ultimate adventure. Rest peacefully, and may you make many, many turns, each one better than the last."
Earlier in the week, on Tuesday, December 15, a soft slab on Crested Butte's Snodgrass Mountain carried a skier identified as 42-year-old Ian Schaul between 200 and 300 feet, according to the Crested Butte News. Schaul suffered lower leg injury and was evacuated by helicopter and a 15-person rescue effort by Crested Butte Search and Rescue.
"We got one to two feet of snow on a very fragile weak layer over the weekend and since then we've had over 160 natural and human-triggered avalanches," Crested Butte Avalanche Center lead forecaster Zach Guy told Crested Butte News following the December 15 accident. "Our advisories the last four days have been highlighting dangerous avalanche conditions and easily triggered slab avalanches."
Elsewhere in Colorado, on Saturday, December 19, two skiers were caught, buried and killed in an avalanche southeast of Ophir Pass on Battleship in the San Juan Mountains, reports the CAIC. The San Juan County Office of Emergency Management identified the skiers as 55-year-old Albert Perry and 51-year-old Dr. Jeff Paffendorf, both from Durango.
Colorado recorded six avalanche fatalities in the 2019/20 season, and this weekend's three deaths have led the CAIC push even harder with its messaging. In a social-media post and email on Sunday night, CAIC shared startling statistics of the past week's human-triggered avalanches: 49 over the weekend and 108 in the preceding week, nine of which caught individuals.
"This week, we have seen avalanches grow in size, and they are going to continue to get bigger as the mountains get more snow," the CAIC wrote. "Colorado is home of weak snow, and avalanches are not uncommon. This year is worse. We haven't seen conditions this bad since 2012. Although the avalanche conditions are not unprecedented, they are worse than many people are used to. People are using avalanche-safety strategies that have worked in recent years, but current conditions require additional caution."
Utah is similarly seeing a high number of skier-triggered avalanches, according to the Utah Avalanche Center's (UAC) observation page. The UAC issued an avalanche warning for high avalanche danger over the weekend and, following the news of Colorado's three fatalities, shared via social media that "both of these accidents occurred in a snowpack similar to what we currently have in Utah." On upper-elevation slopes in the Central Wasatch, Northern Wasatch and Uinta Mountains, avalanche danger remains considerable.
—
Stay informed and educated this season. For nationwide avalanche forecasts, visit avalanche.org or your state's avalanche center. For a listing of avalanche courses, click here.