While completing her master's degree in education from the University of Washington, Liz Riggs Meder took a chance, approaching Tom Murphy, the founder of the American Institute for Avalanche Research and Education (AIARE), at the Northwest Snow and Avalanche Workshop. She offered to spend her time doing graduate work at AIARE. Fast forward seven years and Riggs Meder is now AIARE's recreation program director. The path she followed wasn't a linear one—exploring South Korea in the '80s as a child in a military family, an early career as an engineer, bumping chairs in Telluride, Colorado, and working as an instructor for the National Outdoor Leadership School and guide for International Mountain Guides. But it has all informed the way Riggs Meder thinks about how to create more diverse spaces in avalanche education. She shares her perspective in her own words below. —Betsy Manero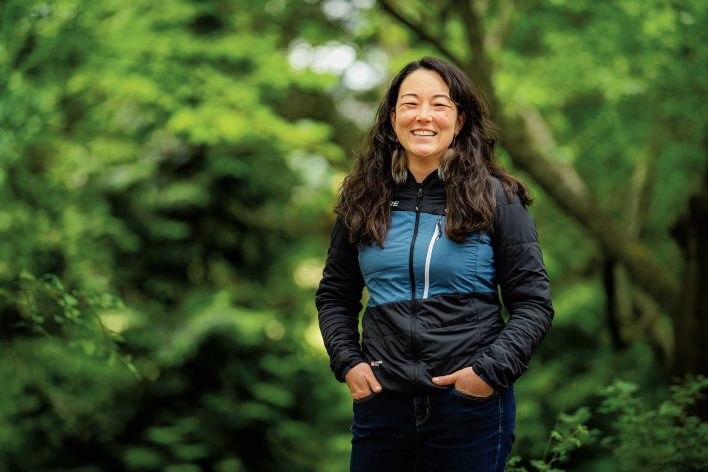 From the lens of an educator, I want to create spaces that are more inclusive, not just because it's the right thing to do, but because there's so much missing. There's so much beauty and creativity and talent to progress things so much further that you stifle when you keep things homogenous and hostile to people who are different.
All of us need to talk. I think about that as a mixed-race person. I love to talk about other people's experience with race and guiding. This industry has to come together and share stories, so you know you're not alone. Knowing those stories is how you begin to target places that are structural, systemic problems that nobody maliciously put in place but are excluding or hurting people.
Forty percent of AIARE students are women, but then our instructor pool is like 20 percent and our course leaders are like 10 or 15, which is really appalling to me. That's not just because women aren't interested. That's baloney. There's something in there, likely structurally. None of us can obviously point to something that's keeping people from becoming an instructor. There are just some structural pieces that we need to address.
I think a lot at AIARE about how much of this women's inclusion stuff happens simply because there are so many women on staff right now. Can I get this to a point where this continues to happen with my successor because it's baked into the requirements of this position?
I'm a problem solver. I probably do it inappropriately sometimes, but I always think that you have to address the root cause. Otherwise, you just keep putting Band-aids over things. Sometimes that's what you have to do; that's just the way the world works. You can't make it perfect all the time, and you can't always address the underlying cause. But I think that we should be looking at the breakdown of where we put our efforts.
Last year, we received a couple of huge grants to give women who went through AIARE courses a full scholarship. That's huge for removing barriers for a lot of folks, but that's not the solution in and of itself. Sometimes you just need large infusions of cash to solve one problem in the short term. But you also need to simultaneously be addressing the underlying problem. Otherwise, it's like digging in a sand trap. You're just spending all your energy bailing out the sand that keeps coming back in.
No one talks about it, but there's this choice that you're faced with: Do I keep guiding or become a mother? If you're not already established as a guide, choosing to start a family can really set you back just because there's a lot of things you physically can't do. Some people can, and a lot of people can't. That's something that I've been chewing on lately, trying to talk to more people and just get more stories.
Maybe my life's work is to try to make these places more inclusive. I've known so many talented women in engineering who have moved on to other things and taken their talents elsewhere. What a loss it is to limit yourself to the talent and creativity of a slender demographic because you've created this environment that only welcomes people who can fit in that box.
---
This piece was originally published in October 2021 in Issue #141. To read more, pick up your copy at BackcountryMagazine.com/141 or subscribe.