Skiing deep pow in the backcountry is only as fun as it is safe. And knowing you have the tools to keep you and your friends out of harm's way makes days on the skintrack all the more gratifying. For the 2019 Gear Guide, we've chosen six safety selects to help with better communication, snow analysis, avy rescue and general comfort, so you can focus on that next turn.
Julbo Cham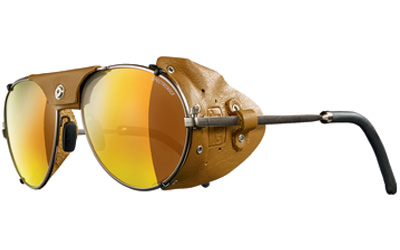 $170 · julbo.com
Throwback to the early '70s, when Nixon was president and Elton John was king. That's when Julbo first debuted their aviator-shaped Cham glacier sunglasses, rereleased this year in three colors, each with a different lens option for filtering varied light conditions—the brown option's Spectron CF3 is best for moderate to bright days. The leather shields are removable for off-snow styling, and the arms are padded and fully moldable for a custom, comfortable fit.
Ortovox Pro Light 2.1 Shovel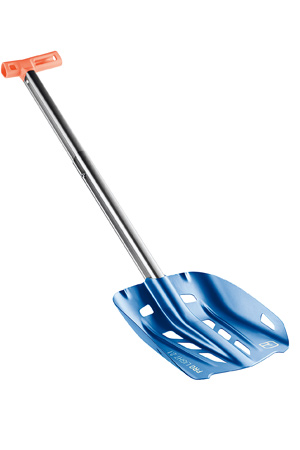 $65 · ortovox.com
New this season, Ortovox introduces their Pro Light 2.1, a heavy-duty shovel at a deceptively scant weight—just 440 grams. Ten cutouts in the anodized aluminum blade fend off pounds, and the T-handle grip is designed for right- or left-handed use. The sharp, serrated blade works to quickly cut through crud, and the shaft's grooved, rectangular shape is designed to improve strength.
Black Diamond Equipment Traverse WR 2 Pole and Whippet Attachment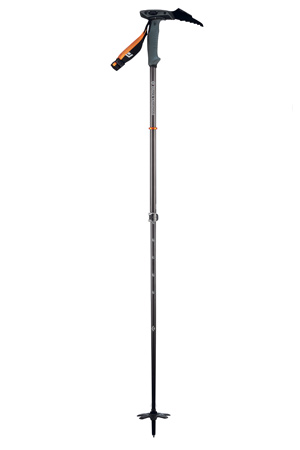 $100 (pole) · $60 (Whippet) · blackdiamondequipment.com
Ski mountaineers can generally be broken into two categories: those who ski with a whippet and those who prefer a traditional ice tool. But thanks to BD's innovation, that division gets burred. The new WR 2 Pole features a removable stainless steel pick, the Whippet Attachment, attachable by turning a dial located on the pole's grip. Adjustable pole length—between 100 and 140 cm—allows for even more versatility on both the up and down.
Backcountry Access BC Link 2.0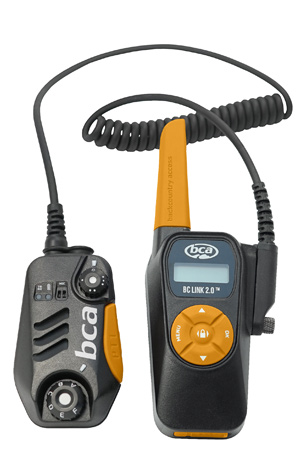 $180 · backcountryaccess.com
Backcountry Access totally overhauled their Link two-way radio system this year, both inside and out. The new 2.0 features two watts of transmit power (versus the 1.0's single watt) to promote clearer communication over longer distances. The base unit is now lighter and smaller than its predecessor with a more sturdy connection to the microphone, also overhauled with recessed dials and a retooled, more tactile push-to-talk button.
Backcountry Access Stealth 330 Probe
$80 · backcountryaccess.com
BCA's Stealth collection of probes lives up to its name. The line, which includes 240-, 270-, 300- and 330-cm options, features the company's Stealth Quick-Lock hardware, designed to bundle up smaller when folded than BCA's earlier probes. Like its shorter counterparts, the new 330 is constructed of aluminum and integrates a small plastic cover on the probe's tail end, so there's no loose cable whipping around while you're in search mode.
Backcountry Access 35 cm Saw

$55 · backcountryaccess.com
Doing reliable snow-pit tests is impossible without a good snow saw. BCA updated theirs this year to power through snow, ice and wood. The 6.9-ounce tool has a finely serrated stainless steel blade that measures 35 cm long, and the molded nylon handle is all grip, no slip. For ECTs and propagation saw tests, the saw is fitted with a stud that can attach to a clamp (sold separately), which can then be affixed to a ski pole.
—
Grab your copy of the 2019 Gear Guide here.