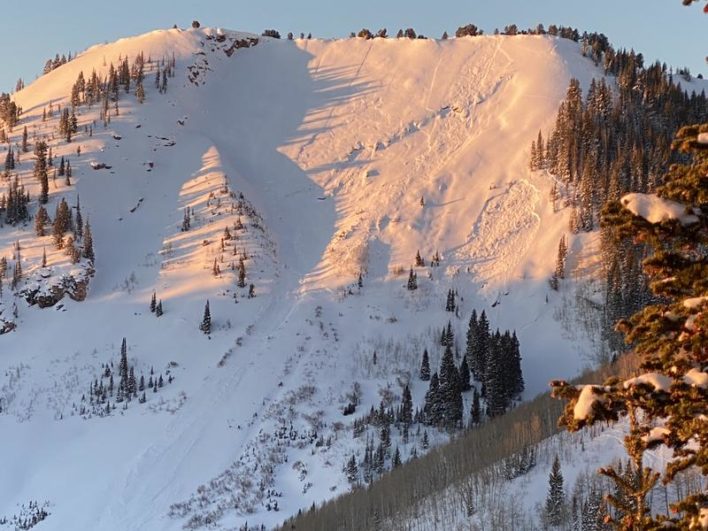 On Saturday, January 30, 57-year-old Kurt Damschroder of Park City, Utah, was caught and killed in an avalanche beyond Utah's Park City Mountain Resort. This is Utah's second avalanche fatality of the season, the first of which occurred on an adjacent ridge on January 8.
According to a statement made by the Summit County Sheriff's Office, Damschroder and a partner were traveling through the Square Top area beyond Park City Mountain Resort's boundaries when they triggered the avalanche. Both individuals were carrying avalanche rescue gear, and while Damschroder's partner was able to unbury the snowboarder and attempt live-saving measures, the friend was forced to descend due to "extreme avalanche danger in the area."
The Summit County Sheriff's Office was alerted to the accident on Saturday afternoon but was forced to delay their rescue efforts due to nightfall and the elevated avalanche danger. They resumed their work the following morning, aided by the Utah Department of Public Safety, which used a helicopter to drop explosive charges onto the Square Top ridgeline, according to the Park Record. A preliminary avalanche report from the Utah Avalanche Center (UAC) shows the fatality location at just above 9,400 feet on a north-facing slope that measures between 35 to 45 degrees with steeper pockets.
Saturday's avalanche danger was rated as high on aspects facing northwest through north to southeast at 9,500 feet or higher and considerable on all aspects between 8,000 and 9,500 feet and southerlies above 9,500 feet. The Park City ridge had reported 10 to 12 new inches of snow in 24 hours.
This new snow sat atop a weak, faceted layer, causing the UAC to warn readers, "Traveling in avalanche terrain is not recommended. If you're leaving a resort boundary through an exit point, you are stepping into considerable or high avalanche danger." A special avalanche bulletin went into effect at 6 a.m. Saturday morning through 6 a.m. Sunday morning.
The two riders exited through the 9990 gate on Park City Mountain Resort, making this the second fatality of the season that has happened out of that particular gate. On Tuesday, February 3, Canyons Ski Patrol at Park City Mountain Resort was instructor to close backcountry access from the Park City Ridgeline. Signs placed at the backcountry gates read "Backcountry gates closed pending meeting between PC resort management and U.S. Forest Service."
UAC's full accident report is available here and in the video below.